Abdul Hadi Quraishi, Sierra Leone Correspondent
19 February 1921 was the blessed day when a companion of the Promised Messiahas, Hazrat Maulana Abdur Rahim Nayyarra set foot on the shores of Sierra Leone. The message of Islam Ahmadiyyat reached Sierra Leone in 1915 through Ahmadiyya literature and a local, Pa Musa K Garber, joined the Jamaat in 1916 through a letter.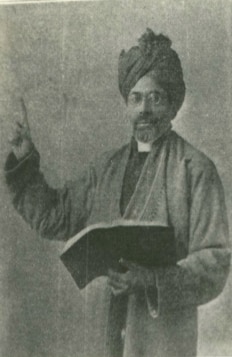 Hazrat Maulvi Abdur Rahim Nayyarra set sail from London on 9 February 1921 and though his original destination was Ghana, but when he came to know that the ship would anchor at Freetown, he made full use of this opportunity and sent a wire to a prominent Muslim, Mr Y Khairuddin Sahib informing him about his arrival.
He stayed in Freetown for three days and met many prominent Muslim scholars and delivered lectures about Islam Ahmadiyyat. These three days were full of joy for the Muslims of Sierra Leone. He left Sierra Leone on 21 February 1921. A large number of Muslims came to see him off. Mr Y Saddruddin Joined the Jamaat during his visit.
To celebrate the centenary of Ahmadiyyat in Sierra Leone on 19 February 2021, Saeedur Rahman Sahib, Amir and Missionary-in-Charge Sierra Leone Jamaat, held several meetings with the national executives and central missionaries and a three-day (18-20 February) programme was decided for the jamaats all over the country.
To celebrate the occasion, all the jamaats decorated their regional mosques and mission houses with paint, small flags, centenary banners, stickers and lighted them with decoration lights.
Special shirts and caps with the centenary logo were prepared for men and children and were worn by them on various programmes organised on these days.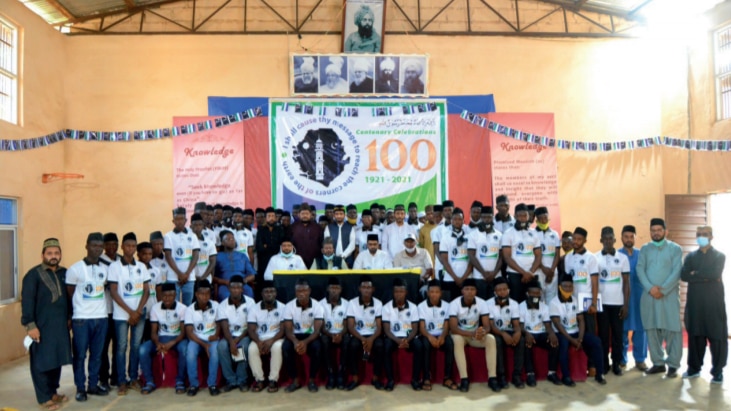 The three-day programme was followed by the jamaats across the whole country. According to the programme, on 18 February 2021, Jamaat members kept a voluntary fast and according to the received reports, 5,202 members observed the voluntary fast.
According to reports, 1,966 people wrote letters to Hazrat Khalifatul Masih Vaa, conveying him their gratitude and re-affirming their allegiance to Khilafat-e-Ahmadiyya.
On 19 February 2021, goats were offered as sadaqah in all regional headquarters and the meat was distributed among the poor and needy. A devoted Ahmadi, Musa Mewa donated four cows on this occasion to be slaughtered as sadaqah.
Our beloved Imam, Hazrat Khalifatul Masih Vaa graciously sent a congratulatory message for Jamaat-e-Ahmadiyya Sierra Leone.
On 19 February 2021, at the time of Jumuah prayer, the mosques were filled with Jamaat members who first listened to the live Friday Sermon of Hazrat Khalifatul Masih Vaa. A special Friday sermon containing the history of the Jamaat in Sierra Leone and its services for Islam Ahmadiyyat and the nation, and mentioning the efforts and sacrifices of the early missionaries for this blessed cause, was prepared and was delivered in all the mosques.
The message of Hazrat Khalifatul Masih Vaa on the centennial celebrations was read to the members at the end of the Friday sermon.
Message from Hazrat Amirul Momineenaa
"Saeedur Rahman Sahib, Amir and Mubaligh In-Charge, Ahmadiyya Muslim Jama'at Sierra Leone,
السلام‭ ‬علیكم‭ ‬ورحمۃ‭ ‬اللہ‭ ‬وبركاتہ‭ ‬
"I am very pleased that by the grace of Allah, the Ahmadiyya Muslim Jama'at in Sierra Leone is celebrating its 100th anniversary this year. ماشاءاللّٰہ
"During this era, the Jama'at in Sierra Leone has made tremendous progress in all fields. Nevertheless, you have a long journey ahead of you which still remains to be completed.
"By conveying the true teachings of Islam to all the people of Sierra Leone, you should create awareness among them that it is essential for mankind to establish a close relationship with Allah the Almighty. Humanity must recognise their Creator and fulfill the rights we owe to Him. This was the purpose of the coming of the Promised Messiah and Imam Mahdi علیہ‭ ‬الصلوٰۃ‭ ‬والسلام whose advent had been clearly foretold by our Holy Prophet, Muhammad صلى‭ ‬اللّٰہ‭ ‬علیہ ‬وسلم. One of his main objectives was to make human beings realise that our Creator is the One Allah, Who is the Lord of all the worlds and the Possessor of all powers. As such, the Promised Messiah ‮ ‬علیہ‭ ‬الصلاۃ‭ ‬والسلام devoted his entire life teaching us that we must submit and bow down before the One and All-Powerful Allah.
"Maulana Abdur Rahim Nayyar رضى‭ ‬اللّٰہ‭ ‬عنہ has the honour of being the first Ahmadiyya Muslim Missionary to set foot on the shores of Sierra Leone on 19 February 1921. He was followed by many pioneering missionaries including Maulana Hakeem Fadl-ul-Rahman and Maulana Nazir Ahmad Ali who made immense sacrifices in the cause of Islam.
"May Allah Grant you the opportunity to recognise the real spirit of their noble sacrifices and cause you to make a pure transformation within your own selves, so that you can follow in their illustrious footsteps and deliver the true message of Islam to everyone in the land and bring them under the shelter of the banner of the Holy Prophet Muhammad صلى‭ ‬اللّٰہ‭ ‬علىہ‭ ‬وسلم, thereby enabling them to become worshippers of the One God. May Allah enable you to achieve this great task.
"As I mentioned earlier, you have a long journey ahead of you. Now that the first hundred years have been reached, you should devote yourselves to striving in the service of Jama'at with renewed fervour, energy, and dedication. You should not just be jubilant and content with this landmark of a hundred years of the Jama'at having been established in Sierra Leone, but you should make an honest assessment as to what have you done in these past hundred years?
"You should ask yourselves what have we achieved and how can we continue to advance with greater momentum and increase in our achievements – and how can we remove our weaknesses?
"Only those nations are triumphant who are constantly improving their performances and making fresh plans so that they can advance even further. Therefore, you should develop new strategies for tabligh, and also for taribyat of members of the National Jama'at so that you may continue to advance, so much so that in the coming years, the development of the Jama'at is multiplied many times over. Most importantly, it will not only be responsibility of the office-bearers, but it will be essential that all members of the Jama'at become fully involved and work hard together to implement these programmes and fulfil these great objectives. May Allah enable you to do this. May Allah bless you.
"Yours Sincerely,
"[Signed]
"MIRZA MASROOR AHMAD
KHALIFATUL MASIH V".
This message was also translated in local languages and was repeatedly broadcast through Ahmadiyya radio channels during these three days so that all people could benefit.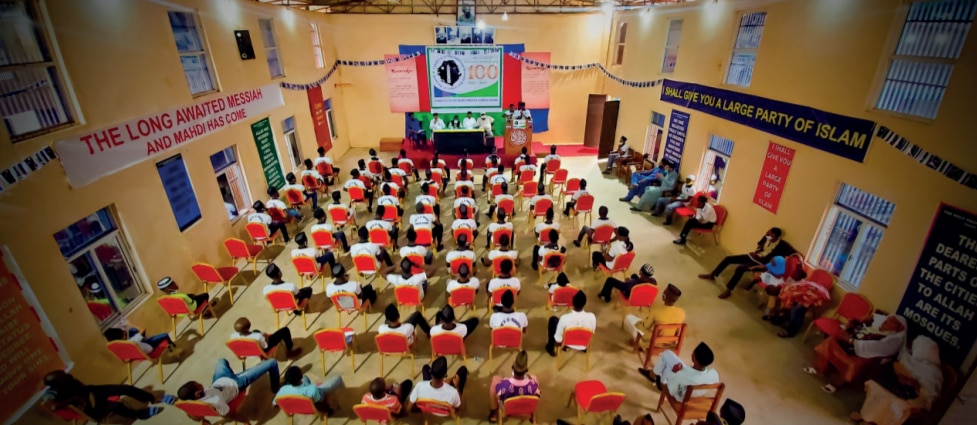 Special programmes were recorded for this occasion and were broadcast on various local television channels. Three live programmes were also broadcast and a panel of Ahmadi scholars talked on various aspects, for example, the Jamaat's introduction, its teachings and its services to the country. People listening to the programmes called in and sent messages congratulating the Jamaat and appreciating its services for Islam and the country.
In the evening, Ahmadiyya Muslim Radio Freetown, Bo and Makeni did a live programme chaired by Amir Jamaat Sierra Leone. In his brief address, Amir Sahib mentioned the history and services of the Ahmadiyya Jamaat in Sierra Leone and led the audience in dua (silent prayer). Congratulatory messages from people were also read on the radio channels.
On 20 February 2021, congregational Tahajud prayers were offered in all the jamaats in Sierra Leone.
Programmes were also held celebrating Musleh-e-Maud Day, during which Lajna, Ansar, Khuddam, Atfal and Nasirat delivered speeches.
In many regions, the jamaats arranged march pasts. They raised slogans of Allahu Akbar (Allah is Greatest) and glorifying Islam, the Holy Prophet Muhammadsa and the Founder of Jamaat-e-Ahmadiyya, Hazrat Mirza Ghulam Ahmadas of Qadian, and of Khilafat-e-Ahmadiyya.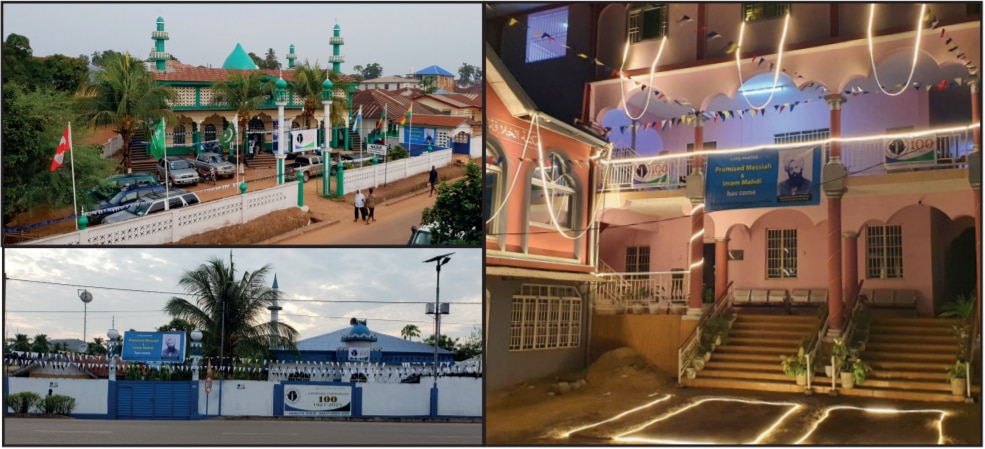 Participants also held banners and placards with the messages of Islam, peace and introduction of the Jamaat.
In the centenary programmes, many Jamaat members participated, and Lajna, Ansar, Khuddam, Atfal and Nasirat read their pledges in loud voices. A special feast was also arranged for the participants.
In Mile 91, the Regent Chief expressed his feelings in these words:
"I had no proper knowledge of the teachings of the Jamaat and today, I decided to join this occasion to find out about the Jamaat's teachings. And I have observed today that Jamaat-e-Ahmadiyya is following the teachings of Quran and sunnah. I am very impressed today and I firmly believe that Jamaat-e-Ahmadiyya truly follows the teachings of Islam."
We pray that may Allah the Almighty enable us to follow the true teachings of Islam. Amin.
[On behalf of Al Hakam, we pray that Allah may shower His choicest blessings on Jamaat Sierra Leone, now and in the future.]