Syed Mukarram Nazeer, Canada Correspondent
The 11th World Religions Conference, Whitehorse, Yukon, was held on 6 April 2021 by the Jamaat. Due to the Covid-19 pandemic, the conference was held virtually.
Whitehorse is a major city in Yukon Territory, Canada, and is also its territorial capital. Yukon itself is a unique place in the world, situated to the north of beautiful British Columbia, south of the Arctic Ocean and east of Alaska, USA. Though the population is very small compared to the size – about 24,000 – but the territory itself is very beautiful. It is a popular tourist attraction both in winter and summer months due to its beautiful valleys and the Rocky Mountains. The land has rich natural resources of minerals, gas and oil.
For Jamaat-e-Ahmadiyya the attraction in this beautiful landscape of Canada is the fulfilment of its aim of conveying the message of Islam Ahmadiyyat to the corners of the world.  
Jamaat-e-Ahmadiyya British Columbia region hosted the first conference in 2007 after the success of World Religions Conferences in various other cities. These include Dawson City (Yukon), Yellowknife (Northwest Territory), Prince George, Prince Rupert and Terrace (British Columbia) and many more. Through these conferences, Jamaat-e-Ahmadiyya was introduced to these cities for the first time.
Conference advertisements were run on Facebook, Instagram, local radio channels and newspapers. Whitehorse organisations including community organisations, Whitehorse tourism and the chamber of commerce were contacted via telephone and invited to be part of the conference.
The theme of the conference this year was "How to keep faith alive in the present day?"
The event moderator was Chief Doris Bill of Kwanlin Dün First Nation. Regional President Jamaat-e-Ahmadiyya British Columbia, Naeem Lakhan Sahib gave the opening remarks. He also conveyed the message of Amir Jamaat-e-Ahmadiyya Canada, Lal Khan Malik Sahib. Hon Larry Bagnall Member of Parliament, Yukon appreciated the efforts of Jamaat-e-Ahmadiyya in helping promote harmony and understanding among various faiths.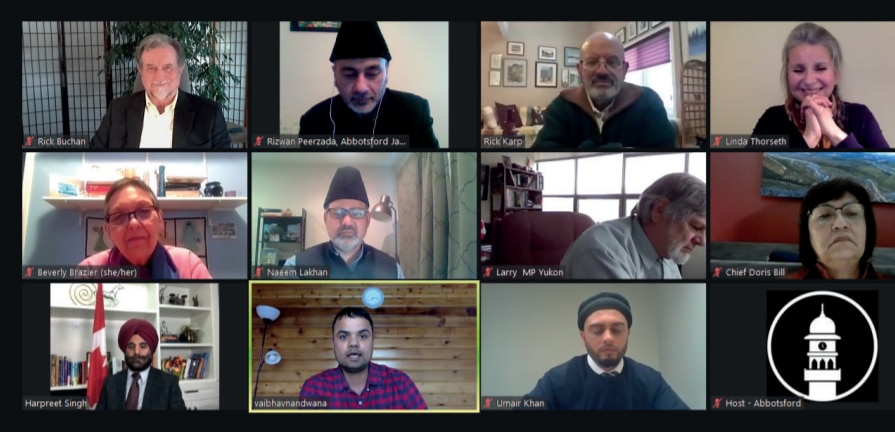 The speakers representing their respective faiths were:
• Mrs Linda Thorseth of Baha'i faith
• Reverend Beverly Brazier of Christian faith
• Missionary Umair Khan of Islamic faith
• Mr Rick Buchan of Buddhist faith
• Mr Rick Karp of Jewish faith
• Mr Vaibhav Nandwana of Hindu faith
• Mr Harpreet Singh of Sikh faith
The concluding remarks were delivered by the moderator Chief Doris Bill. President Jamaat-e-Ahmadiyya Abbotsford, Rizwan Peerzada Sahib thanked all attendees and appreciated the efforts of all volunteers. A total of 370 viewers attended the event.
Some impressions of the event are as follows:
Linda Thorseth expressed:
"Thank you for the opportunity to be part of these presentations with such wonderful and sincere people devoted to the well-being of all. I learned so much and appreciate the forum your community has created for our ongoing efforts to love and appreciate each other's teachings."
Rev Beverly Brazier, Minister of United Church, Whitehorse said:
"Simple really. I loved it. I am so glad you went ahead with it […] Part of the goodness of the event compared to other years which were face to face, had food, and all of that, but still, this was very worthwhile. I was so pleased that Chief Doris Bill agreed to moderate too! As you know, it has not been easy in the past to get participants from the First Nations. You did very well, getting her! There's real value in meeting; however, we can do it every step toward honest conversation and getting to know one another better, is a step toward a better world. Thanks for all you do."
Rick Karp, President Jewish Society Yukon said:
"[…] Please understand that this topic, 'Sustaining our Faith', was important to me and I wanted the opportunity to interact with others and share. You are doing a great job and I hope to be able to participate next year."