Syed Mukarram Nazeer, Canada Correspondent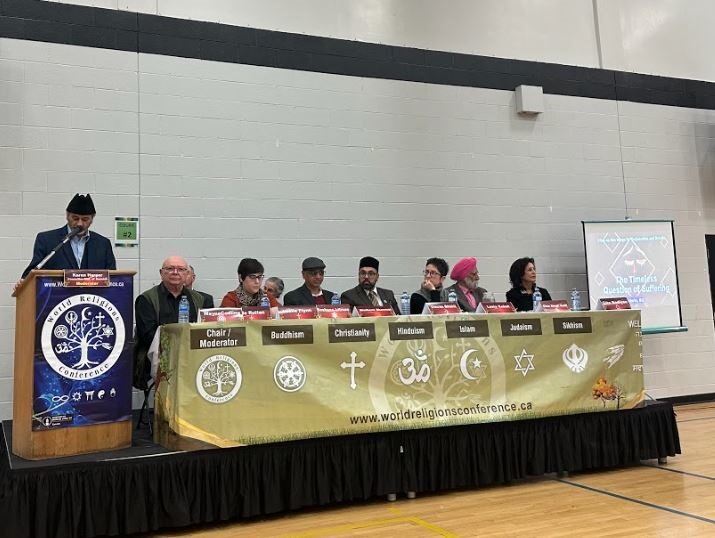 Abbotsford is in the province of British Columbia. It is adjacent to the Canada–United States border and the Greater Vancouver Area. With an estimated population of 168,479, it is the second-largest municipality in the province. The Abbotsford-Mission metropolitan area has the third highest proportion of visible minorities of all metropolitan areas in Canada. It is home to Tradex, the University of the Fraser Valley, and Abbotsford International Airport. With an area of 375.55 square kilometres (145.00 sq mi), it is the largest city by area in the province. It is also known for its fresh blueberries, tulip flower garden, and annual air show.
Jamaat-e-Ahmadiyya Canada has, for many years, been hosting world religions conferences across the country. The aim is to bring religions together and have them discuss a given topic in the light of their respective scriptures and teachings.
Jamaat-e-Ahmadiyya British Columbia Region has been hosting this conference since 2006, as reported by the Regional Amir of British Columbia, Rizwan Peerzada Sahib. A WRC was held in Abbotsford on 8 February 2023, with "Combating Racism" as the theme.
A sizable effort went into promoting the event. The print media campaign saw 130 posters posted, 700 invitation cards mailed, and 5089 email invitations sent. Two banners were put up at major intersections, advertisements were placed on digital signboards, and three advertisements were placed in local newspapers. Traditional media campaigns worked with local TV and radio stations. The social media campaign garnered 11,000 views, resulting in 39 comments.
The programme started at 6pm with the recitation from the Holy Quran, followed by a welcome address by the executive director of the Abbotsford Community Foundation, Mrs Areni Kelleppan. This was followed by introductory remarks presented by regional Amir of the British Columbia Jamaat.
A number of dignitaries attended, and others sent their well wishes for the success of the conference. Councillor Dave Sandu delivered a message from Abbotsford Mayor Ross Seiman. The speakers from nine faiths presented their respective views on the theme, which included Mr. Rob Cacchioni for the Baha'i faith, Rev. Allen Doerksen for Christianity, Umran ul Haq Bhatti for Islam, Dr Kuldip Singh Kahlon for Sikhism, Mr. Brody McDearmaid for Christianity, Myoshin Kate McCandless for Buddhism, Mr Vijay Sharma for Hinduism, and Ms Alexis Kellum-Creer and Ms Mary Adlersberg for Judaism.
Audience appreciated the opportunity to listen to multiple religions in one evening.
Mrs Norma Hoyle said:
"Congratulations again on another successful event last night. The energy was good, and everyone was supportive and respectful."
Mr. Tarlok Sablok expressed:
"The diversity in the human family should be the cause of love and unity. […]"
The total attendance at the event was 247.