Farhat Rafeeq
Nazim Reporting, Jalsa Japan
The Ahmadiyya Muslim Community Japan held its 36th Jalsa Salana at Baitul Ahad, "The Japan Mosque" on the 3-4 May 2019.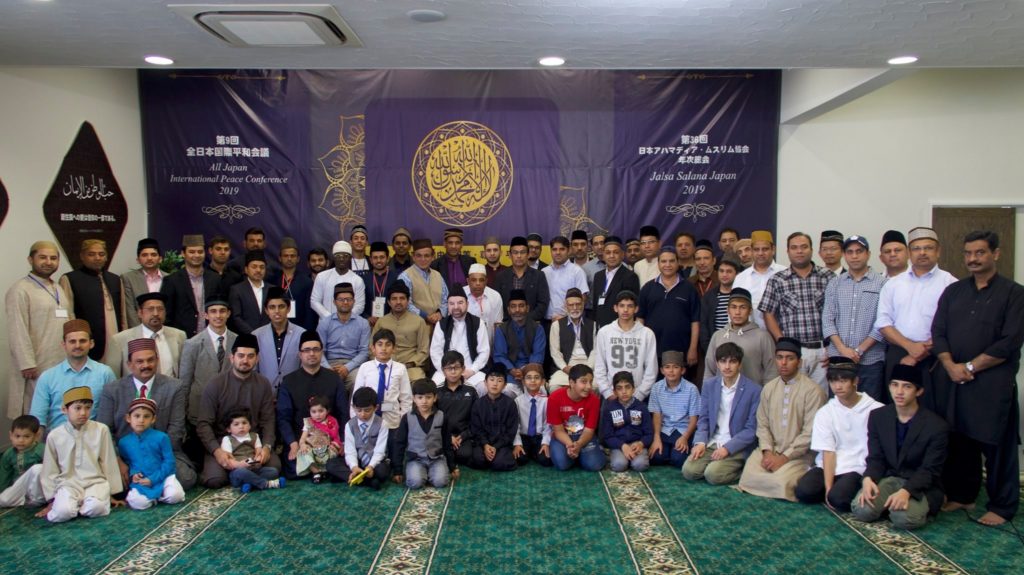 As per tradition, the annual convention commenced with the flag hoisting ceremony. Maghfoor Ahmad Muneeb Sahib, representative from the Markaz hoisted the flag of Ahmadiyyat. Reverend Yoshida Nikko, Chief Priest Shinshojoji Buddhist temple raised the flag of Japan. This was followed by the opening session in which Anees Ahmad Nadeem Sahib, National President and Missionary In-charge Japan presided over the session.
After the recitation of the Holy Quran and Urdu nazm, Anees Nadeem Sahib in his opening address explained the objectives and blessings of Jalsa Salana as taught by the Promised Messiahas.
In the opening session, speeches were delivered on a wide range of topics both in Japanese and Urdu. Mirza Moazzam Baig Sahib delivered his speech in Japanese, the topic of which was The Life of the Holy Prophetsa. An Urdu speech was delivered by Maqbool Ahmad Shad Sahib and the topic of his speech was Our God is a Living God. Imam Raees Ahmad Sahib spoke about Blessings Khilafat in his speech.
The opening session came to its end with the concluding remarks by Maghfoor Ahmad Muneeb Sahib and silent prayer.
The 2nd session of Jalsa Salana on day 2 commenced at 10am. The session was presided by National Secretary Tarbiyat Japan Mubashar Ahmad Zahid Sahib.
Speeches in this session were delivered by Muzaffar Ahmad Qadiani Sahib on Hospitality in Light of the Life of the Promised Messiahas, Farhan Ahmad Malik Sahib on Qualities of an Ahmadi, Sadr Ansarullah Japan Maqsood Ahmad Sanoori Sahib on The History of Ahmadiyyat in Japan and National Secretary Umur-e-Ama Hafiz Amjad Arif Sahib on Martyrs of Ahmadiyyat.
The concluding session commenced shortly after Asr Prayer. Maghfoor Ahmad Muneeb Sahib presided the final session of the 36th Jalsa Salana Japan.
Speeches in the concluding session included speeches by Ahmad Fathur Rahman Sahib, National Secretary Taleem Japan in Japanese on Blessings and Importance of Fasting in Ramadan, Naseer Tariq Sahib on Mutual Brotherhood and Adnan Arshad Sahib on Blessings and Importance of Fasting in Ramadan in Urdu.
Following theses speeches, Maghfoor Ahmad Muneeb Sahib presented awards of academic excellence to exceptional students. Recipients of these awards were Aisha Anbar, Maidah Nasir, Musawer Ahmad and Amatul Kafi Ramlah. Over 211 people attended the 36th Jalsa Salana Japan 2019 representing 11 different countries, along with various faith leaders and guests from different walks of life.