Syed Mukarram Nazeer, Canada Correspondent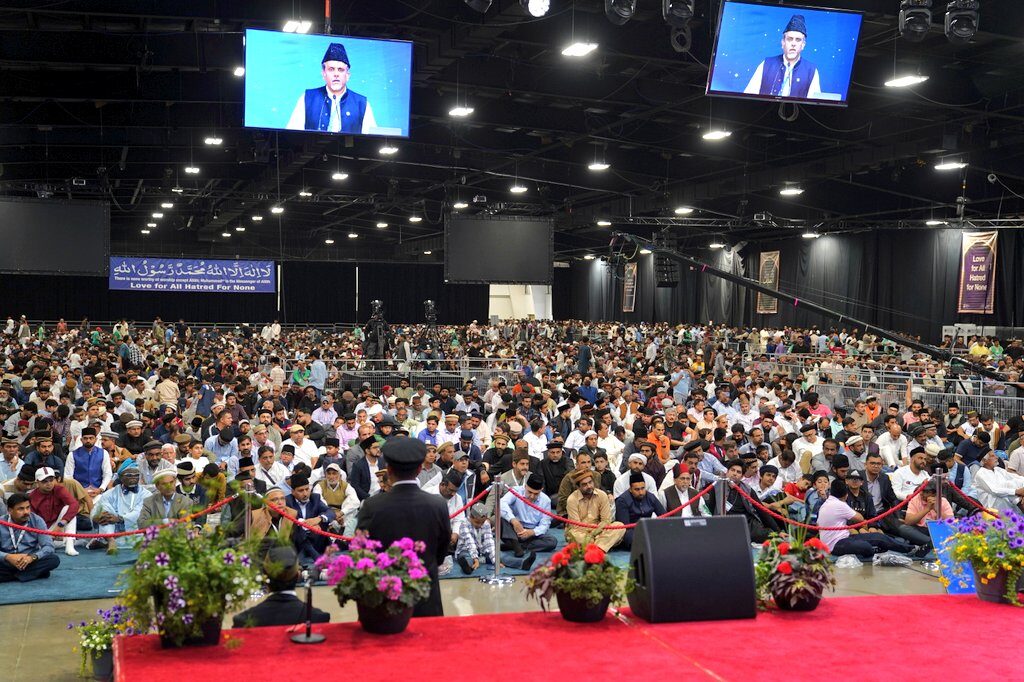 Jamaat-e-Ahmadiyya Canada held its 45th Jalsa Salana on 14-16 July 2023 at the International Centre, Mississauga, Ontario, Canada. To ensure prompt and accurate coverage, three dedicated volunteers were engaged by Al Hakam Canada for reporting. Men's side was covered by Mahmud Chugtai Sahib and Umer Rashid Sahib, while Amtul Shafi Tariq Sahiba covered Lajna's side.
On 14 July, volunteers were asked to come in no later than 10:30am and were given final instructions. Over 1,400 khuddam had registered for duties under the Khidmat-e-Khalq Department and were ready to serve, with their main focus being security and parking.
On Friday, the recording of Hazrat Amirul Momineen'saa Friday Sermon from earlier in the day in the UK was played. This was followed by Jumuah and Asr prayers, and then lunch.
Men had general dining, senior citizen dining, and a non-spicy food area. Volunteers had their own serving area. Separate tea stalls offered fresh tea. Lajna had a main dining hall, kids' dining area, tables and chairs for elderly ladies, and a non-spicy dining area.
For seating, Lajna had two halls. In the main hall, areas were reserved on either side of the stage for the elderly and guests. On one side of the hall, chair arrangements were made. The rest of the hall was carpeted for sitting on the floor. At the back of the hall was a designated area for children between 4 and 7 years of age. The kids' hall had a lot of open space. Strollers and pushchairs had their own parking area. The children's library and activity bags for sale helped keep children busy during Jalsa proceedings. Daycare service helped mothers devote time to Jalsa duties. A milk refill station and a diaper changing station helped keep children comfortable.
Jalsa Canada commenced with the flag-hoisting ceremony. Huzoor'saa representative, Amir Jamaat-e-Ahmadiyya Kababir, Muhammad Sharif Odeh Sahib, raised the Liwa-e-Ahmadiyyat. He was joined by Amir Jamaat-e-Ahmadiyya Canada Lal Khan Malik Sahib, who raised the Canadian Flag. This was followed by silent prayer.
The first session was presided over by Amir Jamaat Canada and began with the recitation from the Holy Quran, followed by a poem, and their translations were followed by three speeches, one by Amir Jamaat Canada, one by Naveed Ahmad Mangla Sahib, and another one by Farhan Iqbal Sahib. This was followed by dinner.
The second day's opening session was presided over by missionary-in-charge Canada Abdur Rashid Anwar Sahib and commenced with the recitation from the Holy Quran with translation and a poem, followed by four speeches by Naib Amir Jamaat Canada Sohail Mubarak Sharma Sahib, Abdul Sami Khan Sahib, Sarmad Naveed Sahib, and missionary-in-charge Canada.
The second day of Jalsa is special for Lajna, as they conduct their own session. It was presided over by Amtul Jameel Sahiba. She was joined on stage by Sadr Lajna Imaillah Canada, Amtul Salam Malik Sahiba, and the wife of Amir Jamaat Canada, Amatul Latif Malik Sahiba. The session started with the recitation from the Holy Quran with translation and a poem, followed by award distribution for students achieving distinction in worldly education and Hifzul Quran School Canada.
This was followed by four speeches by Naib Sadr Lajna Imaillah Canada Dr Naureen Sohail Sahiba, Honorary Member of National Amila Lajna Imaillah Canada Amatur Rafiq Zafar Sahiba, Sadr Lajna Imaillah Canada Amtul Salam Malik Sahiba, and Secretary Tarbiyat Lajna Imaillah Canada Nadia Mahmood Sahiba.
In between the speeches, an Arabic qaseedah was also recited.
On the men's side, the third session started with Amir Jamaat Kababir presiding. After the recitation from the Holy Quran and a poem, the 'Alam-e-Inami, awards from Hifzul Quran School Canada, and awards for academic excellence were handed out.
A number of dignitaries attended the session, such as politicians, chiefs of police, mayors, professors, religious clergy, and representatives of other communities. Most were recognised by name, and some were invited to speak from the podium. They included the Leader of Official Opposition, Canada, Piere Poilievre; Minister of Seniors, Canada, Kamal Khera; Premier of Ontario, Dough Ford; the Leader of Official Opposition Ontario, Marit Stiles; Minister of Education, Ontario, Stephen Lecce; Minister of Public and Business Service Delivery, Ontario, Kaleed Rasheed; Minister of Red Tape Reduction, Ontario, Param Gill; Solicitor General, Ontario, Michael Kerzner; and Ontario Provincial Police Commissioner, Thomas Carrique.
The session had four speeches by Aizaz Khan Sahib, Safwan Choudhry Sahib, Umair Khan Sahib, and Amir Jamaat Kababir.
The day ended with dinner.
Nazim Interpretation Hifazat Ahmad Sahib reported that his team of 17 volunteers simultaneously translated Jalsa proceedings into Arabic, Bengali, English, French, and Urdu. Special headphones available to attendees permitted different language frequencies to be set up on them.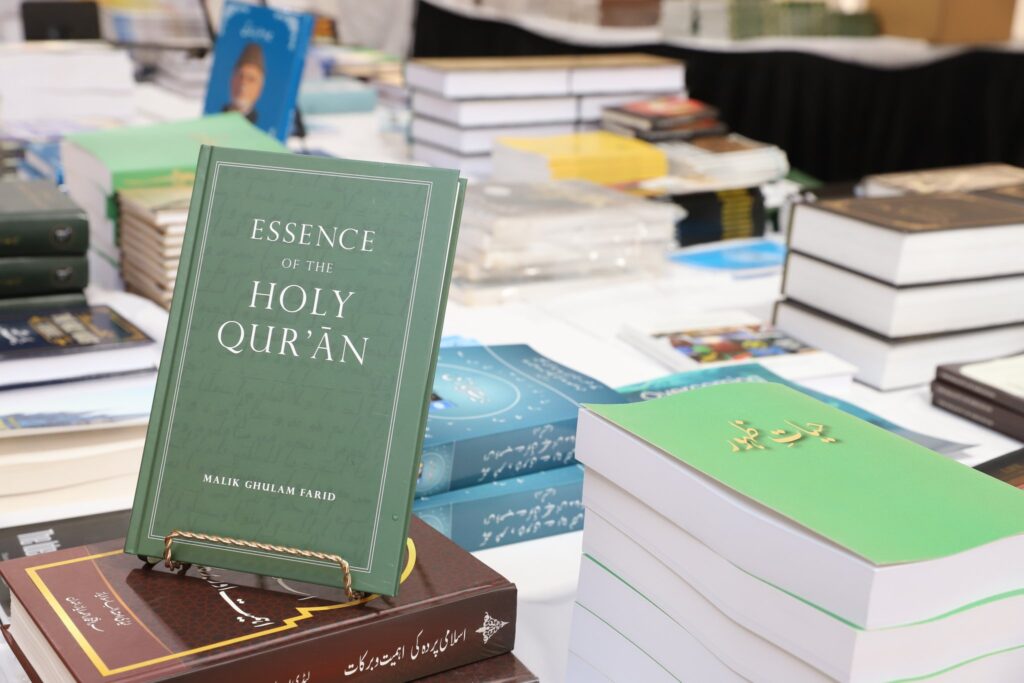 The third and final day of Jalsa began at 11am.
Near the Lajna jalsa gah, an exhibition was set up, celebrating the Lajna centenary.
The final session started with Amir Jamaat Canada presiding. After recitation from the Holy Quran and a poem, five speeches were delivered by Najeeb Ullah Ayaz Sahib, Shahid Mansoor Sahib, Secretary Tarbiyat Canada; Hadi Ali Chaudhary Sahib, Naib Amir Jamaat Canada; Abdul Hameed Warraich Sahib, Sadr Majlis Ansarullah Canada; and Amir Sahib Jamaat-e-Ahmadiyya Canada.
Congregational Zuhr and Asr prayers, followed by lunch, brought the Jalsa to an end.
Nine mainstream media outlets covered Jalsa Salana Canada, including three of the largest TV stations and three of the largest radio stations in the Greater Toronto Area. Additionally, a multicultural TV news channel, a prominent radio station in Vancouver, and a local newspaper in Mississauga provided local coverage.
Jalsa Salana Canada had a total attendance of 21,297 participants, including 10,473 men, 10,821 women, and 861 guests from 46 countries. 4,511 volunteers worked to make Jalsa a success.