Muhammad Golam Rabbi, Mohtamim Taleem, Majlis Khuddam-ul-Ahmadiyya, Bangladesh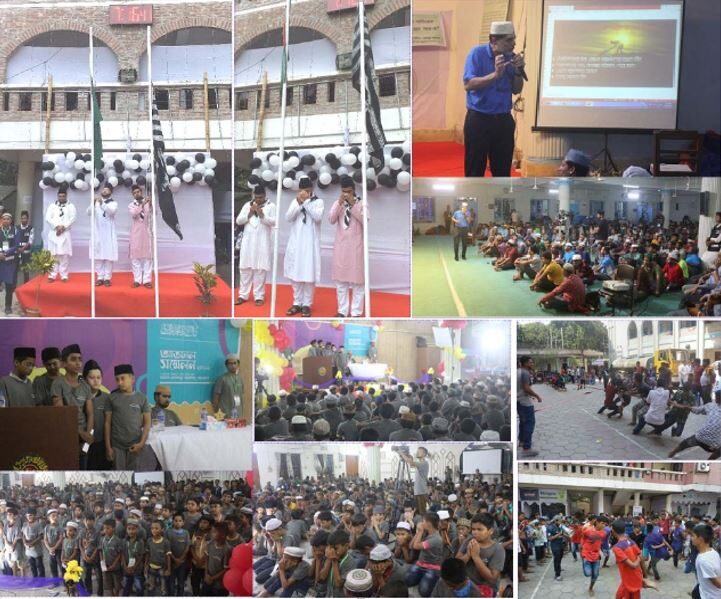 The 48th National Ijtema 2019 of Majlis Khuddam-ul-Ahmadiyya, Bangladesh was successfully held from 4 to 6 October at Bakshibazar, Darul Tablig mosque Dhaka.
National Amir, Abdul Awwal Khan Sahib inaugurated the Ijtema with flag hoisting and silent prayers on Friday. Sadr Majlis Khuddam-ul-Ahmadiyya Bangladesh, Munadil Fahad Sahib was also present.
The Ijtema consisted of several educational and sporting events. Educational events included competitions such as recitation of the Holy Quran, Nazm (Urdu & Bengali), Azaan, written exams, quiz and Chinese whispers etc.
Several sporting events like football, volleyball, tug-of-war, and strong man competitions took place on the ground adjacent to the mosque.
This year's Ijtema had a special attraction, every Khadim or Tifl who read out the words of Salaat with translation and recited the Quran correctly before judges, received an instant prize.
A meeting was held on Saturday evening where National Motamid sahib presented an annual report. This year, the Ijtema theme was "serving religion".
Muavin Sadr, Muhammad Suleman Sahib delivered a speech on this topic. Several career guideline programs also took place. Chairman and CEO of PRANRFL Group, Ahsan Khan Chowdhury Sahib delivered a speech and presentation on career development.
This year, Majlis Khuddam-ul-Ahmadiyya, Chattrogram was awarded the Alam-e-Inami award as the best majlis.
Majlis Atfal-ul-Ahmadiyya Tarua awarded Alam-e-Inami.
The National Atfal Conference was held on Saturday evening, attended by a total of 450 Atfal. Sadr Sahib, Munadil Fahad was present at the Atfal conference along with Mohtamim Atfal.
The total attendance of the Ijtema was 1808, consisting of 1200 Khuddam and 608 Atfal from 78 Majalis. This is the highest ever attendance in the history of Majlis Khuddam-ul-Ahmadiyya Bangladesh.
On Friday evening, Sadr Khuddam-ul-Ahmadiyya concluded the Ijtema with the prize giving ceremony and silent prayers