Kashif Virk, Missionary, Sweden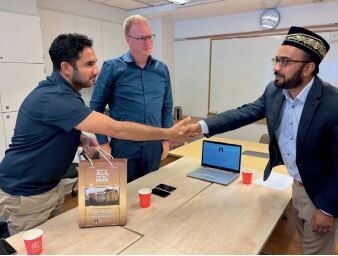 On 21 August 2022, a delegation from Jamaat-e-Ahmadiyya Sweden met with the Minister for Social Security, Ardalan Shekarabi and another member of parliament, Anders Östberg. They are both representatives of the Swedish Labour party.
The delegation consisted of the Jamaat president of Stockholm Jamaat, missionaries, local secretary of external affairs, local qaid Majlid Khuddam-ul-Ahmadiyya, president of Lajna Imaillah Stockholm and other Lajna members.
The agenda for the meeting was to introduce the Ahmadiyya Muslim Community locally and globally. We presented the global efforts for peace and guidance of Hazrat Khalifatul Masih Vaa in this regard.
The local initiatives to create a better society were also mentioned, such as work by Humanity First, campaigns such as #AskAMuslim and inter-faith dialogues. The minister was also briefed about the ongoing persecution of Ahmadis globally.
Towards the end of the meeting, certain topics of social importance were discussed, including freedom of speech and Islamophobia.
Recent events in Sweden where copies of the Holy Quran were burnt in public were mentioned, through which the misuse of this freedom only served to increase hatred and unrest in society. On the contrary, the Ahmadiyya Muslim Jamaat's peaceful response through social outreach campaigns representing the true teachings of Islam was highlighted.
The minister was gifted with a Swedish copy of the Holy Quran as well as the book, World Crisis and the Pathway to Peace.