Laiq Ahmed Atif, President Jamaat-e-Ahmadiyya Malta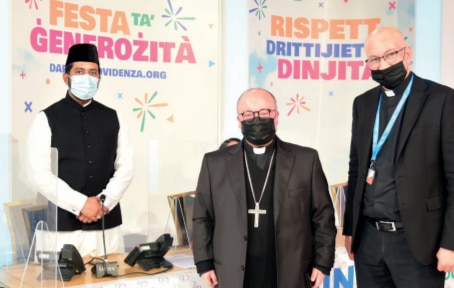 Jamaat-e-Ahmadiyya Malta had the opportunity to participate and contribute actively towards the Dar tal-Providenza telethon for the third time.
Dar tal-Providenza – a home for the disabled people – organised its annual 12-hour fundraising telethon event called Festa ta' Ġenerożità, meaning feast of generosity, on New Year's Day.
The organisers were extremely delighted and grateful for the Jamaat's help and assisted them in setting up their stand which aimed to serve the people working behind the scenes in making this event successful with refreshments and food.
Jamaat-e-Ahmadiyya Malta served refreshments, lunch and dinner for all the volunteers who worked tirelessly to make this telethon a huge success. We also helped in responding to telephone calls and remained present there till the end of the telethon that ended at midnight.
An interfaith prayer session, on the Jamaat's suggestion, was also held on national televisions, praying for the participants, viewers, volunteers and benefactors. This was led by Rev Martin Micallef, Director of Dar tal-Providenza, and myself. I recited some Islamic prayers with Maltese translation; and explained the Islamic perspective about serving humanity and said that those who serve for the sake of the Almighty Allah are rewarded manifold.
By the sheer grace of the Almighty Allah, this event was very successful and €1.4 million were raised during this event. This 12-Hour event was telecasted live on national televisions in Malta.