Laiq Ahmed Atif, President Jamaat Malta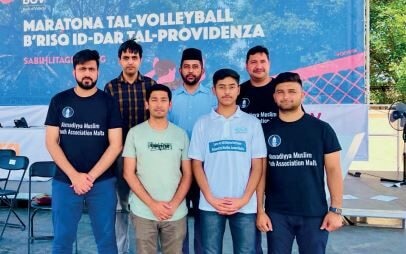 Dar tal-Providenza, a home for disabled persons, held its 53 hours volleyball fundraising marathon from 1 to 3 July 2022. Jamaat-e-Ahmadiyya Malta actively participated in this event. In fact, for the last few years, the Jamaat in Malta is collaborating on an array of fundraising events.
For the volleyball marathon, seven members of Jamaat-e-Ahmadiyya Malta helped in the kitchen with the preparation of breakfast and lunch for all the volleyball players and volunteers. Members of the Jamaat also helped in responding to the telephone calls that were received for offering donations.
A prayer session was also held before the end of the fundraising event on 3 July. The prayer was led by Rev Martin Micallef, the Director of Dar tal-Providenza and my humble self. I recited two Quranic prayers with the Maltese translation and also prayed for all the volunteers and donors. The programme was aired live on Maltese television channels, therefore, people also joined in these prayers from their homes.