Maham Warraich, Belize
This past month Jamaat-e-Ahmadiyya Belize partook in a youth engagement effort by sponsoring basketball backboards and rims at one of the busiest courts in Belize. This well-known court is located in Buttonwood Bay Park and is populated by youth of all ages that play basketball there regularly. This location also holds historical significance to Jamaat-e-Ahmadiyya of Belize as the first mission of the Jamaat in Belize was established here. Once the Jamaat began to increase in size, the original mission became small for the members and therefore the mosque was relocated.
Over the years, Jamaat-e-Ahmadiyya Belize has worked towards fostering their relationship with the citizens of Belize, especially the youth, through various avenues such as sports, pantry bags, workshops and training sessions. Through these efforts, a level of trust and comfort has developed between Ahmadis and citizens of Belize.
It is with this relationship that the youth approached our Jamaat and requested for help to repair the damaged basketball equipment. The Jamaat was pleased and grateful for the opportunity to help enhance the quality of the court by installing new rims and backboards.
Jamaat-e-Ahmadiyya Belize has now sponsored a total of four backboards and rims.
Jamaat-e-Ahmadiyya Belize is a well-recognized community amongst both the public and the media. All major media outlets also covered this installation and have expressed their appreciation for the ongoing efforts of the Jamaat to work towards building a better Belize together.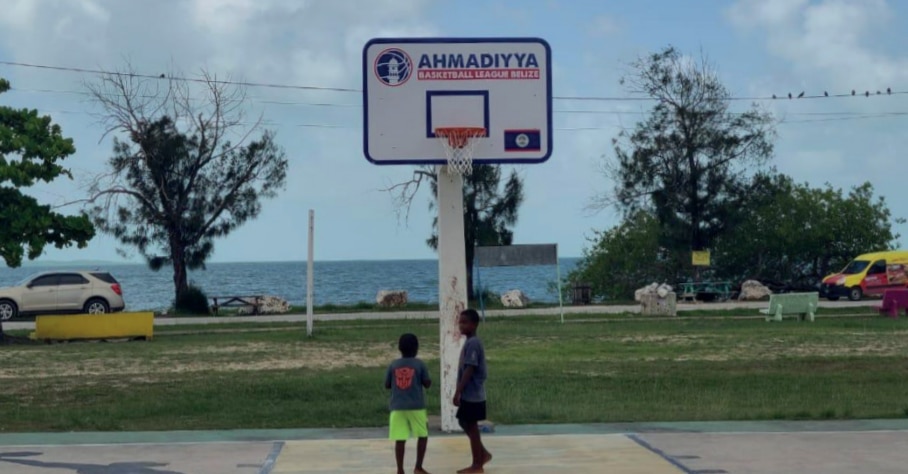 For some, this task may seem insignificant or unnecessary but for the youth of Belize, where children are battling the pressure of drugs and violence from a very young age, basketball becomes a means of hope. In an area riddled with social vices, basketball unites the youth regardless of their differences and promotes healthy community building. The youth in the community look to this court as more than a meeting ground and instead as a peaceful escape where they can feel safe and play the game they love. The cost in such a project is insignificant in comparison to the betterment it promotes amongst the community.
Jamaat-e-Ahmadiyya Belize is striving to engage the youth through sports and healthy activities while still working under the restrictions posed by the government due to Covid-19.
The mayor of the city, and area representative who is also the minister of home affairs and new growth industries, both expressed their appreciation for the effort.
These initiatives have been received very positively and have become the steppingstone for further projects.