Abdul Aziz Bin Mohd Ibrahim, President Jamaat Penang, Malaysia
The International Day of Peace, also known as World Peace Day, is observed every year on 21 September. This day is celebrated around the world to strengthen the ideals of peace, through observing 24 hours of non-violence and cease-fire. Various events and seminars are held to reassure us that we are fully committed to playing our part in building a peaceful world.
This year, the theme of International Day of Peace was "Recovering better for an equitable and sustainable world". It focused on how to help everyone recover better, how to build resilience, and how to transform our world into a place that is more equal, more just, equitable, inclusive, sustainable and healthier.
A peace dialogue and prayer ceremony was held in Penang Peace Children Care Centre (PCCC) to commemorate this day. Jamaat-e-Ahmadiyya Penang, Malaysia was also invited to present the Islamic principles for establishing lasting peace in the world.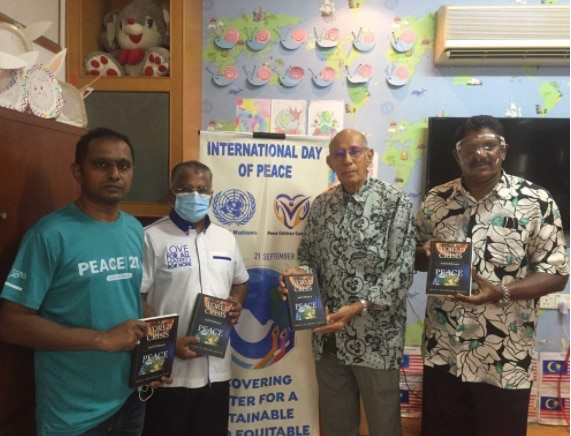 I had the privilege of presenting a brief, yet comprehensive noble model and the teachings of the Holy Prophet Muhammadsa in regard to establishing peace.
Following this, World Crisis and the Pathway to Peace, a compilation of speeches and letters to world leaders by Hazrat Khalifatul Masih Vaa was presented to Alagesan Ayaru, the chairman of PCCC and to the audience as a gift.
This peace dialogue was attended by 40 guests. It concluded with a prayer ceremony where everyone prayed for the ending of wars taking place in various parts of the world.