Aishnah Mishaal Baten, Paraguay Correspondent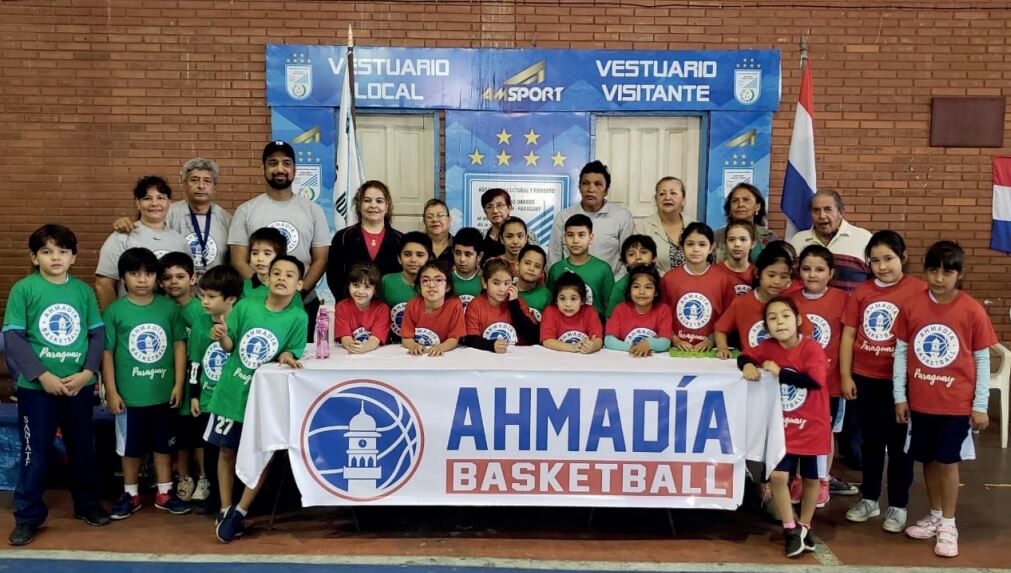 On Saturday 19 October 2019, Jamaat-e-Ahmadiyya Paraguay held a basketball camp in the humble neighbourhood of Asuncion, Paraguay.
This was a camp for youths between the ages of 7 and 15. The basketball camp was attended by 60 students and 30 parents. Two professional basketball players also came to support the activity as well as a journalist from ABC COLOR.
The event started with an introduction to Jamaat-e-Ahmadiyya by Imam Abdun Nur Baten Sahib. Following the introduction, jerseys with the Ahmadiyya Basketball logo were presented to the participants of the camp.
Thereafter, the coach led the youth through several training drills followed by a few exhibition games. The youth were very happy to come and train in an organised basketball camp.
The parents voiced the importance of the league as a vital activity to keep children away from screens, drugs and a life on the streets.
The purpose of this league was to teach children the importance of team work, discipline and community service. Another purpose was to build a positive relationship between the Jamaat-e-Ahmadiyya and local communities.
The largest newspaper in Paraguay, ABC Color, wrote a positive article about the Jamaat's role in starting this basketball camp.
Many parents also showed interest in visiting the mosque and learning more about Islam, following the event.