Syed Mukarram Nazeer, Canada Correspondent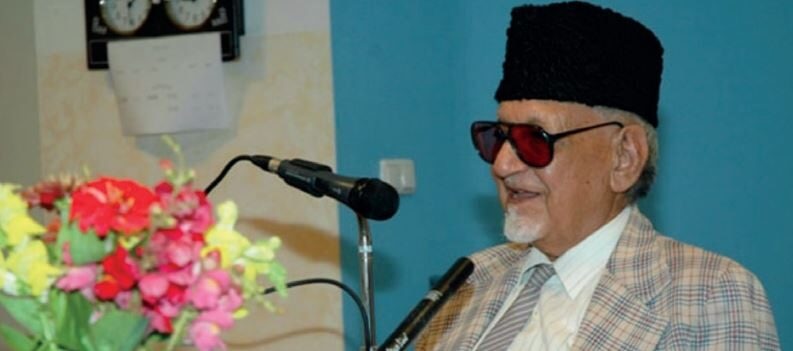 Talim-ul-Islam College Old Students Association organised a programme in remembrance of literary icon and former Principal of Talim-ul-Islam College, the late Chaudhry Muhammad Ali Sahib.
Chaudhry Sahib was born in Maseetan, a small village in Firozpur district of West Punjab in 1917. He completed his master's degree from Government College Lahore and went on to teach at Punjab University where he was a member of the University Senate and Academic Council. He also taught at FC College Lahore and served as the president of the department of philosophy at the college.
He accepted Ahmadiyyat in 1941 and continued to serve the Jamaat until his demise. This event was organised to recognise his contribution to Talim-ul-Islam College and to Urdu poetry.
The evening took place at the multi-purpose hall of the Ahmadiyya Abode of Peace, Toronto. Mahmud Chughtai Sahib and Waseem Ahmad Sahib reported that the programme was divided into two parts. The first part was presided by Amir Jamaat Canada, Lal Khan Malik Sahib and Abdul Hameed Hamidi Sahib hosted the programme.
After tilawat and poem, Naib Amir Toronto West Jamaat and convener of Talim-ul-Islam College Old Student Association, Brigadier (retired) Abdul Ghafoor Ahsan Sahib welcomed all guests and presented different aspects of the life of Chaudhry Muhammad Ali Sahib. Similarly Lal Khan Malik Sahib (Amir Jamaat Canada), Hadi Ali Chaudhry Sahib (Naib Amir Canada), Mubarak Ahmad Ansari Sahib (former Professor Talim-ul-Islam College), Dr Nasir Ahmad Pervaiz Parwazi Sahib (former Professor Talim-ul-Islam College), Muhammad Aslam Sabir Sahib (Lecturer Jamia Ahmadiyya Canada), Dildar Ahmad Sahib (Secretary Mission Canada Colonel [retired]) and poet Tasleem Elahi Zulfi Sahib shared their memories of Chaudhry Muhammad Ali Sahib.
In 1944, Chaudhry Muhammad Ali Sahib joined Talim-ul-Islam College in Qadian as one of the founding professors. During his teaching tenure, he taught philosophy, psychology and English. He later became principal of the college and remained until his retirement. He also had a keen interest in the promotion of sports and once served as the senior vice president of Pakistan's basketball team.
During his time at Talim-ul-Islam College, he managed an array of sports, which included swimming, rowing, basketball and hiking. After retirement, he served as head of the English department of Jamia Ahmadiyya Rabwah.
He had the honour of serving as private secretary to Hazrat Khalifatul Masih IIIrh, Wakil Waqf-e-Nau and Wakil-ut-Tasnif. He was very righteous, had a pleasant personality, was a caring teacher and holds a special status as an excellent Urdu poet within Jamaat-e-Ahmadiyya and Pakistan.
Upon the instruction of Hazrat Khalifatul Masih Vaa, Chaudhry Sahib's Urdu poetry collection was published posthumously under the title Ashkon kay Charagh. He passed away on 14 August 2015 at the age of 98 in Rabwah, Pakistan.
The second part of the program was a poetry session presided by Naib Amir Canada, Hadi Ali Chaudhry Sahib. The session started with the screening of a video of Chaudhry Muhammad Ali Sahib reciting his poetry. This was followed by poetry recitals by many poets, including Abdul Hameed Hamidi Sahib, Abdul Karim Qudsi Sahib, Hadi Ali Chaudhry Sahib, Muneef Ashar Malih Abaadi Sahib, Tasleem Elahi Zulfi Sahib and Salman Athar Sahib.
The audience enjoyed the poetry and appreciated all the poets. The programme concluded with silent prayer and dinner.