Shahid Mehmood Khan, Missionary, Congo Kinshasa
Majlis Ansarullah DRC Congo organised the Western Congo ijtema on 27 and 28 March 2021. The ansar of four regions i.e. Bandundu, Kikwit, Central Kongo and Kinshasa participated in the ijtema. Due the restrictions on huge gatherings, only a fixed quota of ansar participated from each region. According to the instructions of the Amir Jamaat, the organszation was divided in different nizamats under the nazim-e-ala, Abu Bakar Tshitenge Sahib. 
The syllabus of the academic competitions and the programme of the ijtema were sent to the regions a month before the ijtema. The preparations started a week before the proposed date. Ansar from all the four regions arrived on the night of 26 March 2021.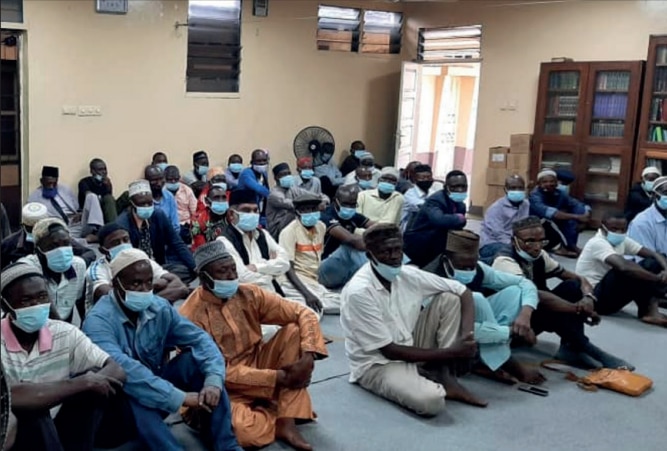 The ijtema was held in the central mission house Barumbu Kinshasa and the Ahmadiyya School.
On 27 March, the day commenced with the Fajr prayer. The missionary of Kinshasa region presented a dars on the importance of speaking the truth. All the participants prepared themselves for the inauguration ceremony, which started at 10am. Sadr Majlis Ansarullah DRC, Younus Bemba Sahib presided over the ceremony.
After the recitation of the Holy Quran, everyone repeated the pledge for Ansarullah. Sadr Sahib Ansarullah then delivered a short speech about the responsibilities of a nasir and the inauguration ceremony concluded with silent payer led by Sadr Majlis Ansarullah.
The competitions started immediately after the ceremony. This year, seven academic and three sports competitions took place during the ijtema. Academic competitions included tilawat, speech, azan, observation test, Chinese whispers, hifz-e-Quran and prayer competition, while the sports competitions included tug of war, arm wrestling and thread a needle competition.
The competitions continued until the evening with only a break for Zuhr and Asr prayers and lunch.
The second day commenced with the Fajr prayer. The missionary of Kinshasa region presented a dars on the topic of the importance of prayer.
After breakfast, all the participants gathered in the Bait-ul-Ahad mosque, Barumbu Kinshasa to listen to the Friday Sermon by Hazrat Khalifatul Masih Vaa delivered on 26 May 2017. Huzooraa delivered this sermon about the blessings of Khilafat.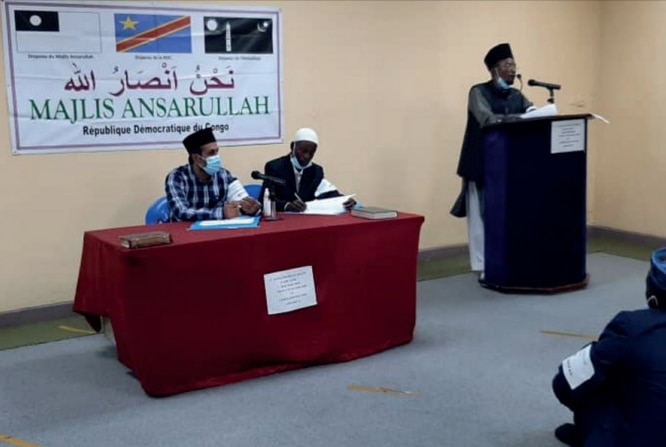 The concluding ceremony commenced at 11 am. Amir and Missionary-in-charge DRC, Khalid Mahmood Shahid Sahib presided over the ceremony. After the recitation and the Ansarullah pledge, Sadr Majlis Ansarullah presented a brief report of the Ijtema, followed by the prize distribution ceremony.
Amir Sahib delivered a speech about the objectives of Jamaat-e-Ahmadiyya. The ceremony came to an end with the silent prayer led by Amir Sahib.
All the participants were served with a meal at the end of the ijtema.
The attendance was 102, of which 87 were ansar.