Hafiz Fareed Ahmed Khalid, Secretary Tabligh, Jamaat-e-Ahmadiyya Germany
On 4 April 2021, the Arab Ahmadis of Germany had the opportunity to meet Hazrat Amirul Momineenaa at Baitus Subuh, in Frankfurt, Germany.
Muhammad Waleed Filyun from Syria, said:
"It was a great meeting. Every day, Jamaat-e-Ahmadiyya is proving that Muslims need a true leader as a role model for all Muslims. And this leader is none other than the Imam of the Ahmadiyya Jamaat.
"When Hazrat Khalifatul Masih Vaa would talk to someone, I would feel that he loved this person more, but when he would talk to the next person, this love would be more visible than the previous. The love he has for every Ahmadi is unparalleled in any leader of the world. Seeing so much connection with every Ahmadi, it seems that he is their real father. This meeting with Hazrat Amirul Momineenaa was very good, and this long-awaited meeting made us realise the love that unites all believers in the world.انما‭ ‬المومنون‭ ‬اخوة [Surely, believers are brothers]."
Basil Ghannon Sahib said:
"I am attending this gathering as a guest for the first time. The love and affection I have seen among Arab Ahmadis is unparalleled. And when the Imam of the Ahmadiyya Jamaat came and spoke with every Ahmadi in this way and advised them on even the smallest things and taking care of their small needs, it felt as if a father was advising his children."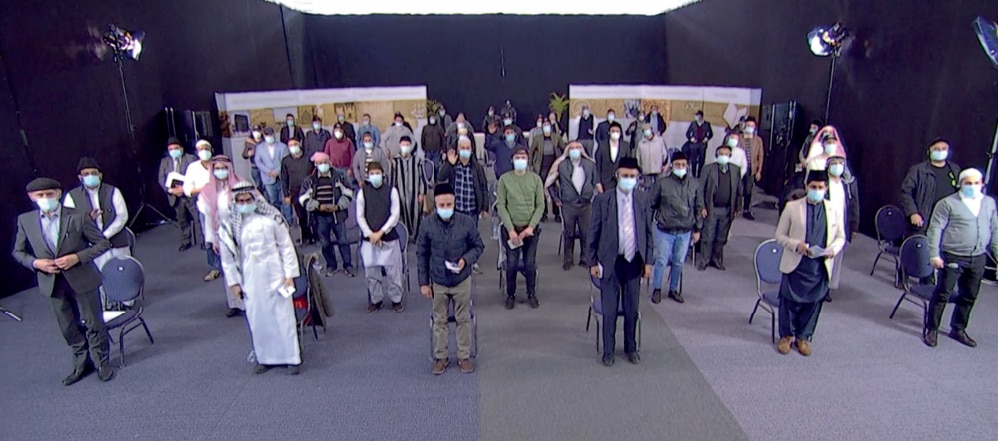 Lu'ai Sakar Sahib said:
"After the meeting, my love for Huzooraa has increased a lot and I felt as if he is one of us who speaks to us with great love and with humour too. My feelings are impossible to describe."
Nabil Tantoush Sahib said:
"I have joined this blessed Jamaat today by doing bai'at. The thing which had an impact on me was that Hazrat Amirul Momineen welcomed me, and then his smile and humour with the attendees also had a deep impression on my heart […] It is my privilege to join this blessed Jamaat and this meeting in particular has strengthened my faith. I would like to thank all those who made the arrangements for this gathering. May Allah reward them the best reward."
Ahmad al-Aaqil Sahib from Dambakh said:
"I had not yet done bai'at, but I had come today to do bai'at and I wished to see Hazrat Khalifatul Masihaa and ask him to pray for me and for my beloved country, Syria, and its people.
"Everything was very good. What impressed me the most was the excellent organisation of the Jamaat, which proved that Jamaat-e-Ahmadiyya is a very organised Jamaat. In the same way, seeing Ahmadis treating each other with respect and love and asking about each other's wellbeing amazes me.
"We have read in history books about the previous rulers of the Muslims. Therefore, I had the idea that when I meet Hazrat Amirul Momineenaa, he would be a person like the kings who were far away from their people. But after meeting him, I witnessed a beautiful smile and nur [divine light] on his face and felt as if a father was talking to his children. The fact is that I felt the need and blessing of Khilafat, that there really should be a Khalifa and Amirul Momineen."
Muhammad al-Hamood Sahib said:
"Seeing the awe-inspiring personality of the Khalifa, I felt feelings of joy and fear in my heart, and when I stood up to say something, I forgot what to say, out of fear.
"It was a very happy moment for me when I announced to join Jamaat-e-Ahmadiyya in front of Khalifa of the time. He listens to us and we can tell him what we want to say. I have never seen such an organisation and such an arrangement. I also noticed that the Ahmadis have a relation of love and brotherhood with each other […] I wish I had known about this Jamaat a long time ago."
Zaid Ali Isa Sahib from Syria said:
"I have come to Germany from Syria. I was able to do bai'at in 2012, alhamdulillah. Allah the Almighty granted us the honour to meet Hazrat Amirul Muomineenaa. It was a very interesting meeting because after a very long time, we had the opportunity to meet our beloved master, alhamdulillah. Today, we met our beloved master and talked to him and were able to make a direct request for prayers. It was a very spiritual meeting which cannot be described in words."
Anas al-Lababidi Sahib said:
"There is no doubt that I longed to meet Huzooraa. I am very happy to have had this opportunity. It has created such a joy and satisfaction in our hearts. In this meeting, we saw the nur [divine light] of Allah in our dear master. There are feelings of prayer and gratitude to Allah the Almighty that Huzooraa gave us his precious time."
Akram Salman Sahib from Reutlingen, said:
"Alhamdulillah, after more than a year, today we were able to meet Hazrat Amirul Momineenaa. Every year on the occasion of Jalsa Salana, the Ahmadis of Germany would usually see the beloved master and he would show special kindness to us, the Arab Ahmadis, and would give time for group meetings. Today, by the grace of Allah, we not only talked to Huzooraa, but also received direct guidance, love and compassion one by one, for which we are all very happy, alhamdulillah.
"Our meeting lasted about an hour and a half. During the meeting, we all felt a deep spiritual atmosphere and our beloved master spoke to us in a very loving and humorous manner."
Abdur Rahman al-Suwaidi from Algeria, said:
"Alhamdulillah, this was a very blessed day for us because we had the privilege of meeting Hazrat Amirul Momineenaa and although this meeting was from afar, our hearts were very close and we felt a heartful joy. It felt like I was attending Jalsa Salana, alhamdulillah."
Muhammad Saleem Shahroor Sahib from Gelnhausen said:
"When Hazrat Amirul Momineenaa appeared on the screen, there was a very calm atmosphere. I had a chance to meet him before as well and now I had the opportunity again, which was a source of great joy."
Muhammad Sulaiman Sahib from Reutlingen said:
"I am really happy that we had the opportunity to meet Huzooraa. I was amazed that he cares about the feelings of every Ahmadi in the world. He asked about everyone, about their activities, about their financial situation and about everything else in depth. This has brought me even closer to Khilafat. We were also able to request prayers from Huzooraa. It was a very spiritual meeting."
Ahmad Diab Sahib from Witten said:
"The meeting with Huzooraa cannot be described in words, alhamdulillah. It was a source of great happiness. I had had the opportunity to meet him before, after which all spiritual matters as well as worldly affairs had become better than before. Every action of Huzooraa and his smiling face leaves a spiritual impression on us […] And this meeting was also full of spirituality."
Muhammad Qayal Sahib from Lahr said:
"We longed to meet our dear master. The truth is that before the meeting, we were feeling some tension, but at the same time we were feeling happiness which was more prevalent because we especially wanted to meet Hazrat Amirul Momineenaa – especially this year as last year we could not see Huzooraa due to Covid-19. May Allah bless this meeting for all of us and may we benefit from it."
Saeed Darwish Sahib from Rödermark said:
"I am very happy to meet Hazrat Amirul Momineenaa. Of course, these feelings are very sweet. Our dear master is our spiritual father and it is this relationship that strengthens our faith and surely he is our spiritual father. And it felt like I had not seen my father in a while and I really wanted to meet him and it was a very happy day."
Abdur Rahman Shafi'i Sahib from Berlin said:
"Sometimes a person is unable to express his feelings. I do not have the words to express my heartfelt feelings. Allah the Almighty granted us a special opportunity. This was the grace of Allah the Almighty and the compassion of Hazrat Amirul Momineenaa. On this occasion, we would like to thank our dear master for giving us the opportunity to meet him. After a very long time, we were appearing before him again. There is no limit to our gratitude. We pray to Allah Almighty for the health of our beloved master and pray that Allah the Almighty will always be the Supporter and Helper of our beloved master and bless him with His blessings. Amin."
Mahand al-Musli Sahib from Syria said:
"I was longing to meet Huzooraa. Due to the Covid-19 pandemic, I had not been able to meet my dear master for the last two years […] I had become accustomed to meeting my dear master every year on the occasion of Jalsa Salana Germany. May Allah be the Helper of all those who love the beloved master and may Allah be the Supporter and Helper of the beloved master. Amin."