Farhad Ahmad, Mohtamim Atfal-ul-Ahmadiyya UK
Majlis Khuddam-ul-Ahmadiyya UK was blessed with the honour that our Atfal-ul-Ahmadiyya, aged 13-15, were granted the blessing of two virtual mulaqats over the past weekend with Hazrat Khalifatul Masih Vaa.
The two meetings took place on 24 and 25 April 2021 in two different locations – Baitul Futuh in London and Darul Barakaat in Birmingham respectively.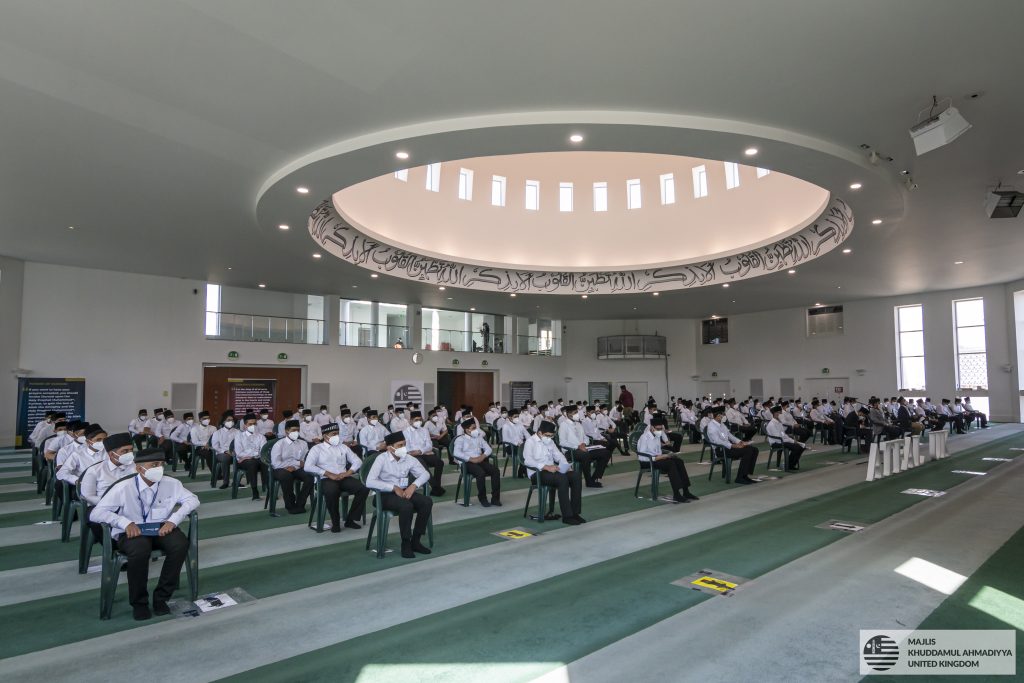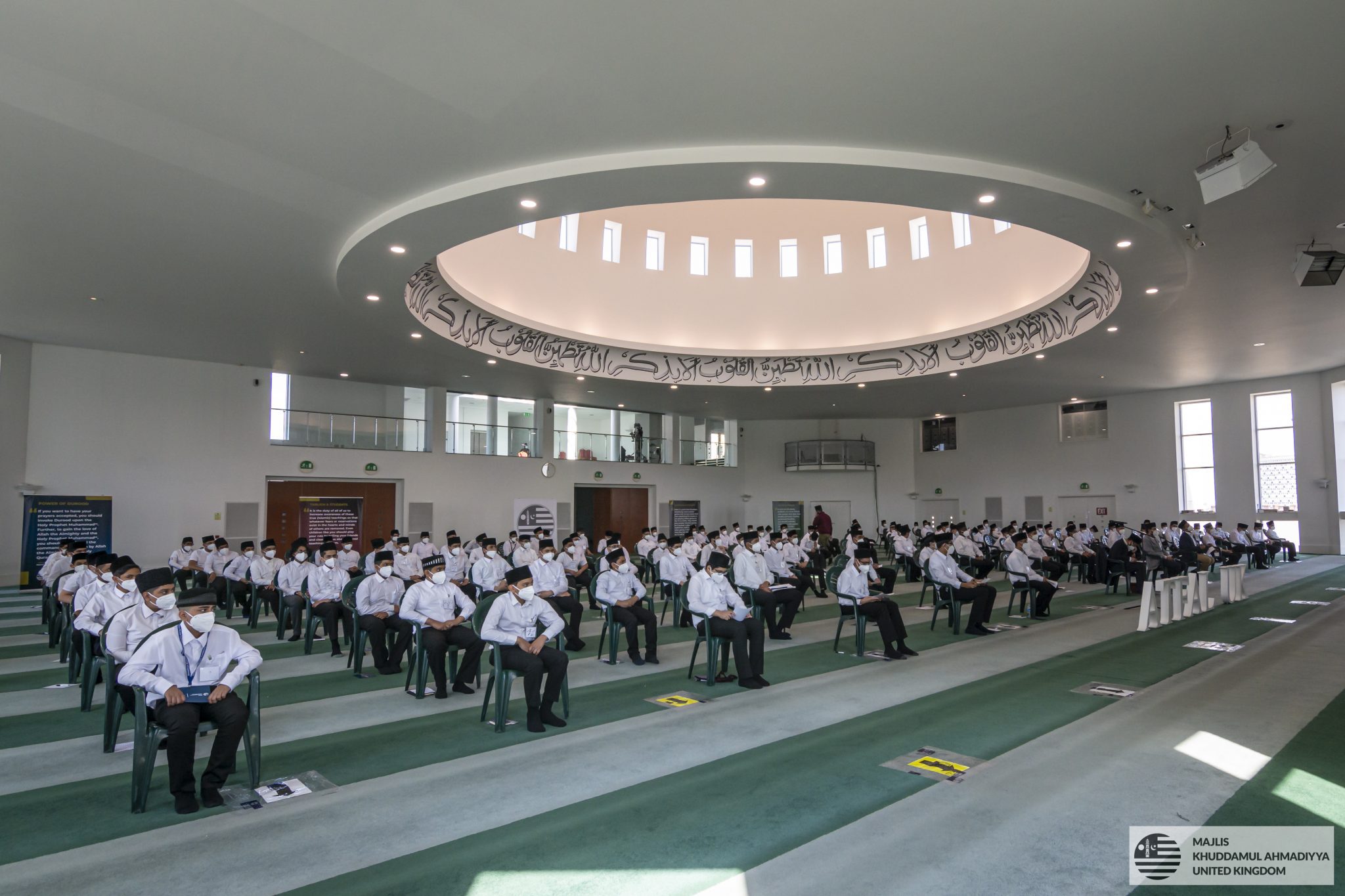 It had been a long yearning of the Atfal to meet their beloved Imamaa, whom they had not physically met or prayed behind for over a year.
Naturally, emotions were running high and along with excitement, there was a strong desire and hope for everything to run smoothly and that the experience of virtually meeting Huzooraa is a success. We were also praying that we may be able to truly benefit from Huzoor's blessed, righteous company in the best way.
Narrating his experience, a tifl who attended the mulaqat in Baitul Futuh, Saim Naim from Fazl Mosque Region, explained that he felt a mixture of emotions prior to the blessed audience. He said, "I was a bit excited and nervous because I hadn't been in a mulaqat in a long time."
Another tifl, Kashif Ali, knew exactly how important it was to be presentable in a meeting with Khalifatul Masihaa and said, "I made sure that I was dressed in my best attire and in the best way possible."
Another tifl raised an important point in regard to the stature and importance of these meetings, saying that whenever Atfal from around the world got the chance to meet Huzooraa they should "[feel] honoured if [they] get a mulaqat like this because not everyone can get it".
As the meeting began, the nerves turned into a wave of joy and old memories of being able to see Huzoor in person were refreshed.
14-year-old Muhammad Ahmad Bajwa from Nasir Region thoroughly enjoyed the programme, saying, "I was delighted to be in the presence of Khalifatul Masih, even though it was via the Internet, as a live meeting with Huzooraa is still very surreal."
A tifl was extremely excited to meet Huzooraa and prayed for the health of our beloved Khalifa. He further remarked, "Even though we didn't meet Huzooraa in person, today's event was still very special for me as I was blessed with the opportunity to meet my Khalifa."
Khakan Mahmood stated that he was very excited for the mulaqat and in preparation, he had prepared a question, but in the nervousness of it all, forgot to ask the question! He said, "I'm lucky to have a blessed opportunity to meet beloved Huzooraa."
Jazib Shah, a 13-year-old tifl from Baitus Subhan region, was blessed with the opportunity to recite a portion of the Holy Quran to inaugurate the session in Baitul Futuh. He felt rejuvenated after Huzooraa gave him some kind words. He said:
"I was pretty nervous, but Huzooraa told me I did tilawat really well and would go on to do it on an international level. These words empowered me." He says that the mulaqat taught him a lot, stating, "Today's experience showed me that this is an honour; I should remember this for the rest of my life"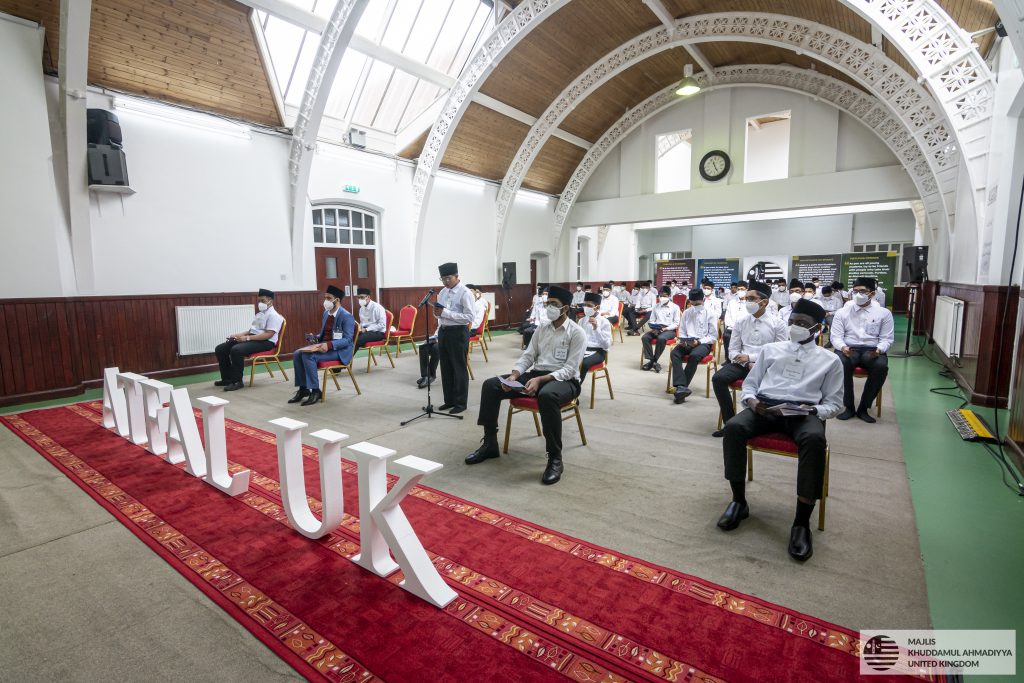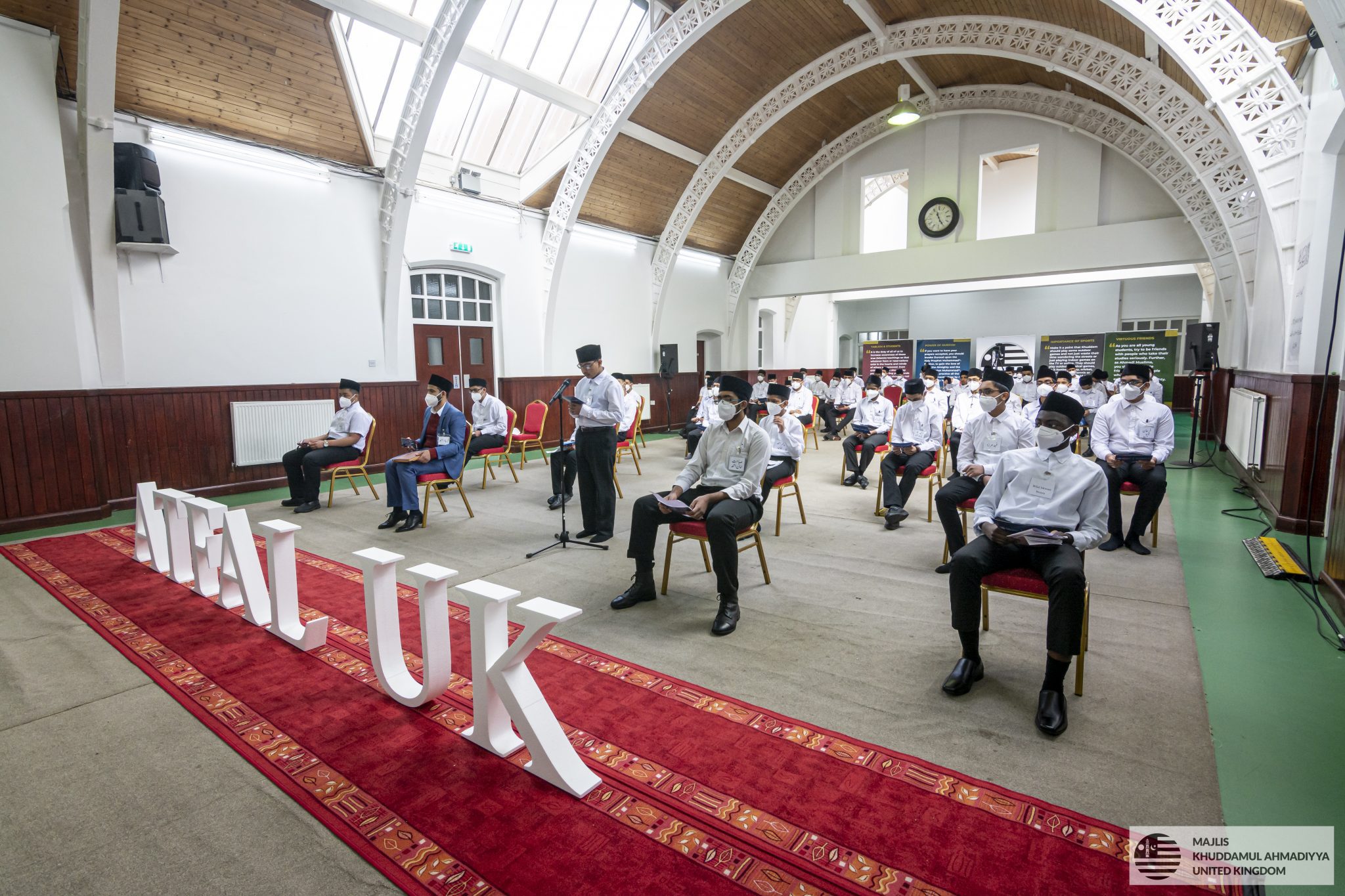 Adeel Tahir from Baitus Subhan was beyond words when he found out that he was selected to present something in front of Huzooraa. He said:
"When I heard I was selected for the hadith, I was overjoyed. It had been so many years since I had seen Huzooraa live and so it was a feeling that cannot compare to anything else."
Muveed Ahmad Khan, age 14 of Shareef Region, was asked whether anything from today's event took him by surprise. He said:
"When I asked Huzooraa my question about what he remembered from Pakistan, I think he felt sad because I think he missed it. This shocked me the most."
A tifl who had the opportunity of reciting the translation of the hadith in front of Huzooraa in Darul Barakaat Mosque explained how he prepared:"I prepared by reciting it every day." He described "being able to hear Huzoor and his advice" as the best thing about the mulaqat.
The mulaqat required several additional arrangements that would not be needed in normal circumstances, such as arranging Covid tests, social distancing, chairs for seating arrangement, much more regular cleaning of toilets and other facilities. The logistical challenges were overcome only with the grace of Allah.
Ashaamul Haque, one of the Atfal, noted that he was very pleased with the arrangements made in order to keep the place safe. He said,"[The arrangements] were very good. Social distancing was very good. [The process] was very interactive and everyone was very kind throughout the process. It was easy and there was no crowding."
135 Atfal attended the mulaqat in Baitul Futuh and 58 in Darul Barakat.
By the grace of Allah, the Atfal felt spiritually rejuvenated and made pledges to better themselves morally and spiritually.
In both locations, over 28 Atfal had the opportunity to ask questions to Huzooraa and thus, the whole world was able to benefit from the beautiful gems in the form of answers of Huzooraa.
It is our prayer that Allah the Almighty blesses our most beloved Imamaa who takes out so much time to cater for the needs of Jamaat members and may we and the Atfal who participated, act upon every single piece of guidance given by our beloved Imamaa. May the Atfal grow up to be the best assets of the Jamaat, insha-Allah!