Tahir Bhatti, Germany Correspondent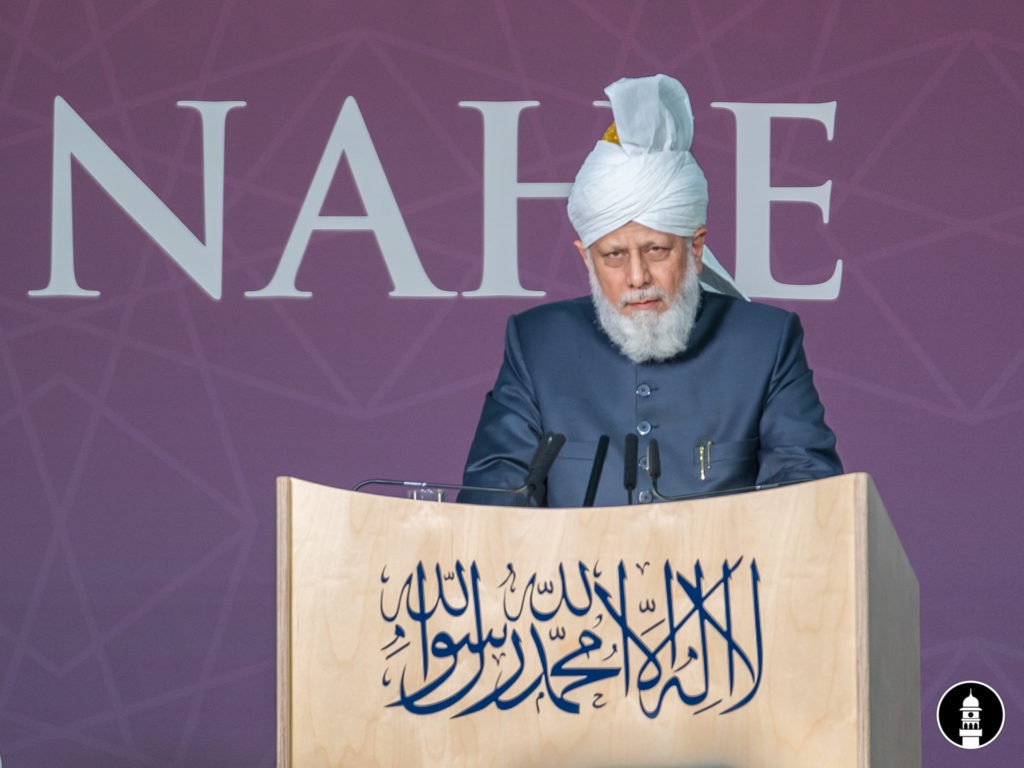 Nahe, Germany, Saturday, 26 October: Hazrat Khalifatul Masih V, may Allah be his Helper, addressed guests at the formal inaugural ceremony of Baitul Baseer, Mahdi Abad, Germany.
The ceremony was initiated with the recitation of the Holy Quran after which Amir Sahib Germany, Abdullah Wagishauser presented a brief history of Mahdi Abad – the geographical location of Baitul Baseer.
A number of guests also addressed the congregation. Lt Colonel, Gustav Lunenborg explained how thirty years ago, he saw the banner of "love for all hatred for none" by the Jamaat for the first time. At the time, he thought to himself that the slogan might be deceitful and that those who claim this might not practice it in action. However, today the Jamaat has proved that they also practice what they preach. He said that he was confident that along with the Jamaat, the community can go further to establish human values collectively.
Lt Colonel Lunenborg accepted that they feared and had reservations for Ahmadis but it has now changed for the contrary.
A representative of the Protestant Church, Pastor Susanne Hahn congratulated the Jamaat and Hazrat Amirul Momineenaa for the new mosque. She expressed how the community has always been open and accommodative to the wider society. Pastor Hahn said she was glad to attend the inaugural ceremony of "a House of God". Commenting further she expressed, "We believe in the same God … our ways may be different but our destiny is the same."
Next, the Lord Mayor, Elke Christina Roder congratulated the Jamaat and Huzooraa for the new mosque. She acknowledged the good character and behaviour of Ahmadi Muslims and said that she believed this mosque would promote tolerance and make the society a more peaceful and pluralistic place.
A Member of Provincial Assembly, Tobias von der Heide travelled from Kiel to attend the event. He congratulated the Jamaat and expressed that the Jamaat is our practical partner for the promotion of social peace and that it is open and much integrated into German society.
After this spoke a Member of the German parliament, Gero Storjohann. He noted that many ex-Mayors, Mayors of different cities, and other representatives of federal and provincial institutions were present at the event and this was a good sign of the mosque bringing many people together. He said that all aspects he had observed indicated a positive social and cultural integration of the Ahmadiyya community.
Thereafter, Hazrat Khalifatul Masih Vaa, addressed the congregation. After reciting Tashahud and Ta'awuz, Huzooraa thanked all the guests who attended the ceremony. Huzooraa expressed his pleasure to see a great number of local non-Muslim guests attending the event. Huzooraa said that he was glad to know that the locals and guests were well acquainted with Ahmadi Muslims and have interacted with the community. This shows that Ahmadis have had good relations with neighbours.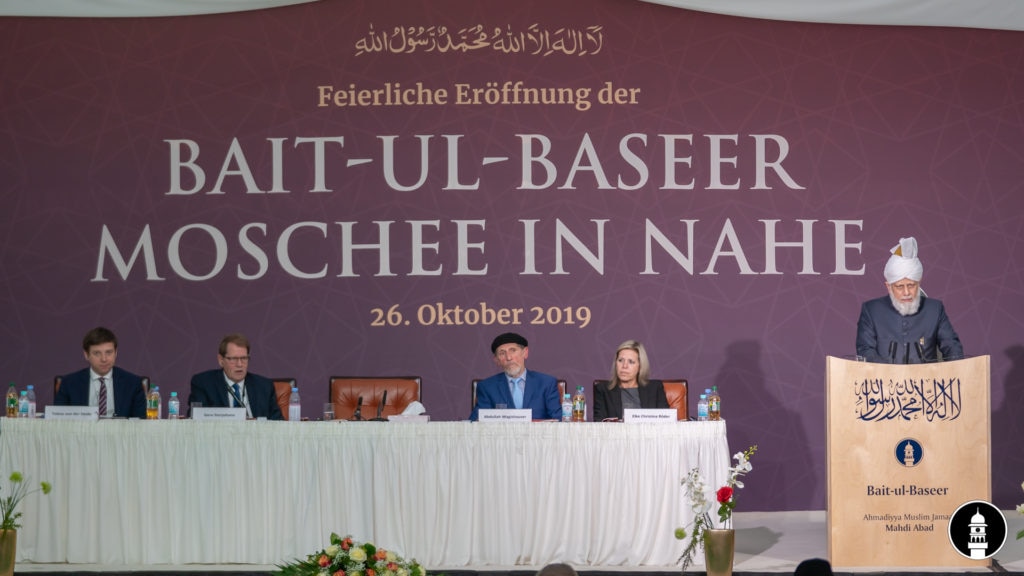 Hazrat Amirul Momineenaa noted that the mosque was situated in a small and pleasant village. Since the environment of villages is clean and people are simple and gentle, Huzooraa expressed his wish that the mosque would be a good addition to the existing values.
History plays an important role and whatever one hears about Islam, a historical fact check should take place. Islam does not believe in wars and attacks in the name of religion. Whatever wars were fought in the early days of Islam were to defend religion as a whole.
Hazrat Amirul Momineenaa mentioned that Holy Prophetsa had greatly urged and stressed the rights of neighbours to be upheld. Huzooraa said that as common human values were mentioned by a speaker, Islam and the Prophetsa of Islam have instructed Muslims to adopt good values from any culture.
Islam has also stressed on rights of women; a prime teaching being that paradise lies under the feet of mothers.
Huzooraa said that along with other values and traditions, purdah and head coverings are also a human value and tradition. Although there can be differences in various faiths and traditions but one ought to see the intention behind them. Purdah is there to enhance a woman's dignity and respect in the society.
Hazrat Amirul Momineenaa said that our religion teaches us to unite on common points rather than just arguing on differences. Holding onto differences is not a uniting principle but finding common grounds can help in establishing durable global peace.
Talking of religious freedom, Hazrat Amirul Momineenaa expressed that religion is solely the decision of one's heart. Whether someone wants to be a Jew, Christian or hold any other creed, they can do so. No coercion should take place in freedom of belief and conscience.
Huzooraa also instructed the local Ahmadis of Baitul Baseer to be diligent in upholding the increased responsibilities that now lay upon them with the mosque.