Last Updated on 25th May 2021
Nadeem Ahmed, Muavin Sadr and Press & Media Secretary MKA UK
Due to recent events, the Israel-Palestine conflict has been brought up once again in the media, and everyone is talking about the oppression and violence being done against residents of Palestine.
Just last Friday, 14 May 2021, Hazrat Mirza Masroor Ahmadaa, the worldwide head of the Ahmadiyya Muslim Jamaat, spoke out and strongly condemned the recent cruelties and atrocities. He condemned the use of unjust force inflicted in recent days by the Israeli state.
In his Eid sermon, Hazrat Mirza Masroor Ahmad, Khalifatul Masih Vaa said:
"Today, we must sincerely pray for the Palestinian people who are currently being subjected to grave cruelties […]
"May the Palestinian people find leaders who can guide them in the right way. Certainly, Muslim countries should come together and play their role to protect the Palestinians and other Muslims who are being oppressed in the world. However, the Muslim world is divided and there is a complete lack of unity amongst the Muslim nations. Certainly, in this instance, the Muslim countries have failed to show the reaction they ought to have. They have given weak statements, whereas if they had all come together and given a united statement, it would have had far greater impact and carried much more weight."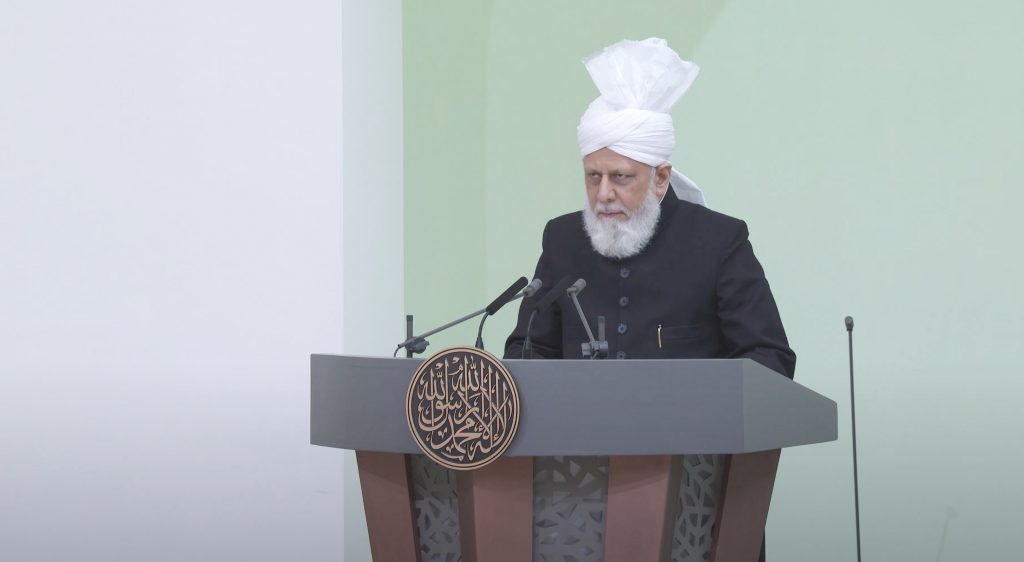 Concluding, Hazrat Mirza Masroor Ahmadaa said:
"May Allah have mercy on the oppressed and may He bring the oppressors to justice.
"May Allah grant sense and wisdom to the Muslim leadership. May He also give sense to the Israelis that they may refrain and withdraw from their injustices. Further, may Allah guide the Palestinians who are suffering from a lack of leadership if there is any injustice from their side – though in reality, this is not the case. If they [the Palestinians] are using sticks, they are being subjected to heavy missiles and sophisticated weaponry, which is something I have mentioned before as well. There is no comparison in terms of the force being used by both sides. We must, therefore, pray for the Palestinians.
"May Allah the Almighty better their situation and create the means for their freedom and may they continue to hold on to their rightful places and land that were allotted to them in the initial treaty."
As a result of this, in order to raise awareness on the matter, members of the Ahmadiyya Muslim Youth Association (Majlis Khuddam-ul-Ahmadiyya) UK, numbering thousands, have started to write to MPs across the UK to share their deep concern for the Palestinian people who are being subjected to extreme cruelty. Hundreds of letters have already been sent and replies have been received from MPs.
Below is the full statement of the Ahmadiyya Muslim Youth Association UK and some responses that have already been received from MPs: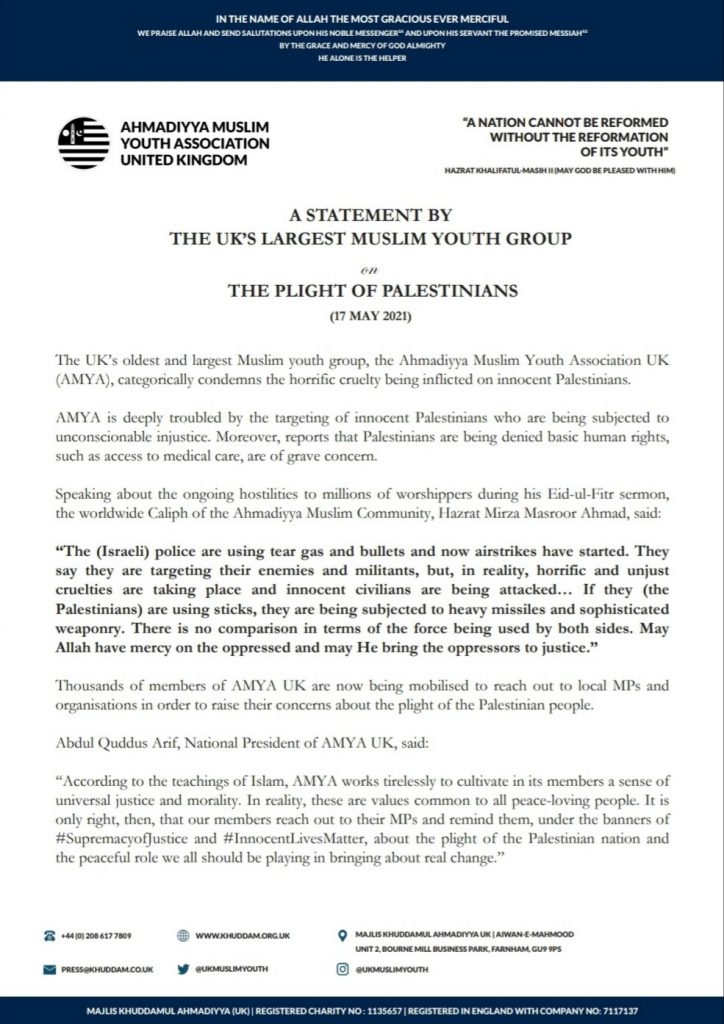 "Dear Mr Nasir
"Thank you for your email about issues concerning the Palestinian people.
"I share the UK Government's commitment to a two-state solution, where two equal and sovereign states, Palestine and Israel, live side by side in peace and mutual respect. The situation on the ground has deteriorated over recent years and a sustainable resolution is long overdue.
"The UK continues to urge Israel and the Palestinian Authority (PA) to engage in substantive peace talks and resume direct negotiations towards a just and durable two-state solution, and I have been assured that the UK has a regular dialogue with many parties on this important issue.
"It is important that the barriers to peace are addressed. The UK's position on Israeli settlements is clear. They are illegal under international law, present an obstacle to peace and threaten the physical viability of a two-state solution. I join my colleagues in Government in continuing to urge Israel to halt settlement expansion immediately.
"I am also concerned by the continued demolitions of Palestinian structures by Israeli authorities. Demolitions and evictions of Palestinians from their homes cause unnecessary suffering to ordinary Palestinians, call into question Israel's commitment to a viable two-state solution, and, in all but the most exceptional of cases, are contrary to International Humanitarian Law. More broadly, the UK has consistently been among UNRWA's top donors, and has recently significantly increased its financial contribution to UNRWA in light of the organisation's funding difficulties.
"The UK contribution will help to deliver essential services, including healthcare and education for millions of Palestinian refugees. I know that the UK consistently calls for an immediate end to all actions that undermine the viability of the two-state solution and is encouraging both sides to maintain calm and avoid taking actions which make peace more difficult to achieve. Thank you again for taking the time to contact me.
"Yours sincerely
"LIAM FOX
"Parliamentary Office of the Rt Hon Dr Liam Fox MP
"020 7219 4198
"House of Commons, London SW1A 0AA"

"Dear Fatihul
"Many thanks for your email and expressing your concerns.
"Wars and violence of any nature are not good for mankind.
"You will hopefully appreciate as the Lord-Lieutenant is Her Majesty The Queen's representative in West Yorkshire, he must adopt the same stance as Her Majesty and remain totally outside the realms of any political bias or comments, leaving this to the politicians of the day.
"With all good wishes
"Kevin
"Kevin Sharp LVO DL
"Clerk to the West Yorkshire Lieutenancy".
Stay updated on the works of AMYA UK by following @UKMuslimYouth.