S Mukarram Nazeer, Canada Correspondent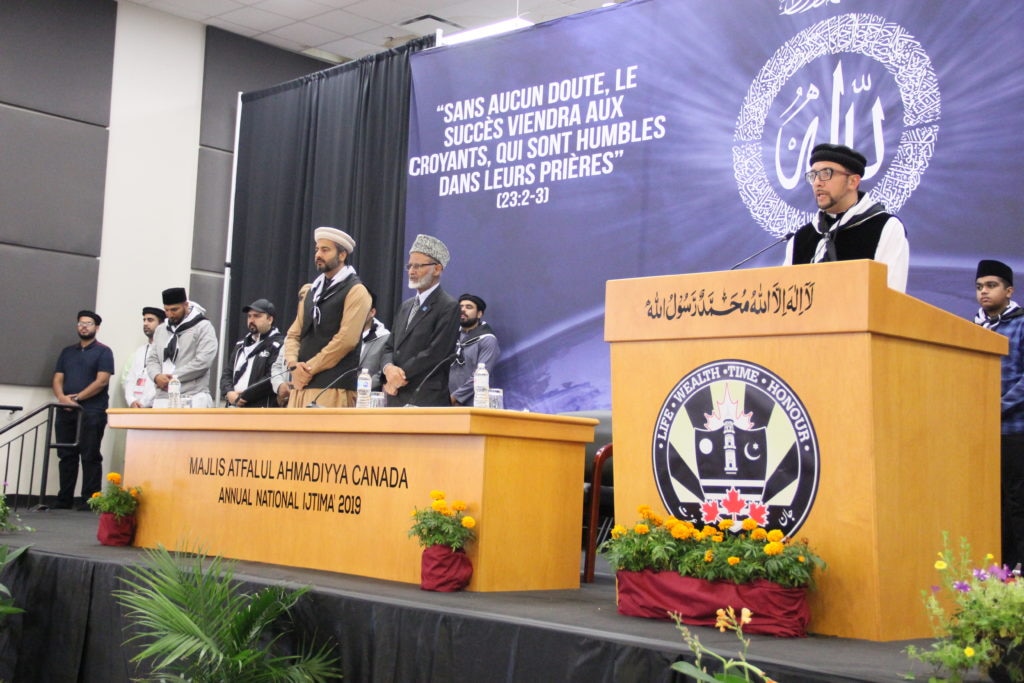 The 32nd Annual Ijtema of Majlis Atfal-ul-Ahmadiyya Canada was held in Aiwan-e-Tahir during the weekend on 17 and 18 August 2019.
Over the last few years, this Ijtema was held at Hadiqa-e-Ahmad in Bradford. Now, for safety and organisational convenience, this year, the Ijtema was moved to Aiwan-e-Tahir located in the Baitul Islam Mosque complex, Toronto.
Registration started at 8:30am with a long line up of Atfal coming from all over Canada.
National Amir Canada, Lal Khan Malik Sahib formally inaugurated the Ijtema with the flag hoisting ceremony. This was followed by the opening session which started at 10am. Salat was the theme of Ijtema this year. With permission of Hazrat Khalifatul Masihaa, for the first time, Atfal Ijtema proceedings were transmitted live for parents and members of the Canada Jamaat.
The main hall of Aiwan-e-Tahir was filled with Atfal. The opening session started with the recitation of the Holy Quran followed by the Atfal pledge led by Mohtamim Atfal, Ayaz Warraich Sahib. Next, a poem was presented by Khaqan Kamal Sahib with translation by Fateh Imran Sahib.
Amir Sahib delivered an inspiring opening address regarding the importance of Salat. Amir Sahib continued the programme with the presentation of academic achievement awards to Atfal. He also acknowledged new Atfal who joined the Majlis Atfal-ul-Ahmadiyya this year.
The next programme item was the exciting academic and sports competitions for both age groups, ma'yar-e-kabir (12-15 years old) and ma'yar-e-saghir (7-11 years old), with designated areas for each. These fun events continued until lunch time.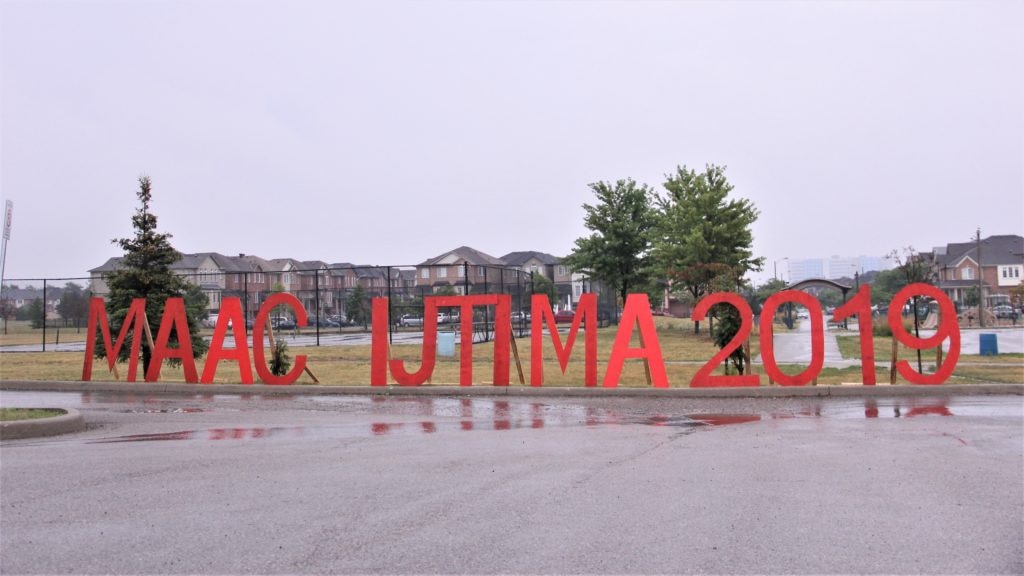 Even more events were organised for Atfal to engage in. These included an obstacle course, Zorbing, sumo wrestling and a gladiator joust. An exhibition & Atfal Hub was also running during the Ijtema, except during prayer times and session times.
Zuhr and Asr prayers were combined and offered at Baitul Islam mosque. Various competitions continued after prayers until dinner time.
In early evening, Maghrib and Isha prayers were offered, and a very interesting question & answer session was held for each age group. Both groups of Atfal were treated to an enjoyable science and magic show just before bed time on day 1 of the Ijtema.
Day 2 of the Ijtema started in the early hours of the summer morning with Tahajud and Fajr prayers with about 400 Atfal in the mosque. This was followed by dars-ul-Quran and individual recitation of the Holy Quran.
The academic and sports competitions final events were held in the morning. The academic competitions included tilawat, nazm, Urdu, English and French speeches as well as Azan and Hifz-e-Quran. These competitions were wrapped up by lunch time for all Atfal. The closing session of this year's Ijtema began after Zuhr and Asr prayers in the mosque.
Principal Jamia Ahmadiyya Canada, Daud Ahmad Hanif Sahib was the chief guest for the closing session and awarded prizes to the position holders of the academic competitions.
Nazim-e-Ala Ijtema, Ayaz Warraich Sahib presented the final report of the 32nd National Atfal Ijtema. This was followed by the concluding address by Sadr Majlis Khuddam-ul-Ahmadiyya Canada, Zubair Afzal Sahib.
Thus, the 32nd National Ijtema of Majlis Atfal-ul-Ahmadiyya Canada came to a successful end.
There was a memorable group photo of all participating Atfal. Many Atfal delivered loud and emotional slogans at the conclusion of the Ijtema. The total attendance for this year's Ijtema was 1,278 Atfal, representing 12 of the 14 regions across Canada. This represented an increase of 259 Atfal and a 26% increase from last year. Calgary region Atfal received a special award for travelling 3,362 kilometers to attend the Ijtema, the farthest distance travelled to attend Ijtimā. In addition to Atfal, 150 guests also attended.