Farhan Iqbal, Missionary, Canada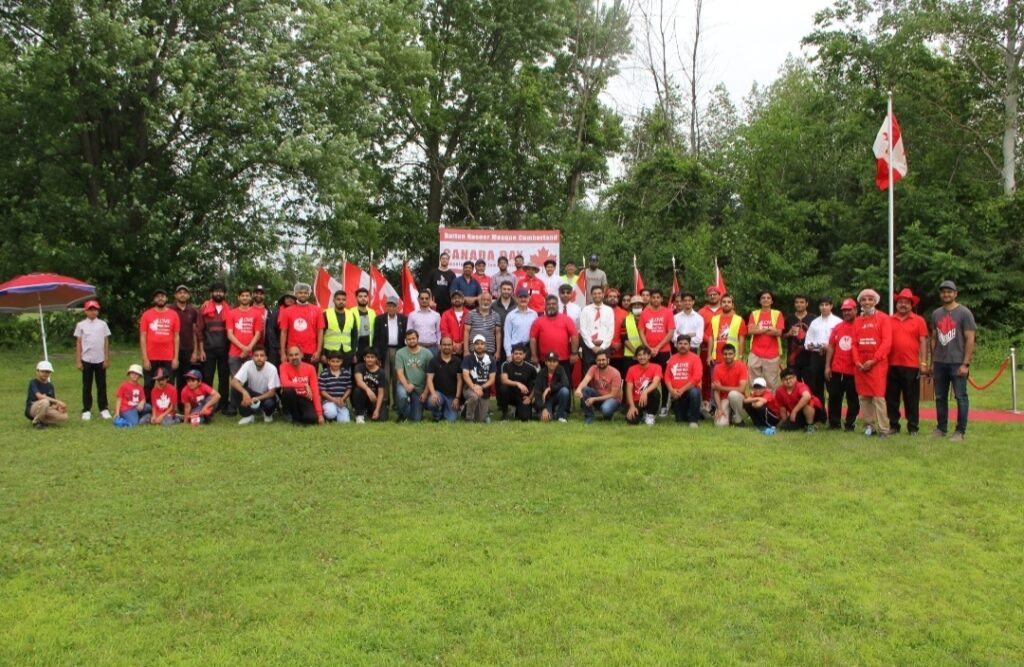 On 1 July 2022, Jamaat-e-Ahmadiyya Ottawa East and Ottawa West, Canada held a successful event in celebration of the birth of Canada. This programme has been held annually for many years but the difference in this event was that it was being held in person for the first time in three years. Due to the pandemic, the last two events were held virtually with only the speakers present at the mosque for the livestream.
The preparations for the event started two to three months prior to the event. The external affairs department worked hard in planning and preparations of the event. Various teams were formed and worked hard in a well-coordinated manner for various tasks such as devising the programme, invitations, publicity, fund raising, mosque tours, refreshments, vendor stalls and security.
The final setup was done a day earlier, on 30 June 2022, by a large number of volunteers of all age groups. The volunteers included ansar, khuddam, lajna and atfal, who spent many hours on the grounds of Baitun Naseer Mosque in order to help set up the stage, gazebos, stalls and banners and for the cleanup.
On the day of the event, a large crowd of guests had assembled and the ceremony began with the recitation from the Holy Quran, followed by opening remarks by Sharjeel Ahmad Sahib, Secretary External Affairs Ottawa East. This was then followed by the Canadian national anthem recited by nasirat.
After this, I spoke on "Gratefulness on Canada Day."
We were also grateful for the presence and remarks given by several dignitaries, which included Marie-France Lalonde (MP for Orleans), Stephen Blais (MPP for Orleans), Laura Dudas (Councillor and Deputy Mayor Ottawa), Matt Luloff (Councillor for Orleans ward), Mike Laroche (President, Cumberland Lions Club), Blake Small (representative for St. Andrews United Church Cumberland) and Kevin Foley (Deacon at St. Faustina Parish, Cumberland). Other than these, we had Francis Drouin (MP for Glengarry — Prescott — Russell) come for a visit earlier in the morning.
The ceremony concluded at about 12 pm and this was followed by flag hoisting and cake cutting. To entertain our guests, we had free BBQ and drinks on offer. There were also food stalls setup. For children, there was a large bouncy castle as well as balloons on offer.
Since Canada Day fell on a Friday this year, after 1:30 pm, preparations began for Jumuah prayer.
The media was also present for this event. An article was published in Ottawa Citizen providing coverage and photos of the event. Similarly, my humble self had the opportunity to give a radio interview to CityNews related to our event and what it means to be a Canadian immigrant and celebrating Canada Day.
Altogether, there were about 700 people in attendance, including Jamaat members, neighbours and dignitaries.