The Economist commented earlier this week that "care for migrants is changing the world of religion".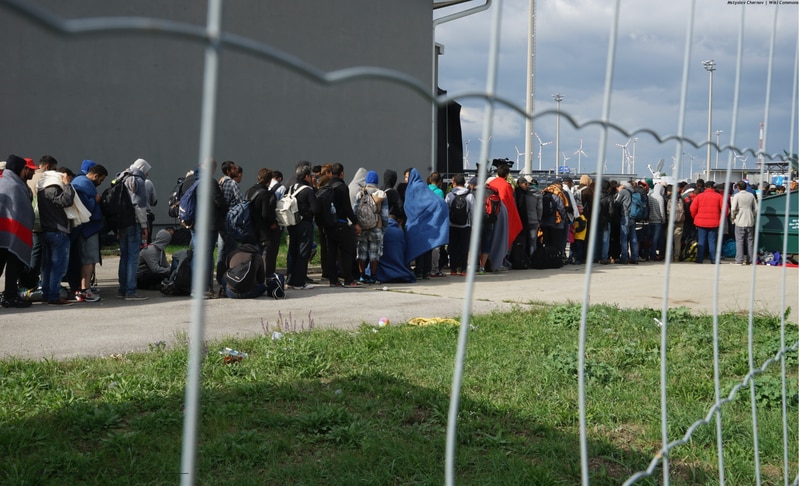 The Waldensians, a Christian sect which was once under the persecution of the Catholic Church in the 12th century and escaped to take refuge in Italy, is working hand in hand with the past oppressors to play their part for the migration crisis in Europe. This process involves identification of people in need of immediate assistance from the areas where they are being persecuted or oppressed and their safe transportation to Europe where they are given "humanitarian visas" and asylum to live in peace.
These refugees are even assisted to get in touch with their respective religious groups present in the region. This association of religious groups for serving mankind is the basis for promoting peace and harmony.
The Ahmadiyya Movement in Islam, under the directives of its supreme head, Hazrat Mirza Masroor Ahmad, Khalifatul Masih Vaa is working day and night to eliminate religious differences and to place humanity first.
Huzooraa said in his keynote address at the Conference of World Religions, hosted by the Ahmadiyya Muslim Jamaat UK on 11 February 2014:
"Some people may think what I am saying is rather idealistic and impossible to practically achieve. Yet, when we look at the long history of religions, we come to realise that such a compassionate and caring society is exactly what God desires."
Trump and Kim at Vietnam Summit
US President Donald Trump and North Korean Leader Kim Jong-un have had another meeting after their famous summit a year ago.
While the first meeting did not prompt much solid advancement, both parties have decided to give it another go.
In the earlier meeting, Trump and Kim consented to an ambiguous arrangement that submitted the two nations to keep moving in the direction of denuclearisation of the Korean Peninsula, with no timeframe or actual agreement with North Korea to disarm.
Thae Yong Ho, a former diplomat of North Korea states that Kim Jong-un has no intentions of surrendering his nuclear weapons and considers the second summit to be an opportunity for Kim to let the world know that they are a nuclear weapons state and are proud of being so.
Venezuela Crisis
A political crisis haunts Venezuela due to an uproar over the presidency of Nicolas Maduro. Almost 25 people are feared dead in vehement clashes along Venezuela's border with Brazil, over the weekend. Armed forces of President Nicolas Maduro prevented opposition supporters from carrying foreign aid into the country.
This support is being considered as a plot against the sovereignty of the country by the ruler of the nation. Several Venezuelans may perceive that this aid is free from interest and assures restoration of democracy. In any case, numerous others would unquestionably deem this foreign entry as affirmation of Mr Maduro's case that the offer of assistance is soaked in a conspiracy against the nation.
Venezuela's calamity seems a long way from being resolved.
A letter written by Hazrat Mirza Masroor Ahmadaa to Barack Obama, then President of the United States of America, highlighted the actual reasons leading the world to a potential catastrophe. A part of the letter read:
"Political and economic problems have once again led to wars between smaller nations, and to internal discord and discontentment becoming rife within these countries. This will ultimately result in certain powers emerging to the helm of government, who will lead us to a world war. If in the smaller countries, conflicts cannot be resolved through politics or diplomacy, it will lead to new blocs and groupings to form in the world. This will be the precursor for the outbreak of a Third World War … There is an urgent need for mankind to recognise its One God, Who is our Creator, as this is the only guarantor for the survival of humanity; otherwise, the world will continue to rapidly head towards self-destruction."
Another letter, which Hazrat Khalifatul Masih Vaa wrote to the President of Russia Vladimir Putin, indicates the need to bring the world to a table of dialogue from the battlefield.
Huzooraa, having suggested changes to Putin's policies, partially agreed with Putin's point of view that "if countries decided to act independently and made unilateral decisions, then the United Nations would suffer the same fate as the League of Nations and would fail."
These are dark times and there will be consequences if the world powers does not realise the magnitude of the circumstances.
There is always time for dialogue. As to the growing tensions between the US and Russia, another world war seems imminent, yet there is time for holding it down and making this world a peaceful place to live. We like to hope that world leaders will pay heed.