Zubair Khalil Khan, Director Projects Humanity First Germany for South Eastern Europe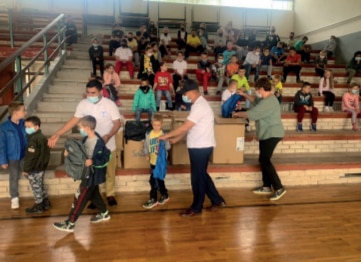 On 7 September 2021, a newspaper published an agonising anti-Ahmadiyya report as a reaction to the Humanity First donation programme of donating school bags to children in need, in a Bosnian city, Zenica.
Reacting to this report, the Mayor of Zenica, Mr Fuad Kasumovic said:
"The Bosnian Mullahs [Muslim clerics] are there just to create problems based on blame games. Let them keep doing this. Humanity First and the Ahmadiyya Muslim Jamaat is doing a noble and respected job by helping the needy persons of Bosnia. Therefore, I do not care what these Mullahs say. I stand with the Ahmadiyya Muslim Jamaat and Humanity First in their humanitarian work."
He personally accompanied the Humanity First team to the school for the distribution of school bags and also spoke to the TV news channel which had come to cover the event.
During the evening prime time, a news interview of Zenica Mayor thanking the noble humanitarian acts was broadcast as the first news segment on regional TV.
On 8 September 2021, the Mayor of a Bosnian city, Ustikolina, received a letter from the imam of the city's mosque asking him not to let Humanity First donate school bags to needy children at the city school. The reason he mentioned was that the funding of Humanity First comes from the Ahmadiyya Jamaat which is considered non-Muslim by the Bosnian Islamic Centre. He alleged that under the shadow of Humanity First, the Ahmadiyya Jamaat is trying to penetrate the Islamic community of Bosnia.
When Mr Mojo Soferdzija, mayor of the city read the letter, he called his secretary to prepare the reply to the letter in the following sentence:
"You as the mosque's imam do your job and let me do my job as mayor of the city."
After signing the letter, he called the postman to deliver this letter to the Imam by hand the same day. In the afternoon, when the in charge of Humanity First Bosnia, Mufeez Sahib met the mayor of the city, he informed him about all that had happened in the morning.
Thereafter, he personally accompanied the Humanity First team and school bags were distributed through the director of the school.
The support, reaction and replies of the two mayors of the Bosnian cities infused new impetus in the Ahmadiyya Muslim Jamaat in Bosnia and Humanity First volunteers and they pledged to continue the humanitarian work with greater zeal and enthusiasm.