Usman Ahmed, Sadr MKA, the Netherlands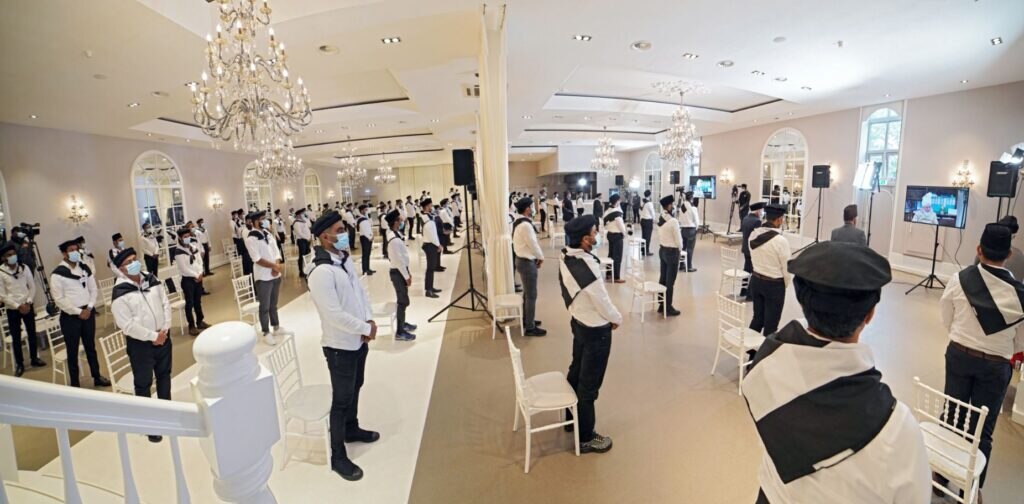 When the news was conveyed to me that Hazrat Amirul Momineenaa would bless Majlis Khuddam-ul-Ahmadiyya the Netherlands with an online session, an immense feeling of joy went through my mind, accompanied with a deep concern that in these times of Covid-19, a very small number of Khuddam would be able to participate in this blessed programme.
Given the fact that we are a small Jamaat with limited resources, we do not have large halls in any of our four mission houses, where a maximum of 30 Khuddam can be accommodated, while adhering to Covid-19 regulations as imposed by the government. Hence, we started the search for different types of commercial halls, including sports halls, hotels and event centres. After having searched places based on our requirements, visits were made and negotiations were held with several parties; the challenge seemed to be larger than we initially had anticipated.
It was not only a matter of hiring a hall for a day. All the technical setup for MTA (audio, video, streaming etc.) and the seating arrangements had to be set up several days before the programme so that we could have the test runs with MTA International.
This meant that the hall had to be hired for two days, one day for the test runs and the other day for the programme itself. There were many complications that we faced throughout our search. The time was ticking and a doom scenario was looming that we would not be able to get a hall reserved and the programme would have to be held in our mission house, using two separate halls that would accommodate a maximum of 60 Khuddam.
In the final stages of our search we had two halls (one in Amsterdam and the other one in Almere). We were already quite far in negotiations. The Amsterdam hall had a larger capacity, but in this city, the coronavirus has been spreading more than in other cities. 
On the day that the organisation of this hall would inform us if they would offer the hall with all our requirements, the Amsterdam council announced that any gathering with 100 participants should inform the council. This dented our hopes even further. The other hall in Almere simply denied offering us the hall with our requirements.
Throughout this time, I was writing for prayers to Huzooraa for a successful programme and the arrangements. The prayers of Hazrat Khalifatul Masih Vaa were being heard by Allah the Almighty.
Allah the Almighty, Who has power over all things, made everything happen all of a sudden. The same owner of the hall in Almere who had denied us, called us himself and offered everything we required for a very low price. Furthermore, a whole day for test runs earlier in the week was offered without any charges. In addition, he even offered storage space for three days for all our technical equipment, without any charges so that it didn't need to be transported back and forth to the mission house after the test runs.
Hence, it was a great manifestation of the acceptance of prayers of Huzooraa. It was a very faith-inspiring spectacle for all of members of our team. We started to witness the blessings of Khilafat even before the actual programme was held with Huzooraa, alhamdolillah.
As mentioned earlier, the technical setup for MTA had to be started on Saturday evening to have it running and tested in time before Sunday noon, when the session was planned to take place. The hall was reserved by some other party on Saturday night and would be made available for us at 4am on Sunday morning. So our MTA team, led by Rehan Warraich Sahib, planned to start the work at 4am, without wasting a single moment.
According to the plan, Khuddam gathered in the early hours on Sunday morning. Khuddam on duty had to travel from different parts of the country, so some of them didn't even sleep the whole night.
When the work started at 4am by the servants of Ahmadiyyat, who had either not slept or had just a couple of hours of rest, it seemed as if they were filled with divine energy until the setup was completed and the hall was made ready for the programme.
We had completed the work even earlier than planned, alhamdolillah. This amazing energy and huge motivation was in fact an illustration of their love and affection for Khilafat-e-Ahmadiyya, which could be observed very clearly.
When the session started and as soon as we saw Huzooraa on screen, all the fatigue and tiredness of the passed days was vanished. It felt as if we were sitting in Huzoor'saa office and meeting with Huzooraa.
As there is no compulsion of wearing the face mask in Holland, so we had decided not to wear face masks while speaking to Huzooraa. When the meeting started, I (not wearing the face mask) said Salaam to Huzooraa. Huzooraa immediately asked me "Why is Sadr Sahib not wearing the face mask?" and instructed to wear the face mask at all times during the session. This really showed how much beloved Huzooraa loves Jamaat members and cares for us.
This one hour spent with Huzooraa has heightened our spirits, sharpened our organisation and filled us with amazing divine energy. The joy on the faces of Khuddam afterwards was incomparable to anything. This one hour boosted our energy to march further on the path towards Allah and carry out our responsibilities with much more commitment and devotion.
May Allah the Almighty keep our beloved Huzooraa healthy and happy always. May Allah the Almighty give prosperity and progress to Islam under his blessed leadership. May Allah the Almighty make us and our future generations fully loyal and obedient to the institution of Khilafat. Amin.