Ata-ul-Haye Nasir, Al Hakam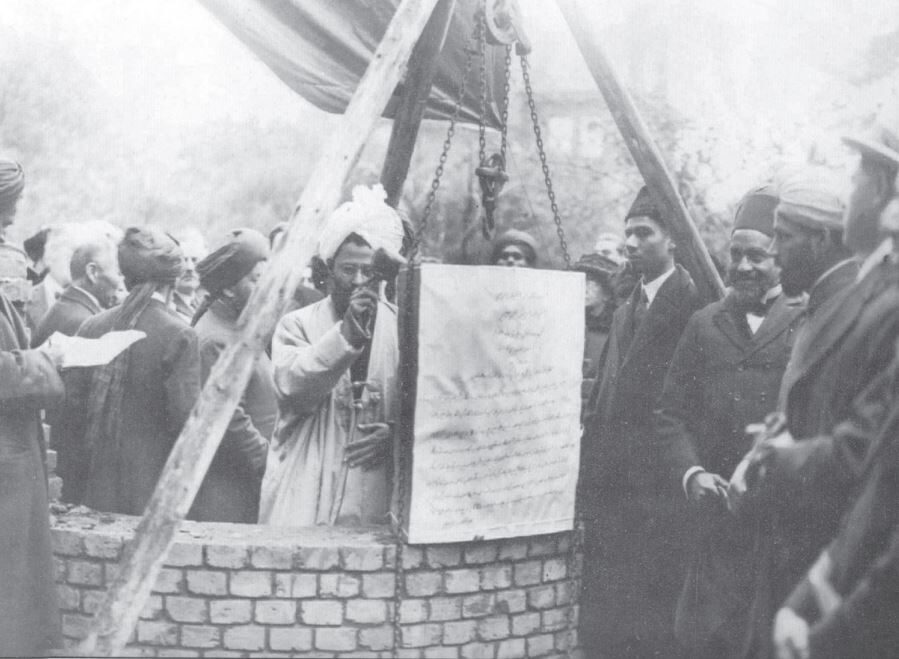 From its birth towards the end of the 19th century, radio broadcasts astonished the public by providing news and information with an immediacy never before thought possible. From 1920 to 1945, radio developed into the first electronic mass medium, monopolising "the airwaves" and defining, along with newspapers, magazines, and motion pictures, an entire generation of mass culture. ("Radio", www.britannica.com)
When we look at the history of radio in Britain, we find that on 18 October 1922, the British Broadcasting Company (BBC) – later known as the British Broadcasting Corporation – was established by a group of leading wireless manufacturers, including Guglielmo Giovanni Maria Marconi. Daily broadcasting began in Marconi's London studio, 2LO, in the Strand, on 14 November 1922. ("History of the BBC", www.bbc.com)
The BBC "oversaw a network of local, separate stations, which were connected to London by telephone links and 'simultaneous broadcasting' (or networking, as it would be called today). These nine stations were based in London, Manchester, Birmingham, Newcastle, Glasgow, Cardiff, Aberdeen, Bournemouth and Belfast. Each station covered about twenty miles in radius – although the exact distance depended on whether one was listening on a valve or crystal set." ("The origins of BBC Local Radio", www.bbc.com)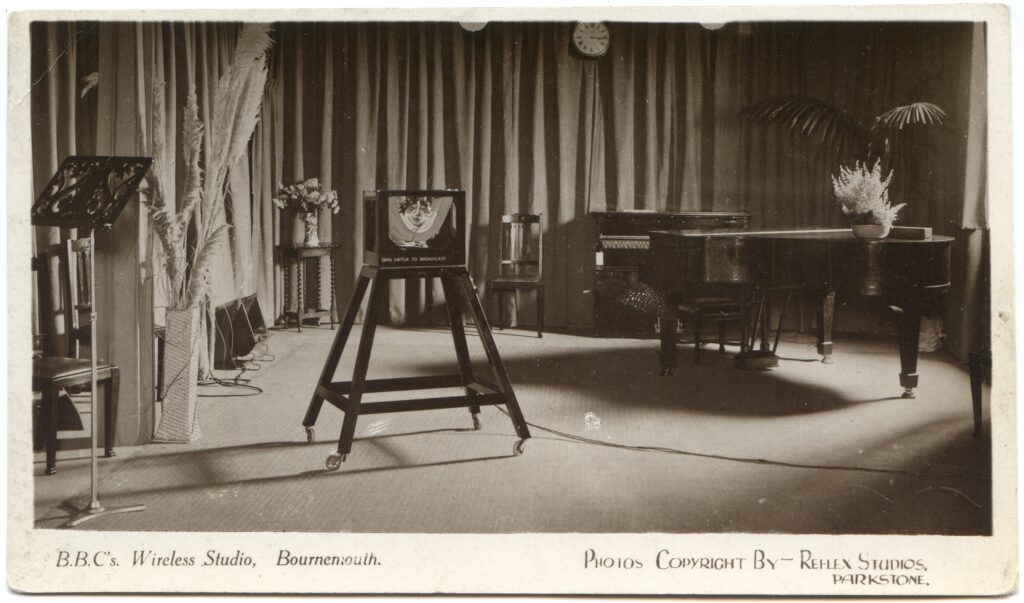 The station located in Bournemouth, called 6BM Bournemouth, was launched on 17 October 1923 and transmitted its programmes from the studio located at 72 Holdenhurst Road, Bournemouth. Its transmissions could be heard up to about 25 miles.It stopped its transmission in 1939. The phrase "We do hope you can smell the pines" was the original call sign of the station. It was described by Lord Reith, the first Director General of the BBC, as "the jewel in the crown of the BBC." ("6BM Calling – 'We Do Hope You Can Smell the Pines'", https://assets.bournemouth.ac.uk)
On 1 May 1928, at 7pm, 6BM Bournemouth broadcasted an address by Mr J Williamson-Jones, titled "East and West", in which he mentioned the inauguration ceremony of the Fazl Mosque in London in 1926, and quoted a part of the special message by Hazrat Musleh-e-Maud, Mirza Bashiruddin Mahmud Ahmadra.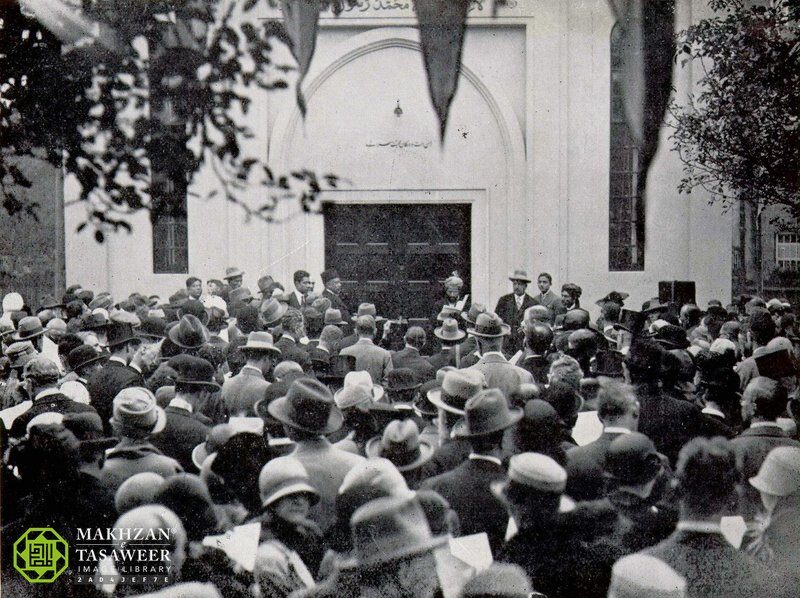 The schedule of this radio broadcast was published in various newspapers, such as Radio Times, 27 April 1928 (p. 163), Western Mail, 1 May 1928 (p. 5), Western Daily Press of Bristol, 1 May 1928 (p. 4), and The Devon and Exeter Gazette, 1 May 1928 (p. 5).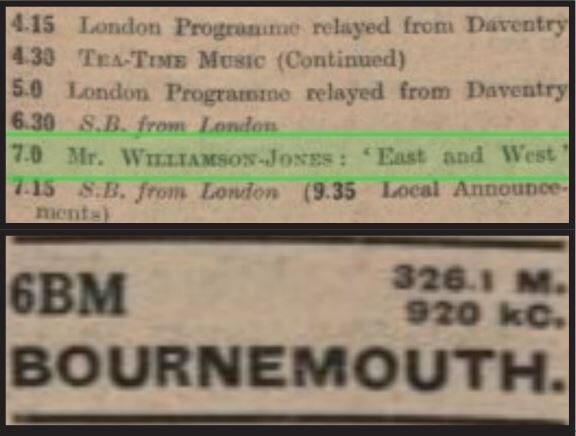 During the radio broadcast, Mr J Williamson-Jones said:
"As I have lived nearly half of my life in the Orient, anything which tends to improve the relations between East and West is to me of great interest. […] I was reminded of the opening in 1926 of a Mohammedan Mosque in London, at which the Head of the Ahmadiyya Community in a message expressed his thanks to God, 'who has granted us the power to erect this sacred house in the greatest centre of the world, and thus enabled us to pay back the great good which the West did us by holding aloft the torch of knowledge during the period of our heavy sleep.' The message spoke further of the Mosque as a symbol for cultivating the love of God in the heart, the establishment of freedom of conscience, bringing about union and equality." (The Review of Religions, Vol. 27, June 1928, p. 2)
The details of this broadcast can be seen at: https://genome.ch.bbc.co.uk/4094599aa4ec786cb56cc19430c9a3f0.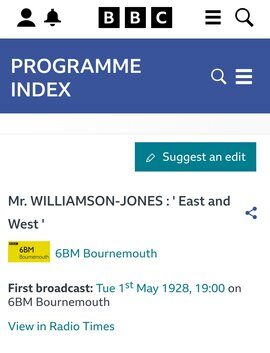 Today, with the incredible advancements in mass media, it is easy to overlook the impact of a seemingly simple radio broadcast. However, in the time when the radio was seen as a remarkable invention and astonishing means of information, the spread of Hazrat Musleh-e-Maud'sra words through this broadcast was a significant event.
Just recently, on 17 October 2022, a blue plaque was unveiled on the site of the former studio of 6BM at Holdenhurst Road, to mark 99 years since the station began. The plaque was unveiled by the deputy mayor of Bournemouth, Cllr Dave Kelsey, and BBC Radio Solent presenter Steve Harris, who organised the plaque. ("Plaque commemorates site of Bournemouth's first BBC radio station", bbc.co.uk)