Last Updated on 12th November 2021
Musawer Shahid, Missionary-in-Charge Finland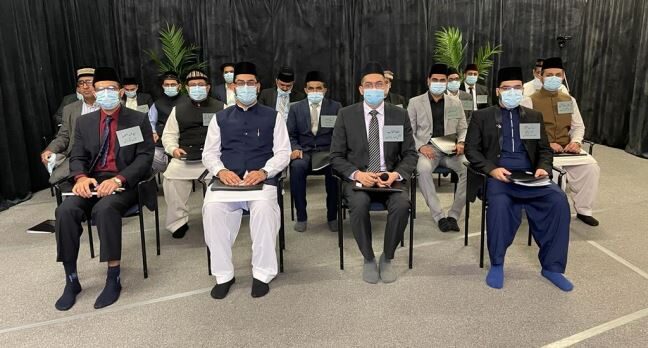 Ata ul Ghalib Sahib, National President said:
"We got guidance from Huzooraa on all those important matters where we needed it, e.g. Huzooraa graciously guided us to tell every member to declare their income budget with truthfulness.
"The main point I learned was that Huzooraa pointed out that our numbers were not yet very large so personal contact with every Jamaat member should be developed and this could be done easily.
"Just before the start of the mulaqat, I was nervous, but as soon as Huzooraa appeared on the screen, his very gracious and affectionate fatherly feeling took over the heart. Huzooraa, with great affection, pointed out our shortcomings which were needed the most."
Musawer Shahid Sahib, Vice President and Missionary-in-Charge Finland said:
"Huzoor's love, grace and humour was all very visible in our meeting, and also the highlight of it. The way Huzooraa graciously spoke to all of us … I cannot explain the joy I have felt today from this meeting.
"Last year, when our virtual mulaqat got cancelled due to Covid restrictions, I felt that it must have been some of our weaknesses. Even today, I feel that we are surely not deserving of such a blessing but all thanks to the Almighty Allah for making this come true […]
"I saw that members could not control their tears after the meeting; I couldn't either. This was and will always be a highlight in my life. I pray that we may be able to act upon the guidance received from Huzooraa. May Allah always keep our beloved Imam safe and healthy. Amin."
Naseem Ahmad Sahib, Secretary Tahrik-e-Jadid and Waqf-e-Jadid commented:
"The highlight of the meeting was seeing the gracious countenance of our beloved Imamaa. We got to listen to the direct guidance from Huzooraa. And Huzooraa, with love, guided us on what needed to be done.
"When Huzooraa graciously said 'Assalamu Alaikum', I lost all sense of where I was. It wasn't until Huzooraa led the silent prayer and the meeting officially started that I realised I was in the meeting. Until now, I am not able to make sense of it all. It was as if I was in a dream and now I have just woken up."
Ahmad Farooq Qureshi Sahib, Secretary Umur-e-Kharija said:
"We were able to see Huzooraa directly like this after such a long time and it surely felt like God's mercy was raining upon us. The highlight of the meeting was surely the love and affection that Huzooraa has for his Jamaat.
"All praise belongs to Allah! It was a very blessed day for the Finland Jamaat. May Allah enable each and every one of us to fulfil our responsibilities to the fullest, and may we be able to fulfil expectations of Huzooraa to the best of our abilities. Amin."
Freed Ahmad Sahib, Additional Secretary Tarbiyat Nau-Mubai'een said:
"The highlight of the meeting was seeing the beautiful face of Huzooraa. I feel as if I am the luckiest person in the whole world. The smiling countenance of Huzooraa is calming for a nervous soul.
"I feel as if I have been given a new life. The way Huzooraa led the meeting made me feel really calm. My personal shortcomings were highlighted. I have made a solemn pledge that I will try to better myself, insha-Allah."
Hafiz Mudassir Naseer Sahib, Secretary Talim-ul-Quran and Waqf-e-Arzi said:
"The highlight of the meeting was Huzoor's graciousness towards all. Before the start of the meeting, tensions were very high, but the way Huzooraa graciously and lovingly spoke with everyone changed that.
"Even though the length of the meeting was only an hour, it felt like it went in an instant. And now, after the meeting, I feel a new spiritual warmth and a new sense of joy in doing Jamaat work. May Allah always keep our beloved Imamaa safe and healthy.Amin."
Abdul Qayyum Khan Sahib, Secretary Umur-e-Ama said:
"The gracious and friendly way Huzooraa conducted the meeting was really great. The mulaqat was really great and all the members were able to speak with Huzooraa.
"I learned a lot from the meeting, especially how to work with each other. We are very happy that Allah the Almighty granted us this blessed opportunity. We were impatiently waiting for this moment to occur and today, it finally happened. I am overjoyed with elation."
Malik Farhan Ahmad Sahib, the Muhasib commented:
"We all felt the love and affection of Huzooraa. I learned that we should be regular in offering five daily prayers and reciting the Holy Quran. Always speak the truth. This was my first meeting with Huzooraa. I can't explain my feelings in words."
Rizwan Ahmad Sahib, Secretary Jaidad said:
"It was a huge blessing of Allah the Almighty that we were able to meet our beloved Imamaa. Seeing and talking with Huzooraa was beyond all the blessings of the world and we can't thank Allah enough for this opportunity."
Farrukh Javed Sahib, Secretary Ziafat commented:
"The highlight of the meeting was the way Huzooraa was guiding all the departments on how to assess the overall situation. In addition, Huzooraa knows all the details of the departments. We saw how Huzooraa gets the overall picture of every department in a short time. We learned how we have to remove our shortcomings and how to participate in Jamaat related work. We also learned how to bring up our children in this Western environment."
Aziz Ahmad Sahib, Additional Secretary Mal said:
"We got the opportunity to talk live with Huzooraa".
Waqar Javed Sahib, Secretary Wasiyyat said:
"The highlight of the meeting was the guidance received from Huzooraa in such a loving manner. We learned that the chanda payment should be according to the real budget".
Zeeshan Ahmad Sahib, Internal Auditor said:
"I learned that we should keep truthfulness beyond anything and we should specially focus on Namaz. We are feeling very happy and peaceful after listening to Huzoor's instructions."
Arslan Ijaz Sahib, Secretary Mal, commented:
"The presence of beloved Huzooraa and getting a chance to communicate directly and seeing him smiling were all highlights of this blessed meeting".
Zeerak Ijaz Sahib, Secretary Tabligh and Sadr Majlis Khuddam-ul-Ahmadiyya said:
"Huzoor's guidance covered many new aspects and avenues for us on all topics that were discussed. I learned that our service for the Jamaat requires confidence and dedication along with prayers. It is Allah the Almighty Who gives us strength and makes our efforts fruitful. We shouldn't be afraid. Also we need to improve ourselves".
Hassan Bashir Sahib, Secretary Sami-o-Basri said:
"The question and answer session at the end of the meeting was amazing. Huzooraa has advised to build a permanent team for the sami-o-basri department. This will be the highest priority for the coming months, insha-Allah".
Basharat ur Rehman Sahib, Secretary Talim and Tarbiyat, commented:
"Beloved Huzooraa guided us to make a plan to spread the message of Islam in Finland. I learned a lot of things for my departments. […]."
Abdul Samad Sahib, General Secretary said:
"Huzooraa guided us in a very friendly way […] Alhamdulillah that I got the opportunity of meeting with Huzooraa for a whole hour after two years. The relationship with Khilafat brings peace and tranquillity. May God strengthen our relationship with Khilafat. Amin."