Shahid Mahmood Khan, Missionary, Congo Kinshasa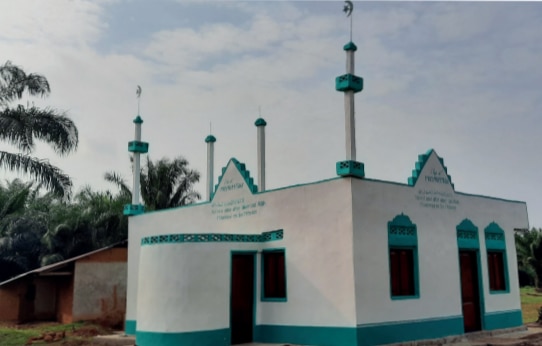 Kiri is located in the Inongo region of the Democratic Republic of Congo. This is a remote area where even today electricity is not available, transportation is very limited and there is no land route to reach Kiri. Boats are used as a means of transport. Internet and telephone facilities are also very rare.
Jamaat-e-Ahmadiyya was established here in 1995, and the first central missionary in this area was Tahir Munir Bhatti Sahib who was appointed here in 1998. Later, Qaiser Mahmood Tahir Sahib was also stationed here, and during that time the Jamaat purchased16000 square meters of land.
The foundation stone of the Tahir Mosque was laid on 12 September 2021, by the regional missionary Muhammad Zaki Khan Sahib. The mosque is located at a distance of just a few meters from the Kiri Port.
After its completion, the mosque was inaugurated on 24 December 2021 by Amir Jamaat-e-Ahmadiyya Congo Kinshasa, Khalid Mehmood Shahid Sahib.
The inauguration ceremony commenced with the recitation from the Holy Quran, followed by Amir Sahib's address.
The ceremony was attended by around 150 people which included Ahmadi Muslims, non-Ahmadi Muslims and non-Muslims too. Government officials, including Chef de Cite and Chef de Territoire also attended.
At the end of the event, the participants were served a meal.