Syed Mukarram Nazeer, Canada Correspondent
Majlis Khuddam-ul-Ahmadiyya Canada held their first ever virtual Talim rally on 10 and 11 October 2020. Being virtual, it enabled participants from all over Canada to take part. The theme of this year's rally was "Developing a relationship with Allah". A large number of Khuddam from across Canada dedicated many hours working tirelessly to organise this event. In addition, 20 judges gave their time in judging academic competitions.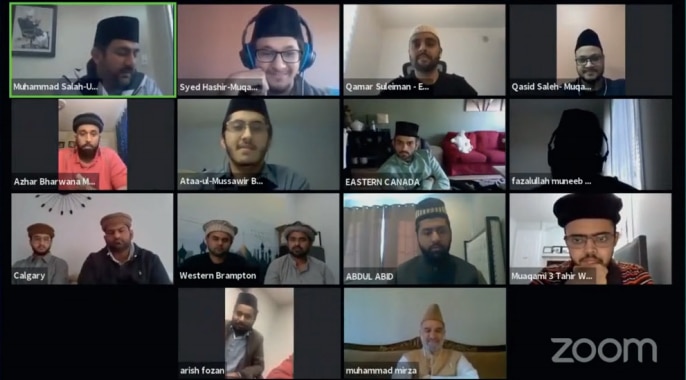 The rally commenced on 10 October and Sadr Majlis Khuddam-ul-Ahmadiyya Canada, Zubair Afzal Sahib presided the opening session in which he encouraged Khuddam to establish a living relationship with God the Almighty.
The highlight of the rally was the question and answer session with Amir Jamaat-e-Ahmadiyya Canada, Lal Khan Malik Sahib and Missionary-in-Charge Canada, Abdul Rasheed Anwar Sahib.
During this engaging and informative session, Khuddam got the opportunity to ask many questions pertaining to religion, social issues, economics, world affairs, and Nizam-e-Jamaat.
Four workshops were streamed on the following topics:
1. Finding employment during the coronavirus pandemic
2. Timely marriage and the system of Rishta Nata
3. Keeping fit during the pandemic
4. Mental health Multiple video panel discussions featuring members of national, regional, as well as local amilas of Khuddam-ul-Ahmadiyya Canada, were held on various topics.
Other notable elements of this year's rally were the English and Urdu mushairas (poetic recital sessions).
The bait bazi competition (memorisation and recital of couplets) was also enjoyed by many.
On the final day, the closing session of the rally was chaired by Abid Khan Sahib, in-charge Central Press Desk of the Ahmadiyya Muslim Community and Press Secretary to Hazrat Amirul Momineenaa.
The rally had been viewed by over 4,000 unique viewers. Some feedback is as follows:
"By the grace of Allah, the rally was very well organised. The continuous broadcast loop was full of content which was well coordinated. Having panels of amila, hosted by younger Khuddam who are also dedicated office-bearers was a great way of providing good content in scalable quantities."
"The session with Abid Khan Sahib was captivating, spiritually uplifting and full of guidance. It was a very inspiring culmination to the event."
"The speech of Sadr Majlis was very impactful and left a mark. The same personalised approach and question based model can be explored in future also."