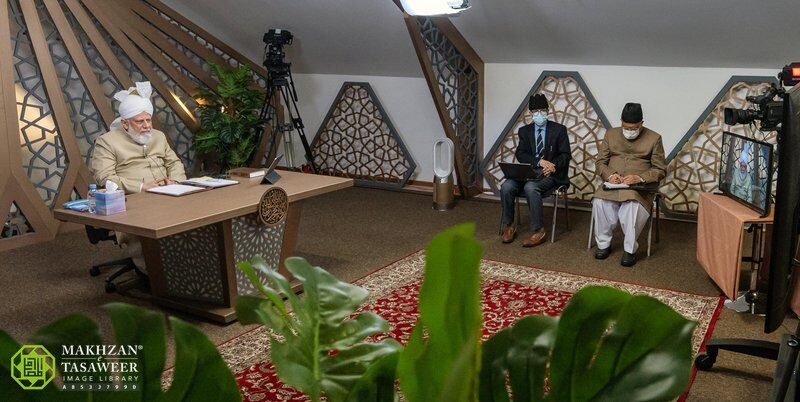 On 28 May 2023, 258 university graduates from Jamaat-e-Ahmadiyya Germany, who successfully completed their studies between 2020 and 2022 had the privilege of participating in a virtual meeting with Hazrat Mirza Masroor Ahmad, Khalifatul Masih V, may Allah be his Helper.
All members were gathered at Bait-us-Sabah in Frankfurt, Germany. The men and women were seated in the main hall, with arrangements for purdah.
At the opening of the meeting, Hazrat Amirul Momineenaa conveyed his salaam and invited Anique Ahmad Shahid Sahib to recite a portion of the Holy Quran and Alim Ahmad Sahib read out the German translation. Following this, Atifa Ahmad Sahiba, who is currently teaching English and mathematics, had the opportunity to deliver a presentation based on her thesis.
Hearing that she taught English and mathematics, Huzooraa said, "Masha-Allah! Excellent. Yes, what do you say?"
The topic of her presentation was how to reduce social inequality in educational opportunities. During her presentation, she talked about the German educational system and the stages through which children move from grade to grade. Further, in light of various social classes, she elaborated on the probability of getting a recommendation to study at Gymnasia, i.e., state-maintained secondary schools that prepare pupils for higher academic education, keeping in mind the students' social classes. She also touched on higher education aspirations and their importance while showing studies to back up her points.
After the presentation, Huzooraa highlighted the key points and remarked that children from educated parents typically excel academically and have a higher likelihood of pursuing further education compared to those from less educated backgrounds. Huzooraa then enquired whether the presenter had gathered any data within the Jamaat regarding the educational backgrounds of individuals and the number of children in their respective families. In response, she replied that no such data had been collected thus far.
Addressing the research conducted by Atifa Sahiba, Hazrat Khalifatul Masih Vaa said that she had done good research and further encouraged the Lajna students' association (AMWSA) members to collect data on individuals who have pursued higher education. Huzooraa emphasised the importance of determining whether these individuals remain connected to the Jamaat and their faith or if they are solely engrossed in their academic pursuits and worldly affairs.
Huzooraa highlighted the presence of talented children within families who have not pursued higher education and suggested the need to develop a plan to encourage such children to pursue further studies. Huzooraa said:
"Now, some older [Ahmadi] families have been living in Germany for thirty or forty years after their migration. Even the children of their progeny have reached university-going age. Hence, they are all educated. Thus, the level of education today should be much better than it was ten years ago. However, along with this, it should also be assessed whether these individuals are attached to the Jamaat and the religion or have become engrossed in worldly matters. After acquiring an education, have they drifted away, or is there an attachment to the Jamaat? And what is the situation among the girls? Therefore, you all need to collect this data as well."
Again, addressing Atifa Sahib, Huzooraa said, "You have conducted excellent research!"
Aamir Sahib, who had recently completed his PhD in genetics, was next in line to present his thesis. He stated that he completed his research at the University Hospital Cologne. His thesis focused on retinal degeneration and examined the effects of microglia cells on both healthy and diseased retinas.
After the presentation, Huzooraa asked about the percentage of people who suffer from retinal degeneration. In response, Aamir Sahib said that, as of 2020, 200 million people worldwide had been affected by this. As Aamir Sahib discussed the influence of consuming different vegetables on human eyesight, Huzooraa emphasised, referring to the writings of the Promised Messiahas, the importance of maintaining a balanced diet that includes both vegetables and meat. (The Philosophy of the Teachings of Islam, pp. 9-10)
Aamir Sahib emphasised that during their experiments, there were instances when they encountered a point where progress seemed impossible. However, he added that whenever he faced such a challenge, he would write to Hazrat Khalifatul Masih Vaa, and miraculously, the experiment would regain momentum. He attributed this remarkable turnaround to the grace of Allah and the fervent prayers of Huzooraa.
Thereafter, the graduates had the opportunity to ask Huzooraa various questions on an array of matters.
Sobia Saeed Sahiba, who holds a master's degree in computer science, asked a question regarding the Islamic perspective on women travelling alone for work or studies. She enquired about the stance Islam takes on this matter.
In response, Huzooraa provided valuable guidance, stating that if the journey consists only of men, it is preferable to avoid such circumstances. However, if there are a few women on the team, then it would be permissible as long as arrangements are made for separate accommodations upon reaching the destination. Huzooraa also highlighted that the permissibility may vary depending on the nature of the study or research they are involved in. Huzooraa mentioned that certain exceptions could be made for professions aimed at saving human lives or contributing to the welfare of humanity, such as that of a physician.
Furthermore, Huzooraa said that if the research can be conducted remotely from any location, it presents a different scenario altogether. In such cases, the feasibility of conducting the research from anywhere should be taken into consideration. Huzooraa underlined that it is a matter that should be assessed on a case-by-case basis, taking into account the specific conditions and circumstances surrounding the situation.
In Germany, religious education is a regular part of the school curriculum. Nosheen Ahmad Sahiba, a teacher, enquired about the qualities that a teacher should cultivate in their students to help them understand Allah's message effectively.
Huzooraa said:
"Set and share your example," and describe one's personal experiences they have had with Allah the Almighty when having informal conversations with the students. Huzooraa added that one can give specific examples if they are related to a lecture, which may also help the students contemplate the existence of God.
Huzooraa asked if she was a teacher in a secondary school, to which she replied affirmatively. Commenting on the latest trends with regard to faith among youth in general and recognising that the students may not take any interest in the teacher's experiences, Huzooraa said that 60-70% of the students were generally indifferent when it came to matters of religion. Often, their mindset is that they will think about religion later in life. Hence, one can ignite some curiosity by discussing their personal experiences with God. And, to do this, Huzooraa said, it is crucial for the teacher to establish a relationship with God first.
Shahzad Ahmad Syed Sahib, who holds a PhD in pharmacy, enquired whether graduates should venture into their own businesses or first gain experience by working and securing a stable job.
Huzooraa explained that there is no harm in gaining experience through employment. He stated, "Employment can help regulate life." There are instances when individuals feel more relaxed when they have their own business. Therefore, it is advisable to work for one to two years, save up, and then consider starting one's own pharmacy.
Tahir Inam Sahib, a physician, enquired about healing and treating patients.
Huzooraa explained that Allah the Almighty advises mankind to utilise the available means. Firstly, Huzooraa emphasised that, as a doctor, one should fervently pray to Allah, seeking His guidance to effectively treat patients and accurately diagnose their illnesses. This is something that a doctor should always pray for. Then one should proceed with treating the patient, keeping in mind that Allah is the ultimate Healer. When writing the prescription, it is beneficial to include "هو الشافي" (He is the Healer) on it as a constant reminder that Allah is the ultimate source of healing. Huzooraa also advised that doctors should include prayers for their patients during their prayers, especially during prostration. Huzooraa also suggested that when entering their clinic or practice, doctors can recite Surah al-Fatihah, as it contains healing (shifa') properties as well.
Next, Hadia Syed Sahiba, a pharmacist, asked if it is permissible to leave one's children in a daycare or at one's parents' home if they get the chance to do work in their field of study. Huzooraa said that if the situation necessitates it and it becomes obligatory, then one would be compelled to make such arrangements. Huzooraa mentioned that many individuals do opt for this option; however, it is important to ensure that the children are made aware that they have not been abandoned.
It is essential to be mindful of the children's well-being, particularly when they are attending school. Giving them attention and being involved in their lives is crucial.
Next, Bintul Mahdi Ahmad Sahiba, who is completing her master's degree in education, had the opportunity to ask a question. She asked whether women could engage in politics. Additionally, she enquired about the factors to be considered when joining a political party. She shared that she and her sister were offered an invitation by a female politician to join her political party.
Huzooraa acknowledged that her profession was teaching and expressed that it was indeed a noble and commendable profession. However, Huzooraa advised that if, despite this, she has such an overwhelming desire to enter politics, then she may go ahead, but she should ensure that it aligns with the principles of clean and ethical politics.
Huzooraa emphasised the importance of observing modest dress and wearing the hijab. The attire should be modest, and one's interactions and socialising should strictly adhere to Islamic teachings. Additionally, Huzooraa encouraged her to consider ways to uphold women's rights and other human rights, as this would then be of significance and beneficial.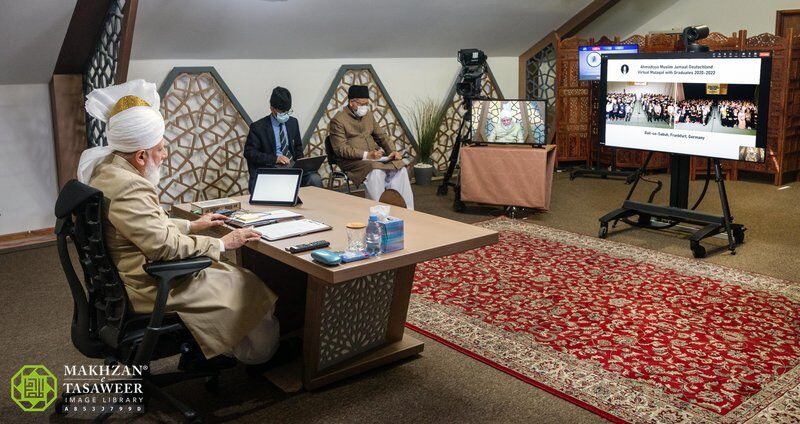 Next, Muhammad Fateh Sahib, who has obtained a master's degree in industrial engineering and said he is involved in technical innovation management in the automotive industry, had the privilege to converse with Huzooraa. Upon learning about his studies, work, and profession, Huzooraa enquired about his work. Muhammad Fateh Sahib explained that artificial intelligence has been significantly impacting the industry. He mentioned his involvement in working with automated vehicles and battery cars, as well as their corresponding infrastructure.
With regard to artificial intelligence, Huzooraa said, "If everything were to be accomplished solely through artificial intelligence, what would the human mind be left to do? In such a scenario, the human intellect would experience regression and stagnation."
Muhammad Fateh Sahib mentioned that there are university students who study and work simultaneously to earn money. He said that it is often observed that their income improves significantly after completing their studies. Muhammad Fateh Sahib sought Huzoor'saa guidance on how university students' attention can be directed towards financial sacrifices.
Huzooraa said that he had already addressed the answer by mentioning the word "sacrifice" in his question. Huzooraa explained that sacrifice entails burdening oneself and taking on work and tasks. "If everything is achieved easily without any effort, it cannot be considered a sacrifice," Huzooraa said.
During Eid, when we sacrifice a goat or a cow, we do so after slaughtering it. Hazrat Amirul Momineenaa drew attention to the example of Prophet Ismaelas, who was willing to sacrifice himself for the sake of Allah. Therefore, Huzooraa emphasised the importance of understanding the true meaning and philosophy of the word "sacrifice".
On the one hand, people speak of "sacrifice," while on the other hand, they express their inability to meet their needs and requirements. Huzooraa pointed out that "sacrifice" involves reducing expenses, suppressing personal wants, and making sacrifices for the sake of religion or assisting those in need. Huzooraa said, "The true essence of sacrifice lies in reducing one's personal expenditures, diminishing one's desires, and curtailing one's necessities to spend for the sake of religion, or for the benefit of the poor, or for the betterment of others."
Hazrat Khalifatul Masih Vaa explained that the Holy Quran provides guidance on giving in different contexts. In one instance, it advises giving an amount that is within one's means and easy to give. In another instance, it emphasises the concept of sacrifice. Furthermore, we have another verse that encourages spending out of what one loves. Huzooraa highlighted that these various teachings address different situations and circumstances.
Huzooraa then quoted the following verse:
لَنۡ تَنَالُوا الۡبِرَّ حَتّٰي تُنۡفِقُوۡا مِمَّا تُحِبُّوۡنَ
[Never shall you attain to righteousness unless you spend out of that which you love. (Surah Al-e-Imran, Ch.3: V.93)]
Huzooraa also said, "The first thing is salat. Allah the Almighty has first commanded us to establish prayers after having faith in the Unseen. And once this is done and a connection with Allah is established, then offer sacrifice, meaning spend from what Allah has given you. Once you are well nurtured in faith and have established a connection with Allah, you will willingly spend whatever you can, or the desire to do so will emerge."
Fazeel Ayyaz Sahib expressed that he noticed a significant focus on integration. He added that it is said that attaining fluency in the German language was seen as a means of integration. He enquired whether there were other factors besides language proficiency that could demonstrate integration.
Huzooraa stated that there is a significant difference between knowing a language and attaining proficiency in it. It is noteworthy that even some native Germans have not achieved proficiency in their own language. Huzooraa further pointed out that the questioner himself did not possess proficiency in Urdu. Nevertheless, it is commonly advised that individuals should strive to acquire at least enough knowledge of a language to effectively express their thoughts and ideas.
There may be individuals who are quick to criticise others for not knowing certain words in German. Huzooraa emphasised the importance of knowing the language of the country in which one resides. However, he clarified that merely knowing the language alone is not sufficient for integration. It is equally important to abide by the laws of the land and actively contribute to the betterment of the country. Huzooraa provided an example of a person who may be fluent in German but fails to adhere to the laws. He emphasised that such an individual, despite being German, does not bring any benefits to the country.
Huzooraa added that true love for one's nation entails a willingness to contribute to and benefit the country.
Huzooraa then enquired about the questioner's profession and whether he intended to remain in Germany. In response, the questioner stated that he was a software developer and expressed his intention to continue residing in Germany.
Huzooraa mentioned that if one performs good work and proves to be beneficial for the country, people will naturally embrace and integrate them. Most importantly, Huzooraa emphasised, "Strive to please Allah and everyone else will eventually be pleased."
Hazrat Amirul Momineenaa then conveyed his salaam to all members, and the mulaqat came to a successful end.
(Report prepared by Al Hakam)