Faran Rabbani, USA Correspondent

In the morning of 30 September 2022, despite the chilly weather, scores of Ahmadis started to queue to get a space inside the new Fath-e-Azeem mosque in Zion, USA, for Jumuah prayers that were to be led several hours later by Hazrat Khalifatul Masih Vaa.
This was the first time in the history of Zion, Illinois, that a Khalifa of the Promised Messiahas was leading the Friday sermon from this land while it was also being broadcast live to the global audience on MTA International.
With the delivery of the Friday Sermon, Huzooraa officially inaugurated the Fath-e-Azeem mosque. There were more than 2600 people in attendance who travelled far and wide to be part of this historic event. These members not only travelled from distant places across the United States but also from other countries, including Pakistan, the UK, the Philippines, Brazil, Germany, Bangladesh, India, Mexico, Canada, Guyana and Sweden among others.
Saturday was going to be another important day in the history of Jamaat-e-Ahmadiyya as it was the official inaugural reception of the Fath-e-Azeem mosque. Hundreds of volunteers were working tirelessly on the inaugural dinner. The external guests – which included dignitaries, members of parliament, public servants, locals and friends – started to arrive by 4 pm and were shown their respective tables. Since the new exhibition about the prayer-duel between the Promised Messiahas and Alexander Dowie was open to the guests, some of the guests chose to view the exhibition prior to the inaugural dinner event.
Prior to the event, some of the visiting dignitaries had the honour of having an audience with Hazrat Khalifatul Masih Vaa – they included the following:
1. Billy McKinney, Mayor of Zion, Illinois
2. Joyce Mason, State Congresswoman, 61st District, Illinois
3. Raja Krishnamoorthi, US Congressman, Illinois, 8th District
4. Dr Katrina Lantos Swett J.D., PhD, President of the Lantos Foundation for Human Rights & Justice
5. Chelsea Hedquist, Lantos Foundation for Human Rights & Justice
6. Dr Craig Considine, PhD, Senior Lecturer, Rice University Department of Sociology
7. Sheriff John Idleburg, Police and Fire Commissioner, Lake County, Illinois
8. Cheri Neal, Supervisor of Zion Township and coach for Public Servants Zion, Illinois
9. Mary Lou Hiltibran, Emergency Services and Disaster Agency (ESDA), Zion, Illinois
10. Eric Reinhart, State Attorney, Lake County, Illinois
11. Rabbi Melinda Zalma, Manager of Programmes, Tanenbaum Center for Interreligious Understanding, New York
12. Rabbi Marc Belgrad, founder of B'Chavana Congregation in nearby Buffalo Grove, Illinois
13. Adriane Johnson, State Senator, 30th District, Illinois
14. Dr Gabrielle Lyon, Executive Director, Illinois Humanities
15. Yadira Sanchez Olson, Reporter, Lake County News-Sun which is owned by the Chicago Tribune
Some of the other dignitaries that attended the event were Mark Senak, Mayor of Glen Ellyn Illinois; Mike Formento, former Mayor of Glen Ellyn, Illinois; Zion Commissioner Chris Fischer; Zion Commissioner Jacqueline Holmes; Lake County Board Member Gina Roberts; Library Director Robin Smith; Zion Benton High School Superintendent Dr Jesse Rodriguez; Zion High School Principal Zackary Livingston; Sara Knizhnik Vernon Township Trustee and Chair of the Gun Violence Prevention Initiative (GVPI) at the Lake County State's Attorney's Office; Zion Park District Director for Hermon Park David Osborne; Zion City Assessor Collette Davis; Lake County Public Works Commissioner Amos Monk; Mary Eldy Allen was State Senator of IL 51st district now running for 31st District; Mark Curran was Lake County Sheriff now running for Illinois Supreme Court; and Zion Police Chief Eric Barden.
The media coverage of the event
The following media outlets covered Hazrat Khalifatul Masih's visit to Zion:
Associated Press (AP) — Two Prophets, century-old prayer duel inspire Zion Mosque. AP have a readership of around half the world, according to their website; the article was syndicated across over 150 separate outlets, including the Washington Post, ABC News, Toronto Star, The Hill and many other prominent newspapers. It was a top-10 story for the Associated Press.
Religion News Service (RNS) — Ahmadi Muslims inaugurate new mosque on site of historic 'prayer duel'. RNS have a reach of 2.2 million people per month.
Lake County News-Sun (which may also be syndicated in the Chicago Sun-Times or Chicago Tribune) will run an article this week.
In total, nearly 18 million people were reached across 408 outlets in 13 countries.
"I did not know that before tonight and I think it is beautiful." – Guest impressions
Billy McKinney, Mayor of the City of Zion (who presented Huzooraa with the key to the city) said:
"My family has lived here since 1962. This was a historic event, as you well know, for the Ahmadiyya Muslim Community and for the City of Zion.
"It was overwhelming for me to meet His Holiness tonight. And this is the first time in my life that I've met someone [and] that I was speechless and didn't know what to say. But he has such a great presence, and the Ahmadiyya Muslim Community has done so much to help in this community and be of service. And we look forward to continuing with the relationship and working and having the mosque here now right in the midst of the city is terrific."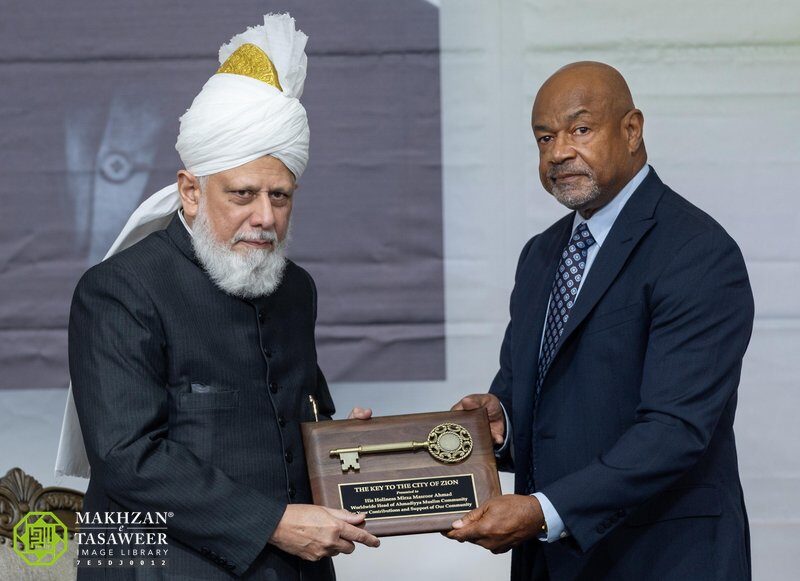 Tracy Johnson, a local resident of Zion, said the following about Huzoor's address:
"I like the way His Holiness made his speech; the contrast between the right and the wrong. I mean, he hit everything on the point and I liked the way he spoke in a gentle tone."
Kelvin Cox, a local architect who worked on the Fath-e-Azeem mosque's drawings, design and construction documents, said:
"This is an amazing building; the lighting and all the different people that put the ideas together. I'm just flabbergasted by how beautiful it is. And to have His Holiness here, his message of God and that it's not about land, it's not about politics, but it's about, you know, doing the right thing in love and the [avoiding] of hatred. And it was just a wonderful [event]. That's what the world needs today."
John D Eidelburg, Sheriff of Lake County, said:
"It was a pleasure to be here to see the Imam and listen to all these great leaders and also to have a word with the leader. It was very impressive. I'm very honoured to be here. I want to thank you for giving me the opportunity to share this precious moment with your community.
"People have told me about how impressive he is as a speaker. I was just so overwhelmed by the words that he said about friendship and working together with your community. That made me proud to be in his presence, to hear him speak. It was very illuminating."
Congressman Raja Krishnamoorthi said:
"What a wonderful day. What a wonderful event. His Holiness visited us and graced us with his presence. And the Fath-e-Azeem mosque will be a wonderful place for people to congregate, worship, share fellowship, and, of course, and educate the wider community about Islam."
Cheri Neal, Zion Township Supervisor said:
"I'm just in absolute awe! I'm really, really excited about this momentous occasion for the Ahmadiyya Muslim Community. And they have been working towards it for so long."
Dr Craig Constantine from Rice University expressed amazement about the mubahilah – prayer-duel – saying more people needed to know about this. He also expressed how much peace and calm he felt being in Huzoor's presence. He said everyone should hear Huzoor's message. He also loved Huzoor's humour at the end of the keynote address.
Amos Monk, the former Zion Commissioner, said:
"Well, this doctrine, I think, is very, very dynamic. And I feel that it should be something that the world at large should be more aware of […] I think this is the best-kept secret in the world at this point in time, because I'm looking at this [showing the brochure that was on all the tables] energy, equity, justice, fairness and love for all. That is what's needed throughout the universe; no hatred and we could be a dynamic world […] I think this message should be heard by the world […] and that is the only way we can cure the ills of the world."
Rabbi Melinda Zalma, Tanenbaum Center for Inter-religious Understanding in New York City, said:
"Very impressed, as I always am, with the Ahmadiyya Muslim Community. Just the openness and welcoming the message of your leader and just the spirit of really living your values, being open to all, working towards peace and respecting each other as individuals and as humans."
Eric Bricbarden, Chief of Police in Zion, said:
"It was a wonderful event, and it was very nice to see the love and the acceptance from all the people here and the generosity that was displayed, the intentional and deliberate welcoming. It doesn't matter who you are, 'just want to make sure everybody's doing OK' kind of a message. It was very nice, very nice. Just an amazing event."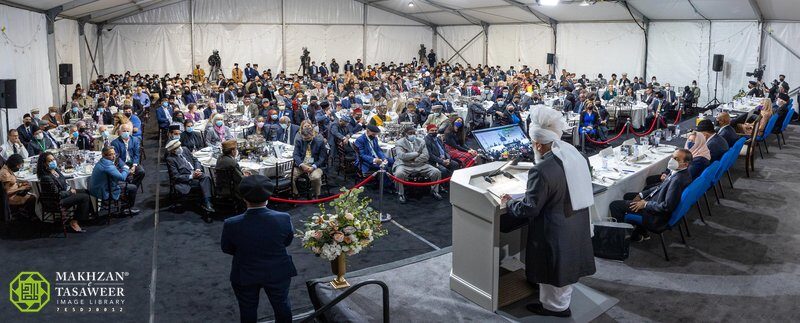 Jennifer Smith said:
"Speaking about the tenets of the community, I think that that is absolutely paramount. When you drive down Zion on the old building, you see that motto on the building, and so it reverberates with you. So, you really get a chance to let that sink in and it really embodies the spirit of what Zion is."
Zach Livingston, principal at the local high school said:
"Zion is a small community, and events like this, any excuse to bring the community together is a good one, regardless of what it is. So, the fact that we had the opportunity to have this mosque dedication here in our community, people from all over the world, but also in Zion, are here. It's awesome and it's an honour. […] Having His Holiness here, our Mayor of Zion, McKinney, was here. It was an amazing event."
Shawna Reagan of Chicago visited the Fath-e-Azeem mosque for the first time. She said:
"Honestly, coming here tonight, this was all very new to me. I did not really know anything about the community. I was really very impressed to hear His Holiness speak and to hear his thoughts on supporting the freedom of each person to choose their own way.
"The purpose of mosques in Islam is not just to worship God but also, it's a source of introducing people to the religion of Islam as well as creating bridges between communities. I did not know that before tonight and I think it's beautiful. If we had more of that, I think the world would be a much better place."
Kirk Townder from Libertyville said:
"It's a beautiful setting and wow, what a wonderful presence to be here in Zion."
Mr Kirk's wife added:
"I feel so honoured to be here tonight and I love the saying 'Love for all. Hatred for none.' I'm actually going to put this in my office so I can look at it and remember this night."
A group of guests from Chicago noted the incredible organisation of the event and the manners of the Ahmadi volunteers. They also mentioned how every time they come to our events, the message of love and peace is so central to everything. They took a picture with Huzooraa and said it was "an opportunity of a lifetime."
The arrival of Hazrat Khalifatul Masih Vaa in Zion, his inauguration of the mosque and his address were a blessing for Jamaat-e-Ahmadiyya USA in particular and a striking reminder of the great victory Allah granted to the Promised Messiahas.