Last Updated on 10th July 2020
Mirza Farhan Ahmad Baig, Benin Correspondent
In relation to Covid-19, with the cooperation of Humanity First Germany, Jamaat-e-Ahmadiyya Benin and Humanity First Benin made a programme to donate to a governmental hospital, Hopital de la Mère et de l'Enfant Lagune (HOMEL), in the city of Cotonou. This hospital has been established by the government of Benin, especially for pregnant women and new-born babies.
This is in continuation of the ongoing programme to provide food and other necessary aid to the poor and needy people of the country.
On 30 June 2020, Naib Amir Jamaat Benin Raji Ibrahim Sahib, Chairman Humanity First Benin Bakari Mouslihou Sahib, Regional Missionary Cotonou Muntazir Ahmad Sahib and Dr Mubarik Ahmad Sahib of the Humanity First Hospital Calavi went to the "HOMEL" at 12:15pm.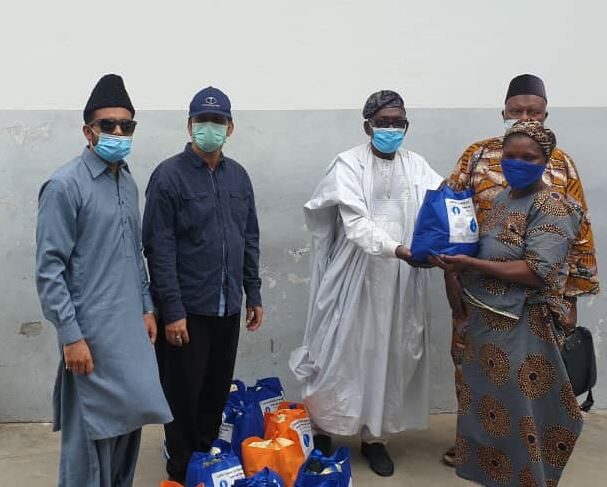 The delegation was welcomed by the representative of the director of emergency services of the "HOMEL". Humanity First Benin distributed food packages and other protective materials in relation to the Covid-19 pandemic.
In total, 92 people were given these packages, including patients admitted in the emergency wards. These packages consisted of the necessary food items, which are enough to last a week.
May Allah the Almighty help the whole world and save it from this ongoing pandemic. Amin