Shahid Mahmood Khan, Missionary, Congo Kinshasa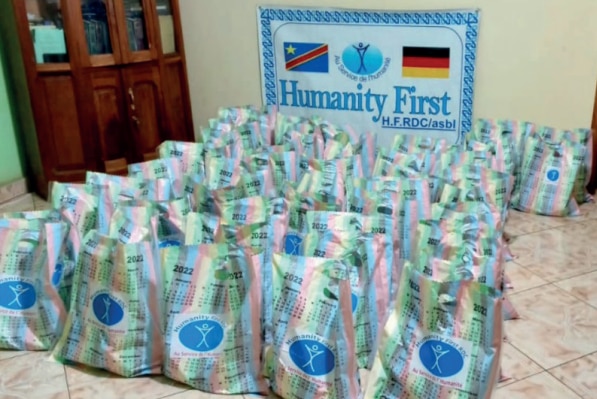 The distribution of Eid gifts among the needy people has now become a salient feature of both the Eids in the Democratic Republic of the Congo. Jamaat-e-Ahmadiyya DRC is leaving no stone unturned to bring joy and happiness to the faces of the deprived ones in this part of the African continent.
On the occasion of Eid-ul-Fitr, more than 3,000 families were served food items. The teams of khuddam worked day and night to prepare the packets of the food items and distribute them among the people of the remote areas. These acts of charity took place in the regions of Kinshasa, Bandundu, Kikwit, Central Congo, Inongo, Lubumbashi, Bukavu and Kananga.
The regions of Bandundu and Inongo, situated in the Western part of the country, lack the means of transportation and in many parts of the regions, small wooden boats are used to cross the rivers and reach the distant jamaats of the regions. The pressure of river currents and the fragility of the wooden boats never weakened the passion of our khuddam.
The Bukavu region lies in the east of the country. This war-stricken area is full of rebels who are renowned for merciless killings and kidnappings of locals and foreigners. The ambassador of Italy was assassinated in this area in February 2021. Despite all these difficulties, Jamaat-e-Ahmadiyya has a regional mission in the area to propagate the message of true Islam. Humanity First Congo organised ceremonies in the villages of Uvira, Mudaka and Botembo to distribute Eid gifts. A gathering was also held in the SOS orphanage where the orphans were given the Eid gifts.