Last Updated on 15th July 2022
Besmir Yvejsi, Kosovo Correspondent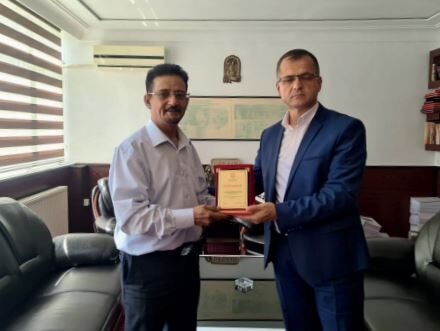 On 29 and 30 June 2022, two members of Humanity First International, Khalid Hayat Sahib and Mashood Ahmad Sahib visited Kosovo.
On 29 June, these two representatives were officially welcomed by the Municipality of Deçan, whereupon the Director of Education of this municipality, Mr Bekim Vishaj gave gratitude and presented them a badge with the logo of the municipality for their high and valuable contribution during and after the Kosovo war (1999) as they served as volunteers at Humanity First. The cities of Kosovo in which they served are Prizren, Dragash, Drenas, Deçan, Gjakovë, Prishtina, Gjilan, Mitrovica, Klinë, as well as some villages around these cities. Interestingly, some of these families are still in contact.
On 30 June, a programme was organised at Jamaat-e-Ahamdiyya's centre in Prishtina for the guests, which was attended by 26 people from several cities in Kosovo such as Podujeva, Shtimje, Mitrovica, Peja and Istog.
The event commenced with a recitation from the Holy Quran with its Albanian translation, followed by speeches from Khalid Hayat Sahib and Mashood Ahmad Sahib.
After the speeches, a question and answer session was held in which the audience asked the guests in regards to the difficulties and challenges they had gone through to help the people of Kosovo.
The programme concluded with silent prayer followed by Maghrib and Isha salat.