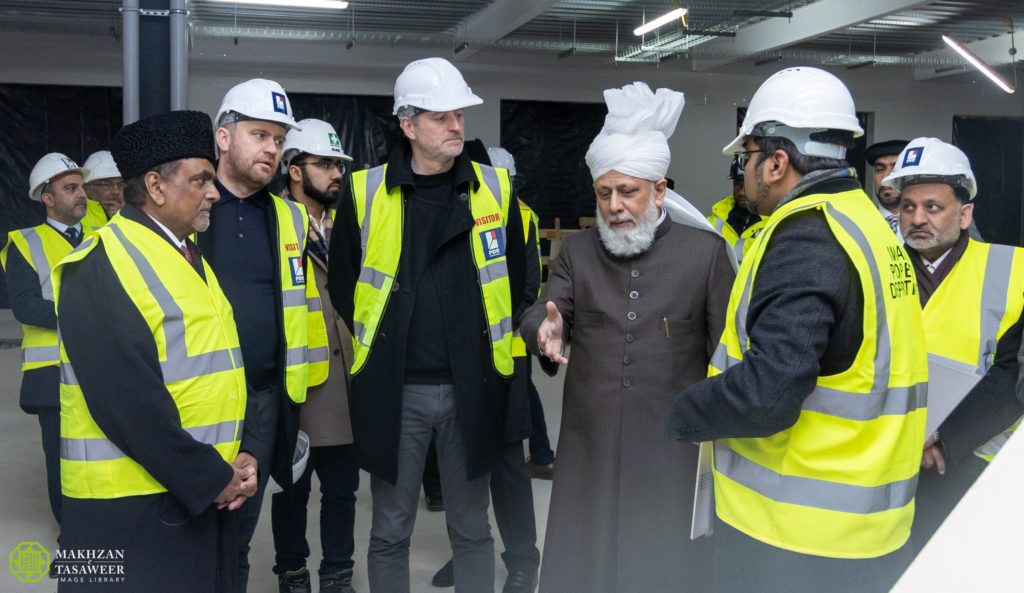 Morden, Tuesday, 10 March 2020: Hazrat Khalifatul Masih V, may Allah be his Helper, visited Baitul Futuh Mosque's administrative complex's construction site for an inspection of the progress so far.
Huzooraa arrived at Baitul Futuh at around midday. Showing Huzooraa the site was the construction liaison team from Jamaat-e-Ahmadiyya UK along with Amir Jamaat UK and members of his amila.
All six levels of the new building were inspected by Huzooraa with great detail and interest.
Irfan Qureshi Sahib, Secretary Jaidad and part of the management team overseeing the construction project, told Al Hakam that on 1 March, Rafiq Ahmad Hayat Sahib, Amir Jamaat UK updated Huzooraa with regard to the construction of the new Baitul Futuh complex. Huzooraa thus instructed for Amir Sahib and his team to be ready for a visit in the coming days.
Upon arrival at Baitul Futuh, Huzooraa was pleased to see that pallets containing the mocha-cream limestone that will form the outer shell of the building had arrived from Portugal, something that was a concern due to Brexit.
Irfan Sahib said:
"From the point of Huzoor's arrival, he showed a keen interest in the loadbearing of the structure, something that was astonishing for even the consultants present there. It reflected his vast knowledge of different fields."
Huzooraa toured almost all of the 5,950 square metres of the new structure and spent around half an hour, enquiring about minute details of the new block. The overall structure is said to be 25% more spacious than the previous structure.
Al Hakam spoke to Nayar Ahmad Sahib, a civil engineer and waqif-e-zindagi, who is a project manager from the Jamaat and liaises with PDR Contsruction Ltd, the company building the new site.

Nayar Sahib told us that Huzooraa inspected every storey of the new building and enquired about different aspects and systems that were being put in place.
He explained that Hazrat Amirul Momineen'saa "depth of knowledge about construction, especially structural aspects, was beyond me! He knew everything in great detail."
Nayar Sahib said that Huzooraa inspected and approved the stone façade design that will go on the very front of the new building. Further, Huzooraa enquired about the size and capacity of each hall and how they would compare to the previous halls.
Hazrat Amirul Momineenaa spent a great deal of time enquiring about the truss system on the first floor. The truss is a load-bearing mechanism that enables the first floor to be clear of supporting columns, providing more space. Huzooraa took details about the load capacity of the truss that was being installed.

The air conditioning system was also discussed. Nayar Sahib said, "Huzooraa asked about the air conditioning and why individual cassette units are in place instead of a central duct system?" It was explained that the choice of individual cassette units was to allow more flexibility and adds to saving the running costs.
The top floor is where dormitories are being built for guests. Hazrat Amirul Momineenaa took a keen interest in details of the dining areas for guests that will stay on this floor and other aspects of this floor as well.
After inspecting the construction site and giving valuable advice, Hazrat Amirul Momineenaa had tea with the project design team that included the manager from PDR Construction, the stone fitter from Putney & Wood and consultants for mechanical and electrical elements. Huzooraa then led Zuhr and Asr prayers, after which he had lunch.
Following lunch, Hazrat Khalifatul Masihaa briefly visited MTA International offices at Baitul Futuh.
Irfan Qureshi Sahib, reflecting on the visit, said:
"It was an overwhelming experience and all committee members felt very humbled. We were honoured. Even the consultants were quite amazed with the questions and the depth of knowledge Huzooraa possessed."
About the reconstruction
Following the outbreak of a large fire in 2015 across the administrative building within the Baitul Futuh site, plans were made for a much better and larger purpose built complex.
On 4 March 2018, Hazrat Khalifatul Masih laid the foundation stone for the new administrative complex. The main bulk of the construction started in September 2018 and is close to reaching its final stages.
Following the fire, Hazrat Amirul Momineenaa, in his Friday Sermon of 2 October 2015, spoke clearly about how the fire would not stop any Jamaat progress and told the Jamaat that this was not a reason to worry.
Talking about the loss that occurred through the fire, Hazrat Amirul Momineenaa said:
"It is essential for a true believer to understand the true meaning of patience. Patience does not mean that a person cannot feel regret or pain over a loss, rather it means that he or she should not be overwhelmed and consumed by despair to such an extent that they lose their senses and any hope."
Huzooraa continued:
"Of course, some regret is normal, but alongside it, a person should seek to recover and to make a firm resolution to attain even greater heights in future. Thus, in the face of this trial, we should pledge and prove from our actions that we will successfully pass through this period with patience and by prostrating before Allah the Almighty."
Hazrat Mirza Masroor Ahmadaa said:
"… a lot of damage was sustained during the fire. However, God willing, we will soon build an even better and more beautiful building and we will be the ones who sincerely say 'Subhanallah' (Holy is Allah) and 'Masha–Allah' (With the Will of Allah)."
Donating towards the reconstruction
Encouraging the Jamaat to partake in financial sacrifice regarding the new project, Huzooraa, in his Friday Sermon on 17 November 2017, said:
"As I have mentioned earlier, those people who were unable to offer sacrifices for this cause previously must make an effort to take part this time. They should endeavour to pay their pledged sums within three years and should try to pay one third of the promises within the first year."
Currently, a lot of funds still need to be raised for this project.
Al Hakam urges Jamaat members who have not yet contributed to the new project to try their utmost in partaking in this blessed appeal by Hazrat Amirul Momineenaa. 
Readers can donate at https://chanda.org.uk