Last Updated on 12th June 2020
Abdul Hadi Qurashi, Sierra Leone Correspondent
Jamaat-e-Ahmadiyya Sierra Leone is not only occupied in the propagation of the true teachings of Islam Ahmadiyyat, but it also endeavours to serve humanity in general whenever any such need arises.
Along with the most developed countries of the world, the pandemic of Covid-19 has also affected the poor, underdeveloped countries of Africa. As of now, the virus has been contracted by over 1,000 people in Sierra Leone and around 50 people have died from it.
The government of Sierra Leone has placed some restrictive measures to control the spread of the virus. These measures include a night curfew in the whole country from 9pm to 6am, a ban on inter district travel, a ban on congregations in places of worship, closure of schools and other educational institutes.
Jamaat-e-Ahmadiyya Sierra Leone is abiding by all these instructions of the government.
On 28 May 2020, under the supervision of Regional Missionary in North, Tahir Ahmad Farrukh Sahib, the International Association of Ahmadiyya Architects and Engineers (IAAAE) distributed dry rations worth 12 million leones to 130 deserving families of eight villages in Makeni Region. These villages also included a model village developed by IAAAE in Makeni.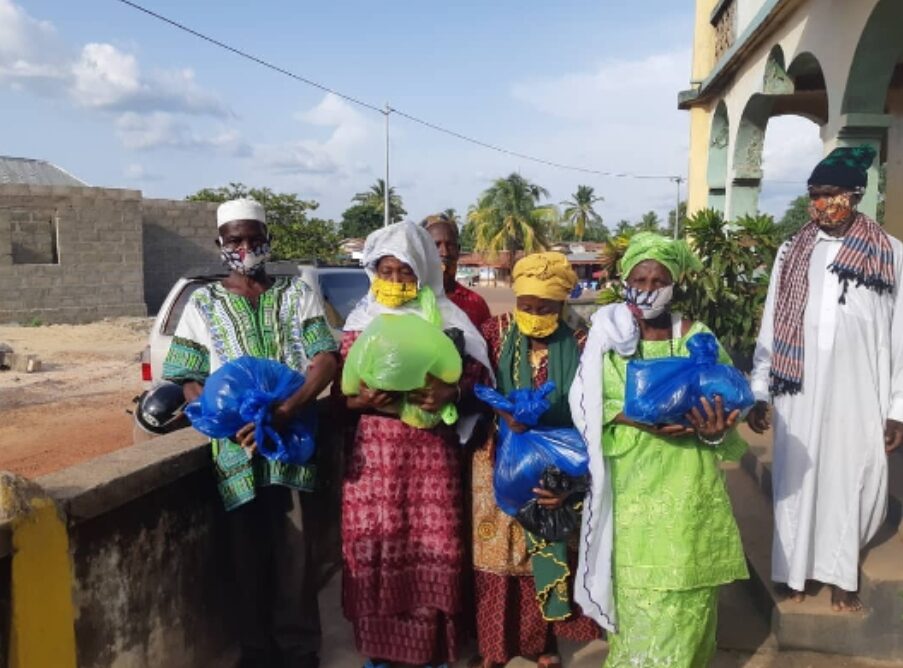 The items that were distributed includes 1,300 kilograms of rice, four bags of onions, ten bags of salt, face masks, ten cartons of tomato paste.
The administration of the area and residents appreciated the timely help by IAAAE.
May Allah the Almighty enable us to help humanity. Amin