Abdul Hadi Qurashi, Sierra Leone Correspondent
Jamaat-e-Ahmadiyya Sierra Leone arranged an iftar event on 29 April 2021. Amir and Missionary-in-charge Sierra Leone, Saeedur Rahman Sahib welcomed the guests and at sunset, the guests opened the fast. All the Muslim guests offered the Maghrib prayer in the mosque. After the prayer, the guests were served with the dinner.
After the dinner, Amir Sahib introduced the guests.
National General Secretary, Munir Abubakar Yusuf Sahib presented the introduction of Jamaat-e-Ahmadiyya and conveyed the message of the Promised Messiahas.
In the end, Amir Sahib addressed the guests and said that just two days ago the government of Sierra Leone has awarded the Jamaat with the highest civilian award – The Commander of the Order of the Rokel, in recognition of the Jamaat's services in the country.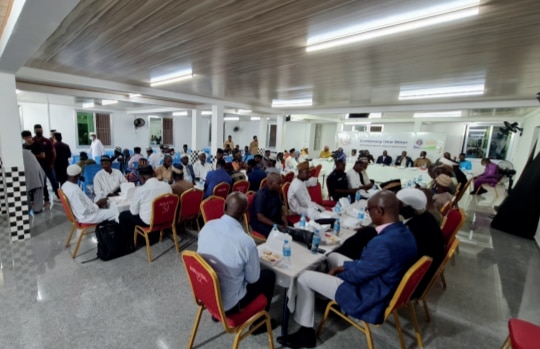 The event was attended by many dignitaries and government officials. These included the former vice president, serving ministers and deputy ministers, president of the Islamic Forum, and people from the business community as well.
Alhamdulillah, this event proved to be a great medium of conveying the message of the Promised Messiahas to the people of Sierra Leone.
MTA Sierra Leone covered the whole event and the reports and pictures of the event were shared on various social media platforms