Asif M Basit, London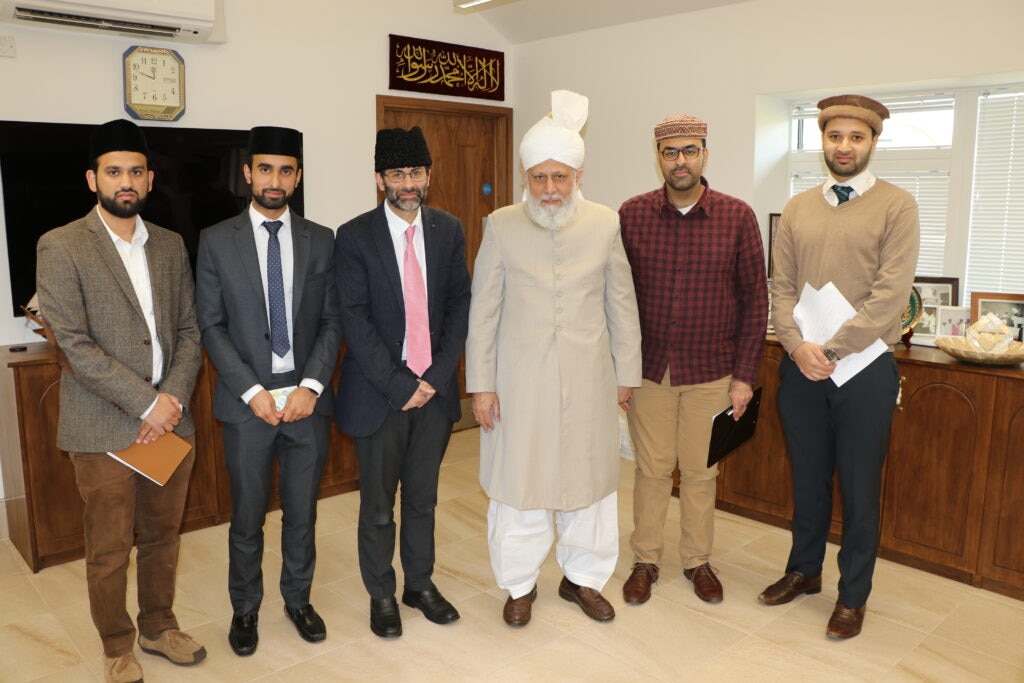 I do not know when and where Taalay was born. Neither do I know when and where he got his education from, nor am I aware of when he devoted his life for the Jamaat. Hence, the lines to follow will not carry Taalay's biographical details as such.
All I know for certain is that Taalay was martyred on 24 August 2021.
Everything else that I know about Taalay is through being his colleague at MTA International. And all I know is that he was an extremely sincere, honest, hardworking and a selfless member of the MTA team. But still, I must admit that I know very little about him.
When I heard of Taalay's demise, I felt the urge that whatever little I knew about Taalay should be written and shared with the global Ahmadiyya family. So, the lines below are only but a tribute and a salute to a marvellous colleague who laid his life in the way of Allah.
At the time of the demise of Hazrat Khalifatul Masih IVrh, very many faces could be seen all day (and all night) long in and around the premises of the Fazl Mosque; most being new to me. One such face was that of a young boy with curly hair, a fair complexion and grief written across his face. I remember wondering that he might be one of the few boys of his age who actually realised the gravity of the grief that had struck the Jamaat.
After that, I never saw this boy again and, as such fleeting incidents do, this too vanished in the fog of a fast-moving world.
In 2009, I was working on a documentary on the Islamic economic system. For this, I had to interview Syed Hashim Ahmad Sahib in Hartlepool. On this occasion, I found out that Hashim Sahib, being a descendant of Hazrat Mirza Bashir Ahmad Sahibra and Hazrat Mir Muhammad Ismail Sahibra, belonged to the family of the Promised Messiahas. What I also found out was that the grieving boy of April 2003 was his son. But even then, I didn't get to know him; not even that he is called Taalay.
A better introduction with Taalay was probably saved for the time when he was to become my colleague at MTA, many years later. Although this duration of knowing him was to span over a short period of time, but I am proud that I got to know more about Taalay during these years, albeit very little.
Those colleagues that worked more closely with Taalay can narrate in detail about his wondrous personality. All I have is a handful of memories that have suddenly turned into an asset that I wish to make public.
About seven or eight years ago, this boy – who had now turned into a fully grown man – could be seen in the corridors and staircases of Jamaat offices. His eyes had a spark that is hard to describe – words slip away as I try to do so. He would always meet with great affection and fervour as if we had known each other for a long time. He would walk with great zeal and a spring in his step. Sometimes, however, he appeared lost in his thoughts as he walked past with a slight nod only.
What left a lasting impression about this young gentleman was the simplicity of his demeanour that he carried with great dignity. One could easily see that the only one thing he cared about in what he wore was cleanliness and nothing else. Plimsolls were probably his favourite footwear; sometimes with the backstay pressed under his heels for convenience at the workplace. But all this would fall in the background and what always remained at the forefront was his dedication to work – that is all he actually cared about.
When Taalay devoted his life, he was assigned duties at the MTA News Department. Even then, we did not get to know each other any better.
But one day, Taalay produced a documentary titled The White Birds of Hartlepool and this is where we got to know each other better. Before it was aired, he asked me to review it and suggest any changes. Captivatingly interesting as it was, I watched it in one sitting and told him that it was an incredibly good documentary and should be aired as soon as possible. I also suggested a couple of minor changes but also told him that it was good to go as it was. But Taalay accepted the suggestions and made changes accordingly.
Never did I know that there would come a time when I would take pride in narrating the fact that a great man like Taalay not only sought my advice but also accepted it. This was out of Taalay's greatness – the greatness to which the whole world bears witness today.
As soon as the documentary was aired, it flew high and earned a great deal of popularity. This acceptance shown for his work fuelled Taalay with an energy that led him to making another documentary, and then another and then many more – all winning great levels of admiration.
Then came a time when Taalay would walk into the waiting room of Huzoor'saa mulaqat, balancing a big blue holdall style bag on his shoulder. With his entry, all of us who sat waiting for official mulaqats with Huzooraa would know that a dignitary would be meeting Huzooraa and Taalay was there to film it.
In his blue bag would be all the equipment required to capture the minute-long footage of the meeting – a camera, a tripod, a mic and all other paraphernalia. With this, the Jamaat's news on MTA rose to a new level – one that was to evolve into the opus magnum now known as This Week With Huzoor.
This blue bag of Taalay remains engrained in my memory as an integral part of his personality. He was carrying it when I met him for the last time a few weeks ago. But we will come this final rendezvous later.
As I write about him, I can vividly recall a beautiful day of summer 2018. Taalay had come round my office looking for me. The weekly Al Hakam had included in its Khilafat Day special issue an article that carried Huzoor's personal recollections of the time when Huzooraa was granted the status of Khalifatul Masih. All I had done was written down Huzoor's words as he spoke them, put them together and given them to Al Hakam. Taalay kept thanking me and I kept insisting that I had done nothing but jot down the words of Huzooraa.
But the joy that I witnessed on not only Taalay's face but in the whole of his existence is something I cannot describe in words. He was like a child who had received his most desired thing as a gift and didn't know how to be thankful enough. Such was his love for Khilafat-e-Ahmadiyya.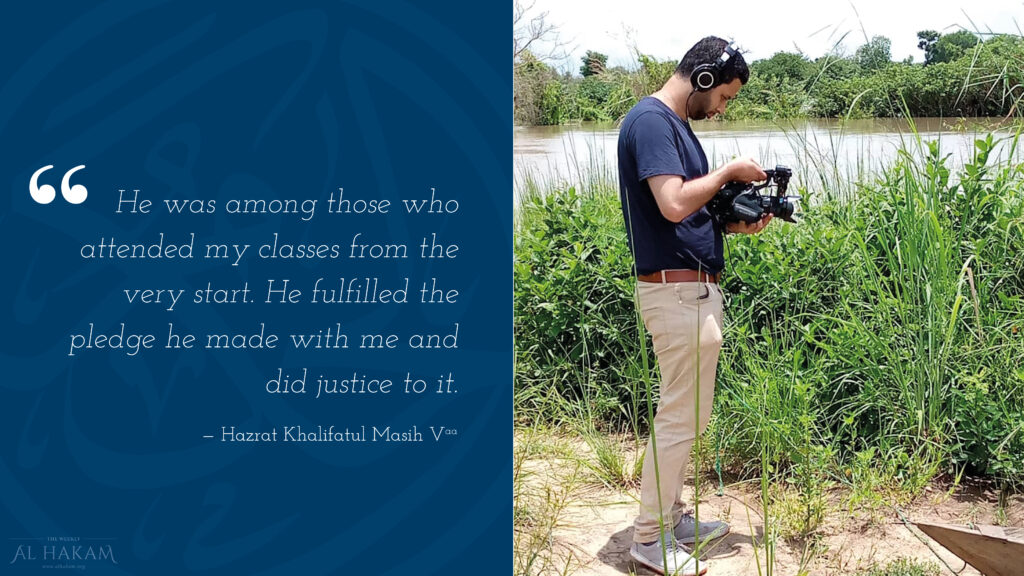 From then on, every time Al Hakam published an article where I had put together Huzoor's own words, Taalay would be the first to send me a text message that he had read it. He never sounded less overjoyed than before. He would also ask for the Urdu version to share with some relatives who, for all the obvious reasons, could not access it online in some parts of the world.
Now that I have gone through all his text messages, I have noticed that most of them were sent on Fridays and almost straight after Huzoor's Friday Sermon – the time that Al Hakam releases its new weekly issue online.
Now coming back to Taalay's documentaries, every programme that he made would speak volumes of his devotion for Khilafat-e-Ahmadiyya.
When he made the famous documentary, Four Days Without a Shepherd and sent it to me for a review, it was as if I could see before me the grieving young boy from 2003 standing at every turn of the storyline. The fear, and the peace that had followed in the four days of spring 2003, pulsed throughout the documentary just as they must have pulsed in the tender heart of the young boy many years ago.
As Taalay worked on his programmes, he would sometimes need references to support historic facts mentioned therein. He knew that I was only a phone call away and I knew that I could not let the young waqif-e-zindagi down. I would search through our records at the Ahmadiyya Archive and provide him with whatever I could. Taalay's expression of gratitude would embarrass me a great deal. Thinking back, it embarrasses me even more now. Had I known that Taalay was on a fast-track route through life, I would have worked harder to provide more from wherever I possibly could.
On every such occasion, Taalay would go through the material and get back to me saying how much of the facts he was already aware of and how much of it had been new to him. This open and honest approach undoubtedly led Taalay to absorbing a lot of knowledge, yet his pursuit knew no end. And it was this very pursuit that enabled him to acquire an insight into the history and traditions of the Jamaat in a very short span of time. He would head to any source that could provide him with even a thread to weave into his cloak of knowledge.
Speaking of Taalay's endeavours to enhance his knowledge, I mention here an incident. But before that, I must remind the readers that Taalay was born and brought up in England and, hence, English was his first language.
One day, he texted me about a certain matter. As advice, I texted back saying that Huzooraa has on many occasions read this Urdu couplet to encourage me:
تندیٔ بادِ مخالف سے نہ گھبرا اے عقاب
یہ تو چلتی ہے تجھے اونچا اڑانے کے لیے
(Give in not to the mighty gusts of resistance; They only blow to make you fly higher.)
Then, thinking that Taalay might struggle with understanding it, I texted him immediately:
"Shall I translate it for the Englishman?"
Taalay responded by translating the whole couplet and then wrote:
"Just a guess from a humble Englishman."
To quote Taalay in his own words, I opened Taalay's texts just now. With the exchange of the above lines, Taalay left so many laughter emojis. Taalay, I am sorry I couldn't align my feelings with these emojis this time – quite the contrary, actually. May Allah keep you happy and joyful always!
Sometimes, Taalay would insist that I should have the references – those that I had found for him – recorded for the respective programme. I would try to decline his suggestion as much as I could but Taalay was the epitome of perseverance when it came to anything about Huzooraa. I would even try to scare him by saying that English is not my first language and my interview could compromise the quality of his programme. This became a routine for every such occasion, but in the end, I would lose and Taalay would win; I always lost to the one card that he played at the end:
"What you will narrate is about Huzooraa. How can it go wrong?"
On this, I would drop myself in the chair that Taalay would already have set up; he would open his blue bag and start recording.
I must mention here that I loved the way Taalay worked on his documentaries. He would always send the complete storyboard with all necessary details: where my interview would be, who would have spoken just before me, where he wanted me to pick up from and where he wanted me to finish so that the one to follow could speak relevantly from thereon.
I always took this as Taalay's professionalism, but now, in retrospect, I feel that this approach too mirrored his love for Khilafat. He wanted everything to be said and presented in a manner that befitted the high station of Khilafat. Allah always rewarded his innocent love with greater love, proof of which is the exceptional popularity of his programmes.
This Week With Huzoor needs no introduction. It is undoubtedly the favourite programme of MTA viewers. Working on this programme was the greatest joy of Taalay's life. Quite like the name of the programme, Taalay's week would revolve around filming, editing and producing it. Everything else in his very productive schedule went on, but this programme remained a lifeline for him.
I believe that where he has now gone, this programme must be the shiniest entry on his register of deeds. Thousands of viewers watch this programme out of love for Khilafat and will continue to do so. I believe that every viewing of this programme will work as a prayer for that humble lover of Khilafat who worked tirelessly to put it all together. Taalay, may Allah reward you for this!
Taalay was an exemplary waqif-e-zindagi, observing whom I learnt a lot of good things. I learnt when I saw him cycle to work from his home many miles away; I learnt when I saw him going happily for a regular game of football with his friends and colleagues; I learnt from him when I saw him carry his blue bag around to capture anything Huzooraa had said; I learnt from the care he would show when lodging these pearls onto the thread of this programme's timeline.
But there is one particular incident that carries a great lesson.
Taalay was given a flat by the Jamaat to live in. He lived there for quite some years before moving out to another flat. His previous flat was given to another waqif-e-zindagi. Walking to my office in Baitul Futuh, I bumped in to Taalay who told me how good that flat had been for him and his family. He told me that they had had a great time there as it was more than enough for the three of them; also that the flat was quite spacious. Based on his description, I imagined a luxury apartment.
A few days later, I happened to see a similar flat in the same building. I ought not to say much but I must mention here that putting Taalay's description and the actual flat side by side, I realised how content Taalay had been with what he had been provided with as a waqif-e-zindagi; how a waqif-e-zindagi can turn very limited space into a palace through contentment; and also that space does not matter, and what actually matters is love and devotion in turning houses into homes.
I spent very little time with Taalay, but I hope that those who spent more will be able to write a great deal more about Taalay's inspirational character.
It was in the Aftab Khan Library in Baitul Futuh that I met Taalay for the very last time. He had arranged a recording with me after earning another victory in our regular debate. This time, he had thrown in another card by offering to come down to Farnham and record the interview, making it convenient for me. I had lost but had declined the last offer by telling him that he did not need to trouble himself with that as I was at Baitul Futuh almost every day.
I arrived in my Baitul Futuh office and informed Taalay that I was ready. A few minutes later, Taalay walked in, squeezing himself and the blue bag (which was part of his body and soul) through the door. Then he started looking at one corner of the office and then another, imagining how the shot might look like. I could see that Taalay was a bit confused but before I could ask, he said, "All studios are busy today. Had I known, I would have scheduled the recording for another day."
I offered what I could by saying that we could still reschedule and that it was not an issue for me at all. But Taalay wanted to mark the job done. As soon as I suggested filming in the Aftab Khan Library, Taalay ran off to get permission from the Baitul Futuh administration.
He came back disappointed as he had been told that the library was closed under Covid restrictions and the administration was not happy to hand over the keys to anyone. Taalay could see his recording being compromised for unavailability of appropriate space. I suggested that we try one more time.
Having offered a "personal guarantee" that the library would be returned in the shape we found it in, and that safety and security was also on us, we were given the key and permission to record.
As we got the key, the colours of delight that waved on Taalay's face and the twinkle in his eye is vividly before me as I write these lines. But it also highlights another beautiful aspect of Taalay's personality: He was passionate about his work but where he saw a line drawn by the nizam-e-Jamaat (operational/administrative system of the Jamaat), he froze in his steps and withdrew.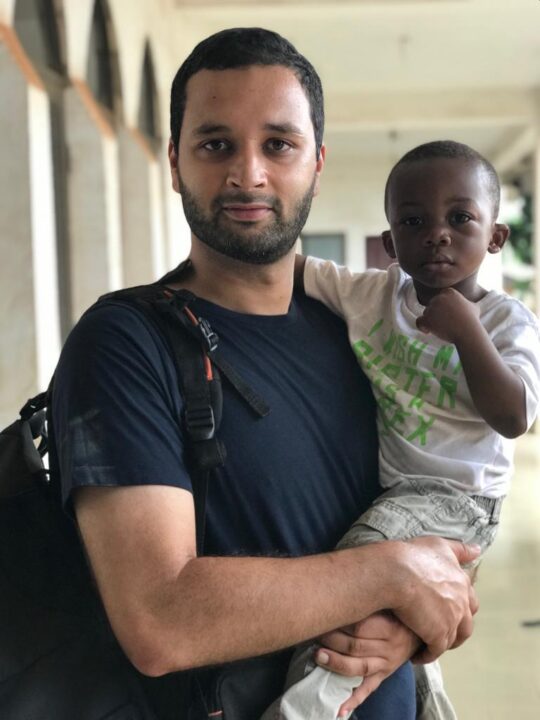 When his desire to film in the library was achieved by fair means, we both kept the promise made with the Baitul Futuh administration. And in doing so, Taalay took extreme care in ensuring that what we had guaranteed was fulfilled down to the letter.
This recording was for a documentary on Hazrat Sir Zafrulla Khan Sahibra that Taalay was working on. It had previously been assigned to another colleague who had painstakingly acquired very valuable material to go into it. But this "painstaking" exercise had also taken quite a number of years.
When Taalay was appointed to oversee the work, I jokingly said, "Taalay, I hope we're able to see this documentary in our lifetimes."
Taalay replied with his typical, robust laughter.
Today, I feel like asking, "Taalay! What did you laugh at that day? Back then, I had thought that you were only returning a laughter for the joke. But it turns out that you were serious. You walked away without seeing the completion of this documentary in your lifetime. Why did you have to do this?"
Today, I send you my last message. Not on your mobile, but right here:
"Taalay! You loved everything that had anything to do with Huzooraa. I always had a feeling that you could shed your life for any such thing. But you have actually done so!
"You went to Ghana and thought about what you could offer to the land where Huzooraa had once lived, and that too in times of hardship.
"You found nothing better than your life to offer to that land. And you coloured its soil with your blood.
"What can I say? I do not want this message to sound elegiac. I write here a couplet and end my message:
شہید جسم سلامت اٹھائے جاتے ہیں
خدا نہ کرد کہ میں تیرا مرثیہ لکھوں
"(I am sure the 'humble Englishman' will get it right.)
"(PS: And sorry, no emoji this time. I couldn't find one to aptly reflect my feelings right now!)"
I sent this article to Hazrat Khalifatul Masih Vaa. The note I received is no less than a monumental summary of Taalay's life (and his demise). Huzooraa said:
"He was among those who attended my classes from the very start. He fulfilled the pledge he made with me and did justice to it."