Abdul Hadi Qurashi, Sierra Leone Correspondent
Jamaat-e-Ahmadiyya Sierra Leone inaugurated a new mosque in Port Loko region's Maforkie Jamaat, on 4 April 2021. An Amin (completing the Holy Quran) programme was also held with the inauguration.
The foundation of the mosque was laid in August 2020 by Safeer Ahmad Sahib, Regional Missionary Port Loko. The mosque has a capacity for 350 worshipers. A total of 76 million Leones were spent for the construction of the mosque and all the expenses were paid by Tahir Mansoor Ajmal Sahib from the UK. May Allah bless him. Amin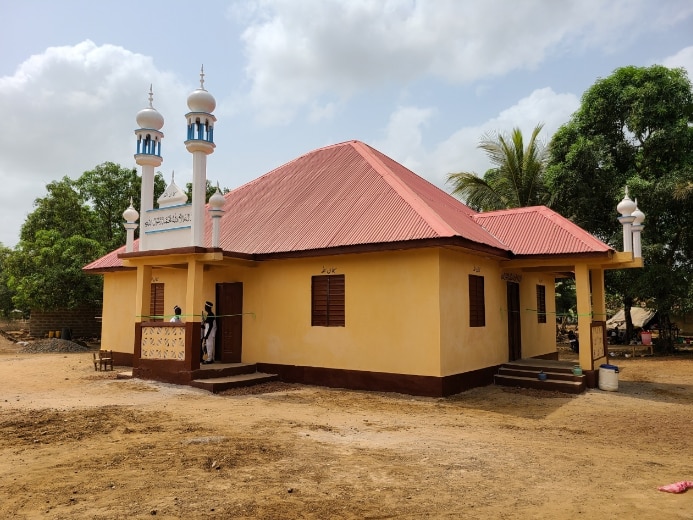 The event started with the recitation of the Holy Quran and the dignitaries were introduced to the audience. Amir Jamaat Sierra Leone, Saeedur Rahman Sahib listened to the Holy Quran from the children who completed the first recitation of the Holy Quran and distributed certificates among them.
A total of 31 children completed the first recitation of the Holy Quran.
In his address, amir sahib told the audience about the advent of the Imam Mahdi and the Promised Messiahas and that how 100 years ago, Ahmadi missionaries started coming to Sierra Leone and taught them the real teachings of Islam Ahmadiyyat.
Amir Sahib cut the ribbon and officially opened the mosque. The zuhr prayer was offered in the mosque in congregation and aft er the prayer, the guests were given lunch.
The total attendance was 390 from 20 different jamaats of Port Loko. Many dignitaries also attended, including Regent Chief Maforkie Chiefdom, Regent Chief Bekeloko Chiefdom, a member of parliament, Deputy Mayor of Port Loko, Deputy SDO Port Loko District, a councilor, Chief Imam of Maforkie Chiefdom, Chief Imam of Port Loko's Old Mosque, Chief Imam of Council of Imams of Maforkie Chiefdom, and Chief Imam of Bashariyya Mosque.
We pray that may Allah always keep this mosque inhabited with true worshipers. Amin