Mujeeb Ahmad Mirza,Secretary Majlis-e-Sehat UK
Majlis-e-Sehat UK was able to host yet another successful International Masroor T20 Cricket Tournament from 18 to 23 June 2019.
The tournament started in 2009 and ever since, the tournament has been taking place every year in London. Many of these tournaments have been blessed with the presence of Hazrat Mirza Masroor Ahmad, may Allah be his Helper.
Teams began to arrive on 16 June and the opening session took place on 18 June in Baitul Futuh Mosque in London. The inauguration was chaired by Amir Jamaat UK, Rafiq Ahmad Hayat Sahib. In his opening address, Amir Sahib spoke about the spirit of true sportsmanship and how we should always be obedient to the Jamaat and listen to and respect the management of the tournament.
This year, 22 teams participated in the tournament, with players travelling from many different parts of the world. The teams this year were AMJ XI, Australia, Australia A, Canada, Canada A, Belgium, Denmark, Finland, France, Germany, Germany A, Holland, Ireland, Jamia UK, a team from the Middle East, Sweden, Omair XI, USA, USA A, United Kingdom, United Kingdom A and PAAMA.
On 19 June, the group stage matches commenced and in total, 19 out of the 20 matches were played, with one match having to be cancelled due to heavy rainfall. The group matches went on until Friday 21 June and in total, 47 group matches were played.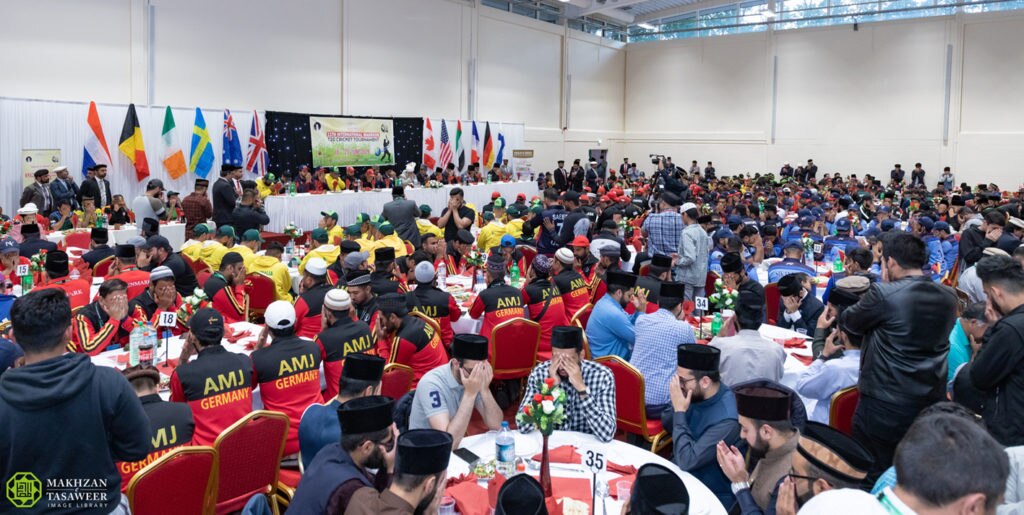 On Saturday morning, 8 quarter finals were played. In the evening, players partook in the highlight of the tournament, which was the blessed opportunity for teams to have their pictures taken with their beloved Imam, Hazrat Khalifatul Masih Vaa and to have dinner in his presence. This was the climax and most anticipated part of the tournament.
On this day, the players also had the opportunity to pray Asr, Maghrib and Isha behind Hazrat Amirul Momineenaa. This was the highlight this year for all the players that took part in the tournament.
On Sunday, 23 June the semi-finals and final were played after which the prize distribution ceremony took place. Amir Jamaat UK, Rafiq Hayat Sahib gave the concluding remarks in which he reminded the players of the blessings of Khilafat and the unity which is achieved through unity at the hand of Khalifatul Masih.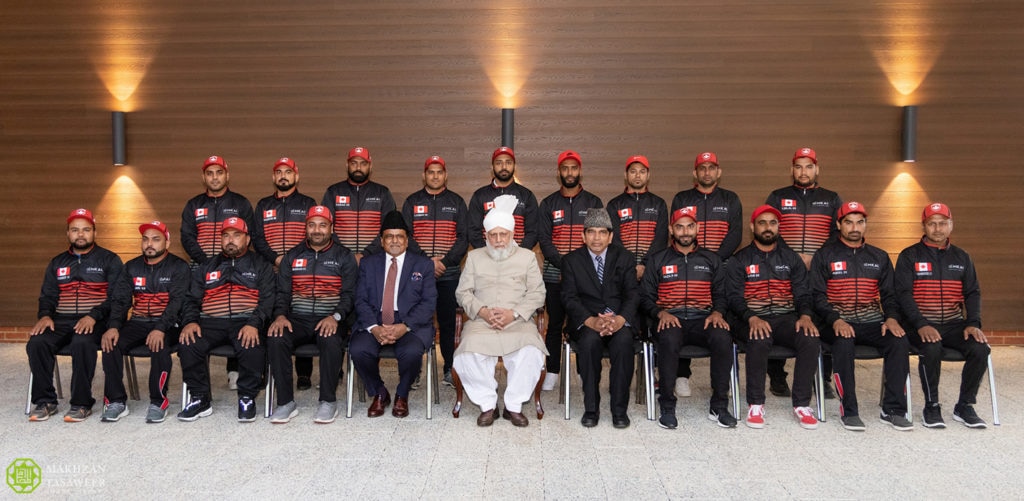 We hope and pray that everyone who took part in this year's tournament enjoyed the experience of not only taking part in a friendly competition between Ahmadi brothers but also gathering in the presence of Hazrat Khalifatul Masihaa and offering prayers behind him.
We look forward to the next International Masroor T20 Cricket Tournament. We request prayers for the management that we may be able to make this tournament bigger and better, Insha-Allah.
Results from this year's tournament
Quarter Finals:
United Kingdom (176/8) V United Kingdom A (158/10)
USA A (126/10) V CANADA A (127/6)
Omair XI (130/8) V Germany (134/9)
Holland (153/9) V Australia A (134/10)
Germany A (220/5) V France (98/6)
Australia (131/8) V Canada (133/7)
Finland (0/0) V Jamia UK (0/0) – Jamia Ahmadiyya UK was unable to attend due to exams
AMJ XI (89/10) V USA (90/4)
Plate Semi Finals:
Germany A (101/10) V Canada A (59/10)
Finland (153/3) V The Netherlands (123/10)
Semi Finals:
Germany (161/7) V UK (150/10)
USA (125/8) V Canada (130/6)
Plate Final:
Germany A (108/8) V Finland (77/10)
Final:
Canada (188/7) V Germany (143/10)
Highlights in numbers:
– 314 players
– 12530 balls
– 12341 runs
– 763 wickets
– 1029 fours
– 457 sixers
– 1302 wides
– 99 no-balls
– 40 half centuries
– 347 catches
– 76 runouts
– 71 maidens
– 154 ducks