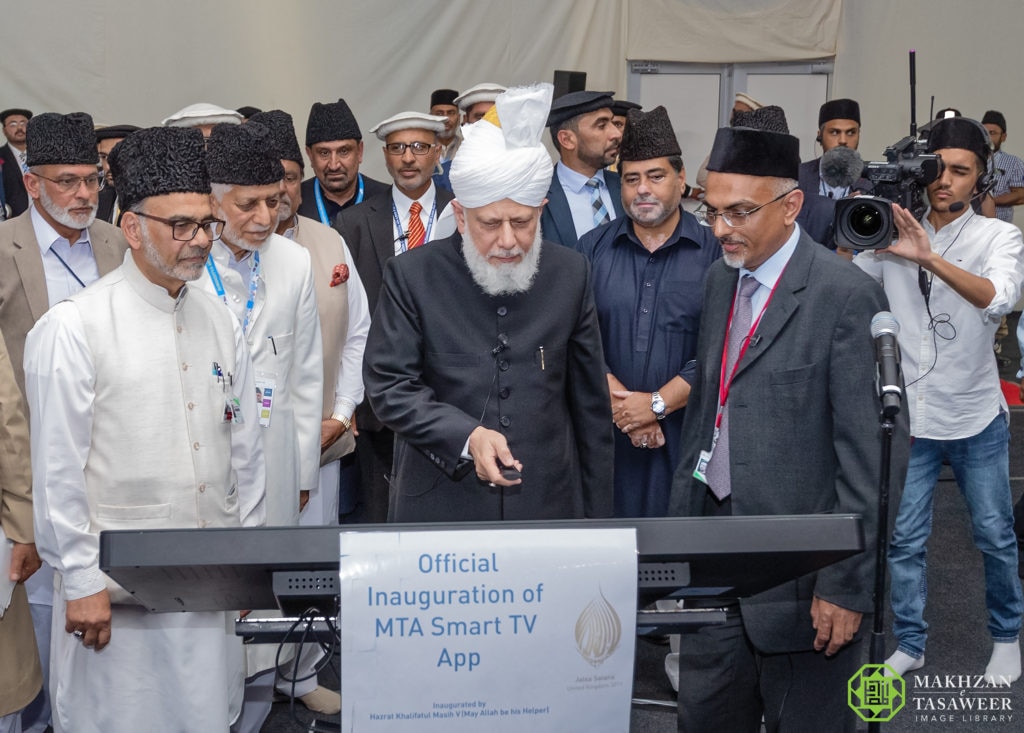 After his Friday Sermon on 2 August 2019 at Hadeeqatul Mahdi during Jalsa Salana UK, Hazrat Amirul Momineen, Khalifatul Masih Vaa announced the launch of the new MTA smart TV app and formally launched the app through a large touch-screen with the click of a button, inaugurating the app and making it available to viewers all over the world.
Hazrat Amirul Momineenaa said:
"On behalf of MTA, there is an announcement today that a new app is being launched by MTA International – a smart TV app. In any country of the world, after downloading this app, viewers can access all channels of MTA on LG, Philips, Amazon Fire TV, Sony and Android television sets without a dish antenna, [the channels being] MTA 1, MTA 2, MTA 3 Al-Arabiyya and MTA Africa. Apart from this, by the grace of God, MTA is already available on Samsung televisions in the USA. This was the announcement and those living abroad can benefit from this app. After Jumuah, I will Insha-Allah launch this too."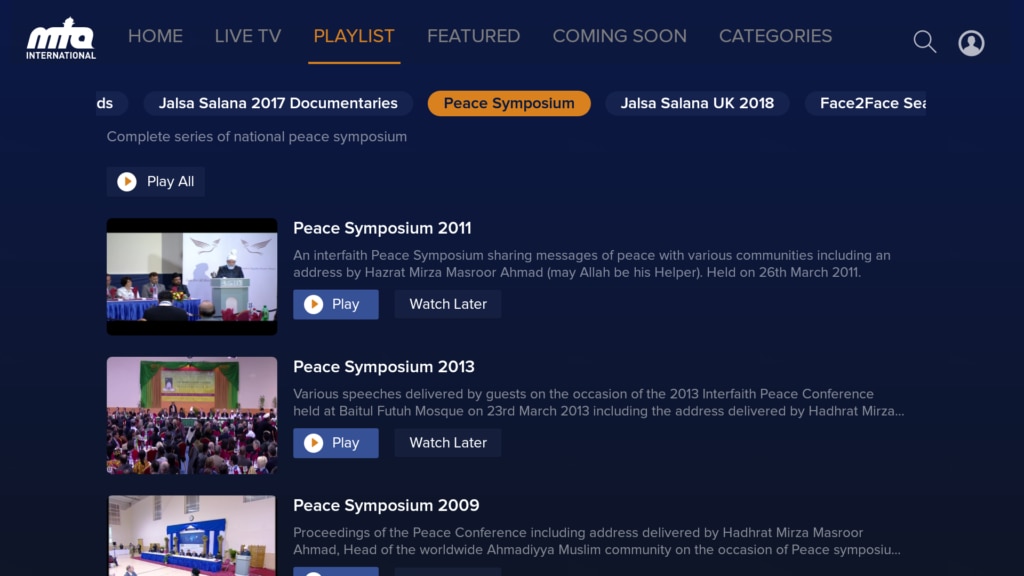 Our correspondent sat down with Director of IT for MTA International, Adil Mansoor Sahib, who told us:
"The entire project started in July 2017 when we went to IBC and spoke to the relevant people about how this smart TV app could be made a reality. We carried on with research and actually found a company who were happy to build the app for us. Thereafter, we went to Hazrat Amirul Momineenaa and while Huzooraa was happy with the proposal, he instructed us to perform a survey for Ahmadis living around the world on whether the need was felt for this app. Huzooraa then told us that he wanted to personally see the questions for the survey."
After submitting the survey, Huzooraa graciously approved it. He then instructed for it to be sent throughout the world and for it to be put up on the MTA website for quick and easy access. The survey was conducted in early 2018.
Results were positive and presented to Hazrat Khalifatul Masih Vaa. All results pointed to the fact that there was a genuine need and interest for such an app. Aside from feedback from the survey, MTA had been receiving many emails requesting this feature. Work began on the smart TV app just after Jalsa Salana UK 2018 in July.
There were 6 milestones altogether that had to be achieved by the team, with the seventh being the testing of the app. With all this done, it was 6-7 weeks ago that the team was happy with the app, but the next step was to get individual approvals for all the platforms mentioned by Huzooraa in his Friday Sermon, for example Philips, LG, Samsung and Sony. This was all a challenging task as they all had to be approached separately and all had their own requirements.
Describing the final stages of the app, Adil Mansoor Sahib told Al Hakam:
"When finalised, the entire team demonstrated the new app on a television screen for Huzooraa at the new Markaz in Islamabad.
"Everything seemed to be going to plan. However, Samsung had not responded in time. With only a few days left until the inauguration, we decided that we would not pursue the smart TV app for Samsung televisions.
"By the sheer grace of Allah and through the prayers of our beloved Imamaa, Samsung responded two days ago, on Wednesday, and now, Alhamdolillah, the app is ready for Samsung television sets."
Adil Sahib, whilst describing the loving attention by Hazrat Amirul Momineenaa, said:
"I wrote to Huzooraa to request the launch as he had said to return to him once everything was complete. Huzooraa had written very lovingly with his own hand, 'Dua', showing that he had prayed for the success of this project.
"With that, we understood that Huzooraa had prayed and that there was nothing more we needed. Then this Tuesday, the Managing Director for MTA International, Muniruddin Shams Sahib told us that Huzooraa would inaugurate the app on Friday at Jalsa; that turned everything around as it was unanticipated. Only yesterday were we told by the private secretariat that Huzooraa would mention the launch in his Friday Sermon."
Adil Mansoor Sahib explained to us what the new app has to offer: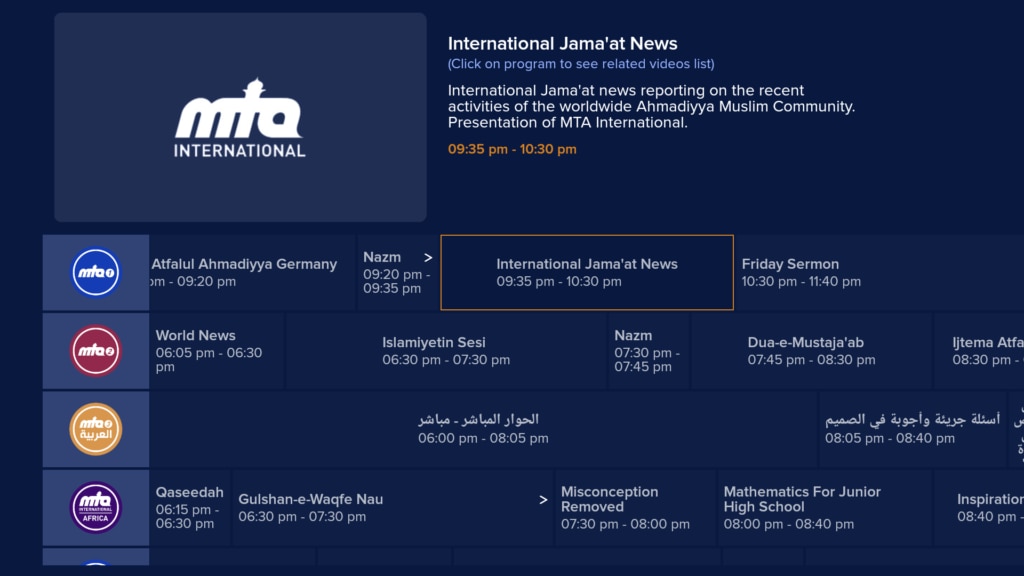 "The new smart TV app plays all four MTA channels currently receivable by satellite as live stream and all in full HD. It has the ability to arrange for more live streams and channels in future. It also has significant on-demand content and some programmes are available with 16 languages, like the Friday Sermon.
"It has the ability for viewers to listen in German, French, Urdu, English, Bengali, Arabic and so on. The MTA smart TV app also displays closed captions in multiple languages, shows an in-depth electronic programme guide for all channels and can login and save personalised playlists. Now, the new feature is that it can pre-roll a promo for any programme about to be broadcast, just as other channels' apps play advertisements."
Those readers who possess smart TVs should make full use of this new feature and stay connected with MTA through this means as much as possible.
Readers are requested to pray for the success of this new project and remember the team that worked on it and the entire worldwide MTA staff in their prayers.