Mirza Khalil Baig, Vice Principal Jamia Ahmadiyya International, Ghana
Jamia Ahmadiyya International, Ghana was blessed to have a virtual mulaqat with Hazrat Khalifatul Masih V, may Allah be his Helper.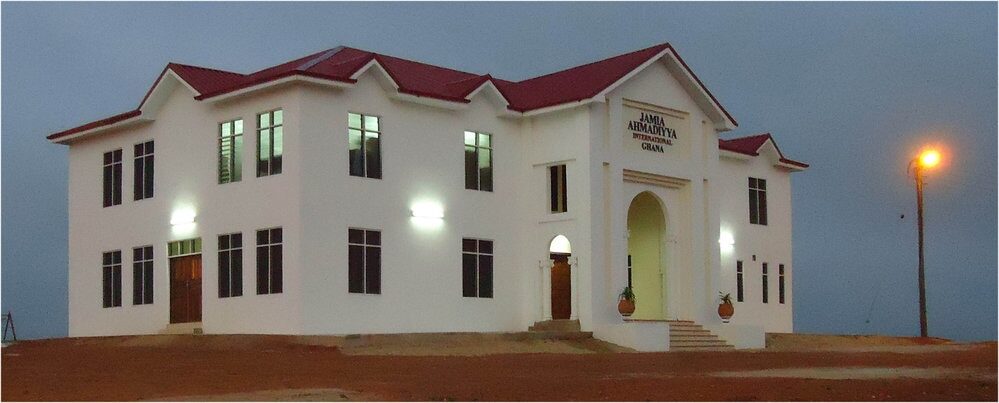 At first, we wanted to organise this virtual mulaqat in the newly built hall, but the Internet signal was poor there. We surveyed and found that in terms of Internet signal, the Nayyar Mosque of Jamia was a most suitable venue.
Two large air-conditioners were installed in the mosque by the Jalsa Salana office. For the purpose of smooth video link, a high speed Internet connection was also acquired from a telecommunication company.
An MTA team from Wahab Adam Studios at Bustan-e-Ahmad in Accra arrived at Jamia two days earlier to finalise the arrangements of the mulaqat. They also conducted transmission tests to ensure a smooth link.
This historical mulaqat was the first ever virtual mulaqat of Jamia International Ghana and the members of teaching staff with Huzooraa.
The meeting started at 12:15 GMT and Huzooraa graciously interacted with us for a little more than an hour.
Only resident students of Jamia took part in the mulaqat and due to safety precautions regarding Covid-19, nobody was permitted too enter the premises. Everybody's temperature was taken and all participants were provided with new facemasks before admission into the mosque. Even though all students live together in the Jamia premises, social distancing was still observed in the mosque.
The programme started with recitation of the Holy Quran, followed by a hadith with Urdu translation regarding a prophecy about the establishment of Khilafat-e-Ahmadiyya. After this, a poem of the Promised Messiahas was recited. The poem was followed by an excerpt from "Fath-e-Islam" (Victory of Islam), a book of the Promised Messiahas.
After this, Hazrat Amirul Momineenaa started conversing with the students and answered their questions.
In response to a student as to how one can develop the habit of reading, Huzooraa said:
"Firm resolve is very important for anything to become successful. Then you need to make your timetable. You need to write down your routine of one full week. From morning to evening record every activity and then analyse how much time has been wasted. How much time has been spent in the name of necessary things? Then, the following week, critically analyse and assess how many tasks were necessary and how many of them were unnecessary and how much time was wasted. Then, from this review, you should be able to fix time for personal studies."
Huzoor'saa exhortations about these spiritual matters brought about a spiritual rejuvenation in the students. Spontaneously, slogans of "Takbir" after the meeting testified that this mulaqat had infused a new spirit in the hearts of both students and teachers alike, alhamdolillah!
The teachers of Jamia International, Ghana expressed that it was a very blessed day for them and that this day would be remembered in the history of Jamaat-e-Ahmadiyya Ghana, especially for Jamia Ahmadiyya. They prayed that Allah the Almighty enabled them to live up to Huzoor's expectations of them.
Many teachers were lost for words when describing their sentiments having been blessed with Huzoor'saa precious time. May Allah enable us to act upon Huzoor'saa guidance, which he outlined during this class.
Waleed Ahmad Sahib of Shahid class said, "I feel very happy for attending this class. The best moment of the class was when Huzooraa addressed the students with 'Piyarey bacho' [dear children]. May Allah make us successful missionaries. Amin."
Hafiz Shamsuddin Sahib said, "Huzooraa answered the questions so beautifully and this is also a quality of a spiritual father."
Ayaz Ahmad Dogar Sahib said, "The guidance regarding maintaining our timetable left a lasting impression on me."
Noorullah Amin Sahib said, "Huzooraa has elaborated in detail what our responsibilities as missionaries are. May Allah enable us to act upon them. Amin."
Tahir Ramzan Sahib of Khamisa class said, "Meeting Huzooraa was the biggest desire of my life, which has now been fulfilled. May Allah enable us all to act upon Huzoor'saa guidance. Amin."
Ishaq Yaqub Sahib said, "The guidance regarding attaining nearness to Allah and to become a true believer touched my heart deeply."
Maalik Owusu Sahib said, "I will try my utmost to act upon Huzoor's advice regarding attaining pleasure in Salat."
Hafiz Abdul Mujeeb Sahib said, "I was very happy and realised that we have the blessing of Khilafat, of which the non-Ahmadis are deprived. The answer by Huzooraa in regard to nearness to Allah had a great impact on me."
Qasim Anobi Sahib of Rabia class said, "After this class, I strongly realised that we should try to meet Khalifa-e-Waqt often, which will eventually help us increase in our faith."
Ahmad Kamal Sahib of Salisa class said, "The incidents Huzooraa narrated regarding his stay in Ghana were very inspiring, especially the incidents which took place during the tour of Hazrat Khalifatul Masih IIIrh."
Muhammad Huzaifa Sahib said, "The guidance on developing a habit of reading really stood out to me." Mahmood Abdur Rahim Sahib of Sania class said, "Huzooraa gave us precious guidance which are all life-changing. I hope that we can have more events like this in the future as well."
Al Hassan Isa Sahib of Ula class said, "I feel invigorated, with a new zeal and energy, both physically and spiritually."
(Translation by Aleem Mehmood, Missionary in Accra, Ghana)