Tahira Chaudhry, Secretary Ishaat, Lajna Imaillah Hadeeqa Ahmad, Canada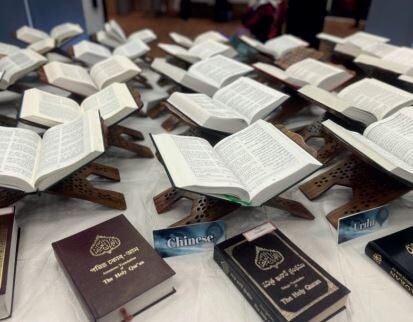 An exhibition was set up at the Bradford Public Library in commemoration of 'Islamic Heritage Month' on 26 October 2022, which was a collective effort of Lajna Imaillah Bradford West, Bradford East and Hadeeqa Ahmad.
The exhibition included a wide variety of information about the influence of Muslims on various fields of history, science, architecture, art and culture. Translations of the Holy Quran were on display. Arabic calligraphy and traditional hand-made furniture, along with Islamic decor, lamps and utensils, were a great source of attraction and knowledge for the guests. The guests took great interest in the henna application stall. A stall for getting the names scribed in Arabic was also set up.
Free bookstall and The Review of Religions stall displaying literature and periodicals was another point of interest. The stall also featured QR codes, which took the guests to The Review of Religions and alislam.org websites.
The exhibition also included various books and flyers, such as Life of Muhammad, Gender Equality and World Crisis and the Pathway to Peace.
Missionary-in-charge Canada and the local missionary also attended the exhibition and helped with questions asked by the male visitors.
A total of 22 non-Ahmadi guests attended the event and enhanced their knowledge about Islamic contributions towards shaping the world. Among the guests were Mayor-elect James Leduc, deputy mayor-elect Raj Sandhu, Mayor of New Tecumseth Rick Milne, Shannon Lowe of South Simcoe Police, and the library's manager of Cultural Services.
Natasha Philpott, editor of Bradford Today, also visited and covered this event.
All guests were given a gift bag that included some books and a mug with the motto "Love for all, hatred for none" on it, as a token of our appreciation for their attendance.
The mayor of New Tecumseth, Rick Milne said:
"Thank you for the invitation to join you and your friends yesterday. I found everyone very nice and friendly. I enjoyed the tour and learned more about your (our) culture. Please feel free to contact my office if there is any need we can provide. Once again, thank you for the gifts."
Shannon Lowe of South of the Simcoe Police expressed:
"Incredibly informative! I enjoyed all the exhibits and learned so much. Thank you so much."