Besmir Yvejsi, Secretary Ishaat, Jamaat-e-Ahmadiyya Kosovo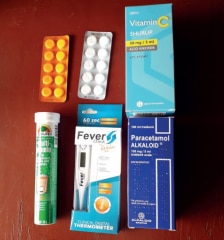 In these difficult days for the whole world, Kosovo has also been a target of the coronavirus pandemic and the country's government has taken the necessary steps to prevent the spread of the disease.
Jamaat-e-Ahmadiyya Kosovo is helping in humanitarian works wherever it can and towards the end of March, it has delivered medicines and vitamins to over 200 people across Kosovo in the cities of Prishtina, Peja, Mitrovica, Gjilan, Shtime, as well as some people living in the villages around these cities.
According to the World Health Organisation (WHO), people most affected by Covid-19 are elderly people, and the Jamaat has taken this fact into account when giving out medicine.