Farrukh Shabbir Lodhi, Missionary, Liberia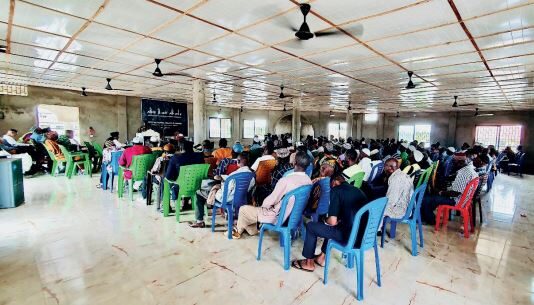 The 15th Majlis-e-Shura of Jamaat-e-Ahmadiyya Liberia was convened on 28 May 2023 at the Shah Taj Ahmadiyya High School in Monrovia. The arrival of delegates began a day prior and continued until the day of the shura. As the delegates arrived, they were issued cards and the registration procedure continued.
167 people attended the shura, including central and local missionaries as well as members of the national amila and representatives of the auxiliaries.
The event formally commenced with the recitation from the Holy Quran at noon and was presided over by the Amir and missionary-in-charge Liberia, Naveed Ahmed Adil Sahib. Amir Sahib addressed the audience and emphasised the importance and blessings of the shura system, as well as gave a detailed description of how it operates.
This was followed by the formation of the subcommittees to discuss the proposals. There was a brief break for prayers and lunch following the establishment of the committees. Following that, all committees met at the designated locations. At 3pm, the second session commenced with the recitation of the Holy Quran. The chairmen of the subcommittees then delivered their recommendations to the house. The delegates present in the house were also given the opportunity to express their views, and all the recommendations were approved.
Finally, Amir Sahib called the attention of the delegates to their obligations and led everyone in silent prayer to conclude the event.