First half of France's lockdown (16 to 30 March)
Mansoor Ahmad Mubashir, France Correspondent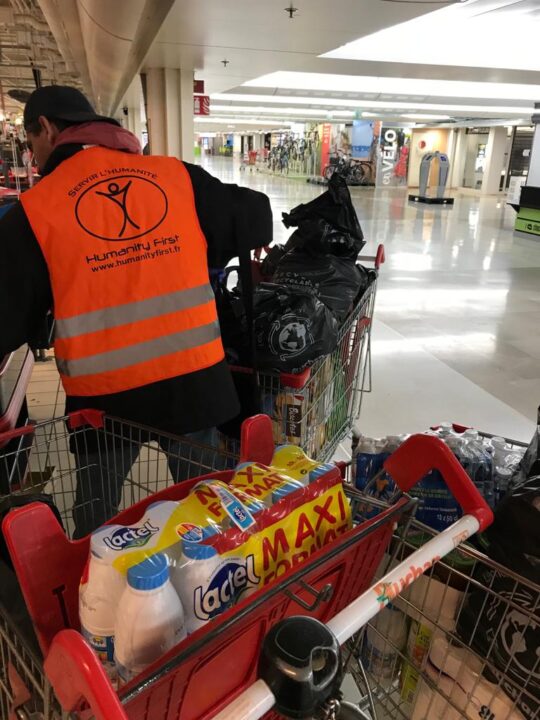 With the Covid-19 spreading rapidly all around the world and making all travel very difficult, the activities of Jamaat-e-Ahmadiyya France never came to a halt.
Since the lockdown announced by the president of France from 16 March 2020, the Jamaat activities took a new turn via modern technology. Humanitarian Activities Jamaat France launched a campaign to look after vulnerable and elderly neighbours in local communities We have been contacted by a clinic who requested a tent so that health professionals can start on-site coronavirus tests.
The Jamaat decided to offer the tent. The tent was set up with the help of Khuddam-ul-Ahmadiyya France.
Coronavirus tests for healthcare professionals started on 23 March. 100 blankets were offered in a blanket drive in Paris for homeless people. Also, a high school was given 500 packets of crisps, which were offered to the homeless and the rest were given to healthcare professionals in a hospital.
In Strasbourg, hygiene and sanitisation products and food were distributed between 220 people (refugees and homeless) living in a shelter. Lajna Imaillah prepared handmade masks. Khuddam in Epernay helped Ahmadi families and some non-Ahmadi people in buying their house hold things.
Homeopathic medicines were provided to Jamaat members in many cities of France. Tarbiyat and tabligh activities By the grace of Allah the Almighty, there are five missionaries in France. Four are in the field (St Prix, Lyon, Epernay and Strasbourg) while one is in the national amir's office. The four missionaries working in the field are all benefiting from modernday technology for their missionary work of tabligh and tarbiyat.
Applications used are Zoom, WhatsApp, Skype and Microsoft Teams. Jalsa Yaum-e-Masih-e-Maudas was listened to by more than 500 members online. Daily dars in Urdu and French started from 16 March and has been attended by more than 55 people daily.
Daily Quran Classes are held in small groups, with an average of more than seven members per class. Translation of the Holy Quran classes have been attended by more than 24 participants. Combined book reading classes are held, with an average of eight participants per class.
Khuddam, Atfal and Waqifeen-e-Nau classes are also held. Alongside these classes online, national amila meetings and local presidents' meetings were held online. Local amila meetings of Jamaat-e-Ahmadiyya Lyon and Epernay were held.
Tabligh question and answer sessions were held live on Twitter in which more than 11 people participated. An Inter-religious conference was also held via Skype, which was attended by 22 people.
Jamaat-e-Ahmadiyya France request prayers of all Al Hakam readers that Allah may bless us all. Amin.