Furhan Hamza Qureshi, Missionary, Canada
Every year, Jamia Ahmadiyya Canada continues to excel in every way. Malik Talha Ahmed Sahib of Ishaat Department, Jamia Ahmadiyya Canada, reports that currently, there are 109 students studying in Jamia Ahmadiyya Canada from 13 different countries, including Canada, USA, Mexico, Australia, New Zealand, Japan, Fiji, Spain, Indonesia, Malaysia, Iran, Mauritius and Trinidad and Tobago.
Due to the Covid-19 pandemic, these last two years have been unique in the history of Jamia Ahmadiyya Canada. With the guidance and prayers of Hazrat Khalifatul Masih Vaa, after the spring break of March 2020, Jamia classes were shifted to the online platform of Zoom. Semester exams were also conducted virtually.
In Jamia Ahmadiyya Canada, extracurricular activities are conducted under the administrative body of the Majlis-e-Ilmi (Academic Committee). Each department of Majlis-e-Ilmi is headed by a teacher and a student secretary. Every academic year, a new secretary is elected by the student body for each respective department.
There are four tutorial groups in Jamia Ahmadiyya Canada. Students are assigned to a tutorial group in the first year of Jamia. They then compete on behalf of their tutorial groups in educational and sports competitions to earn points towards the Educational Competitions Cup and the Sports Cup, awarded annually.
At the end of the educational competitions in each academic year, a special prize distribution ceremony is held where students are recognised for their achievements. Due to the Covid-19 pandemic, the prize distribution ceremony was not held for the academic year of 2019-2020.
However, this year, a virtual prize distribution ceremony for Jamia Ahmadiyya Canada and Hifz-ul-Quran School Canada was conducted via Zoom on 29 May 2021, which encompassed the academic years 2019-2020 and 2020-2021. In this ceremony, prizes were awarded to students who not only excelled in educational competitions, but also to those who achieved top positions in their respective classes.
Lal Khan Malik Sahib, Amir Jamaat-e-Ahmadiyya Canada, presided over the session.
The ceremony began with a recitation from the Holy Quran, followed by an Urdu poem.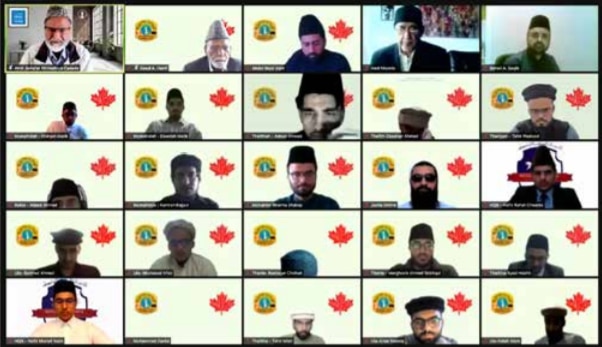 Thereafter, the annual report of extracurricular activities of Jamia Ahmadiyya Canada was presented by the Vice President of Majlis-e-Ilmi, Aatir Khan Sahib.
Hafiz Mujeeb Ahmad Sahib, a teacher of Hifz-ul-Quran School, then presented the annual report of Hifz-ul-Quran School. Here it should be noted that Hifz-ul-Quran School Canada is the first full-time Ahmadiyya school in Western countries. It was inaugurated in 2011. In the past 10 years, a total of 50 huffaz have graduated. Due to the pandemic, classes were also held virtually.
After the reports, the names of position holders in educational competitions and academics of Jamia Ahmadiyya Canada were announced by Furhan Qureshi Sahib, a teacher of Jamia Ahmadiyya Canada.
In the academic year of 2019-2020, there were six individual competitions and two group competitions. The tutorial group which stood first in 2019-2020 was Diyanat group, headed by Abdul Noor Abid Sahib. Moreover, in the academic year 2020-2021, there were nine individual competitions and two group competitions. Amanat group, headed by Asif Ahmad Khan Sahib, stood first this year in educational competitions.
Hafiz Mujeeb Ahmad Sahib announced the names of Hifz-ul-Quran students who achieved excellence in academics and educational competitions.
At the end, Amir Sahib Jamaat-e-Ahmadiyya Canada delivered his closing remarks. He emphasised the need for Jamia students to create a living connection with Allah the Almighty, alongside understanding and utilising the great tools provided at Jamia Ahmadiyya Canada.
Following Amir Sahib's remarks, Daud Ahmed Hanif Sahib, Principal of Jamia Ahmadiyya Canada, gave a vote of thanks.
The programme concluded with silent prayer, led by Amir Sahib.