Ibrahim Bonsu, President Jamaat Leicester, UK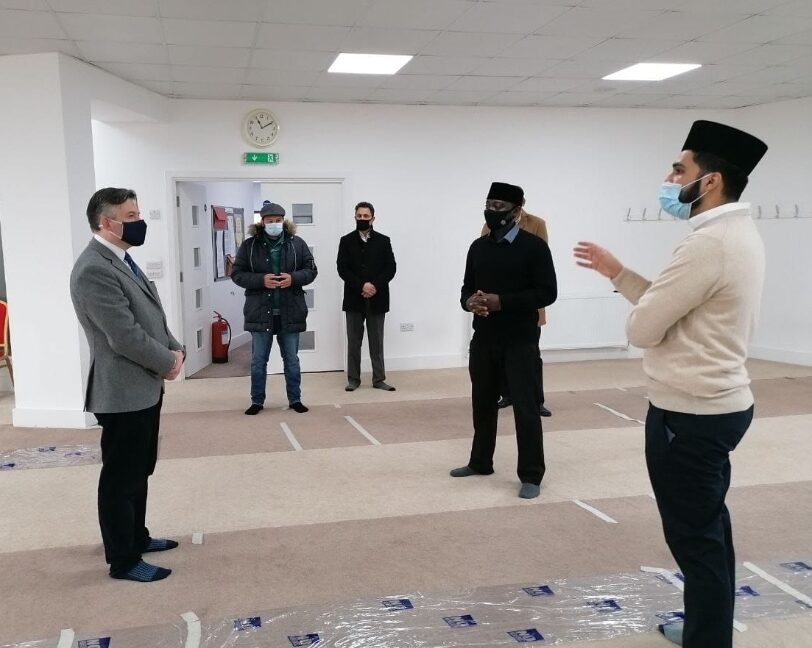 On 14 January 2022, the honourable MP for Leicester South, Jon Ashworth, who also serves as the Shadow Secretary of State for Work and Pensions, paid his first visit to Baitul Ikram Mosque which is situated in his constituency.
He was given a tour of the mosque. The history of the local Ahmadiyya Jamaat was also relayed to him. The honourable MP showed keen interest in the insight provided by the missionary, Zartashat Lateef Sahib, into the tenets of Islam as interpreted by Ahmadiyya Muslim Community.
He also intently watched a video presentation on the system of Khilafat and the great efforts of Hazrat Mirza Masroor Ahmad, Khalifat-ul-Masih Vaa, towards world peace. He appreciated the various kinds of charitable work of the local Ahmadiyya community, especially during the Covid-19 lockdown such as the 'Help Your Neighbour' and the 'Cheap & Easy Cooking' campaigns.
Finally, areas of cooperation in the local community were discussed and he was also reassured that the local Ahmadiyya community would always be ready to render their support and services in the development of community cohesion and peace in the local area.
In the end, he was presented with a gift bag of the Community's literature, which he appreciated and expressed his gratitude for the warm reception.
All Covid-19 health and safety protocols were adhered to.