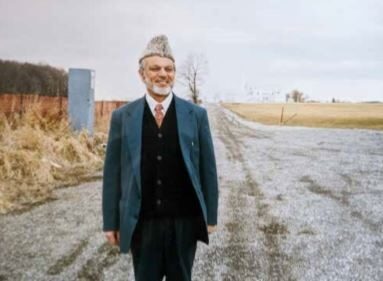 On 18 October 2019, Hazrat Amirul Momineen, Khalifatul Masih Vaa announced the demise of Khawaja Rashiduddin Qamar Sahib.
The late Khawaja Sahib had a long history of service to the Jamaat. In the early 1950s, Khawaja Sahib served as qaid Khuddam-ul-Ahmadiyya in Drigh Road, Karachi. Later, upon relocating to the UK in 1958, he served the Jamaat in various capacities. He had the honour of serving as qaid Khuddam-ul-Ahmadiyya UK for seven years, general secretary of the UK Jamaat for 18 years and chairman of the Jalsa Salana UK committee.
He is also remembered for accompanying Hazrat Khalifatul Masih IVrh on his daily morning walks around the Queensmere Pond situated at Wimbledon Common and for Hazrat Khalifatul Masih IVrh naming a club, the "Khawaja Club", after him, in which selected members would gather regularly to greet each other and eat meals together.
During the Friday Sermon, Hazrat Amirul Momineenaa said:
"I would now like to mention someone who recently passed away and I will also be leading his funeral prayer in absentia; he is respected Khawaja Rashiduddin Qamar Sahib, son of Maulana Qamaruddin Sahib.
"[Khawaja Rashiduddin Qamar Sahib] passed away under divine will at the age of 86 on 10 October after suffering from an illness. َ
اِنَّا لِلّٰہِ وَاِنَّا اِلَيْہِ رَاجِعُوْنَ
"[Surely to Allah we belong and to Him shall we return.]
Khawaja Sahib was born in 1933 in Qadian and, as I mentioned earlier, he was the son of Maulvi Qamaruddin Sahib. Hazrat Musleh-e-Maudra appointed Maulvi Qamaruddin Sahib as the first Sadr [president] of Majlis Khuddam-ul-Ahmadiyya.
"Khawaja Sahib was the paternal grandson of Hazrat Mian Khairuddin Sahib Sekhwanira and was the maternal uncle of our respected Amir Sahib UK.
"With regard to Hazrat Mian Khairuddin Sahib Sekhwanira and his two brothers, the Promised Messiahas has written in Anjam-e-Atham:
"'I am astonished at the love and sincerity of our Jamaat; even persons with meagre incomes like Mian Jamaluddin, Khairuddin and Imamuddin of Kashmir who live near our village. These three brothers of meagre means, who work as labourers and perhaps earn twelve or sixteen annas [a form of currency in India] a day, take part in monthly donations with great zeal.'
"Then, the Promised Messiahas once made an appeal for Chanda and all three brothers contributed. Mentioning this, the Promised Messiahas states:
"'Their contribution towards Chanda is indeed astounding and admirable for they keep very little of the worldly wealth to themselves, much like the example of Hazrat Abu Bakrra who brought everything he had in his home, and they have given precedence to faith over all worldly things, just as it is stipulated in the conditions of the Bai'at.'
"Khawaja Sahib was among their progeny.
"After the partition, the deceased served in the Pakistan Air Force for a short while, before moving to the UK in 1958 and worked in British Airways for 33 years. Since he had great passion to serve the Jamaat, he would arrange to have night shifts during his employment so that he could serve the Jamaat during the day.
"He spent almost his entire life serving the Jamaat and served in various posts. The deceased had the opportunity to serve as the first qaid of Majlis Khuddam-ul-Ahmadiyya UK and served at this office for seven years. At the time, all of the auxiliary organisations of Khuddam-ul-Ahmadiyya around the world were under the central Markaz and Khawaja Sahib was the first qaid for the UK. Khawaja Sahib also had the opportunity to serve as the national general secretary, secretary mal, secretary rishta nata, secretary umur-e-ama and naib afsar Jalsa Gah.
"Khawaja Sahib was a man of many qualities. He had great love for Khilafat and would show great respect towards the elders of the Jamaat, missionaries and office-bearers of the Jamaat. He was an extremely pious person, very regular in offering his Tahajud prayer, congregational prayers and in his contributions towards Sadqa and charity. He was very sociable, looked after the poor, showed great compassion towards children and showed respect to everyone, young and old alike and was extremely devoted towards prayers.
"The deceased was a Musi by the grace of Allah the Almighty and leaves behind his wife, a son and two daughters. He also has one sister and three brothers. One of his maternal grandsons, Qaasid Muin, is a missionary of the Jamaat and is currently serving in MTA and Al Hakam.
"Qaasid Muin Sahib writes:
"'Every weekend, we would spend at our grandfather's house and would stay there. Therefore, every week, I had the opportunity to observe him very closely. During my childhood, I would often sleep in his room and I observed that he would always offer nawafil [voluntary prayers] before sleeping. He would offer these nawafil in a most beautiful, calm and peaceful manner. He would then wake up for the Tahajud prayer in the morning and would also wake us for the Fajr prayer.'
"He further writes:
"'I always found him to be extremely compassionate and had a very angelic personality. He never told us off, however I recall that once he told me off when, during the time of the fourth Khilafat, in my innocence, I asked him about the next Khalifa and who it would be. Upon this, my grandfather told me off and explained to me not to say such things. Thus, right from my childhood, this taught me a great lesson about the true status of Khilafat.'
"He had an extraordinarily loyal relationship with Khilafat and would regularly write to me. During the final days of his illness, he also came to visit me a few days before this tour. He had been diagnosed with cancer and had to go through a very painful treatment and illness, however he endured this with great patience and steadfastness and explained everything to me with great courage.
"May Allah the Almighty grant him His forgiveness and mercy and grant him the company of his loved ones. And may he also enable his children and future progeny to continue his good deeds." Amin.