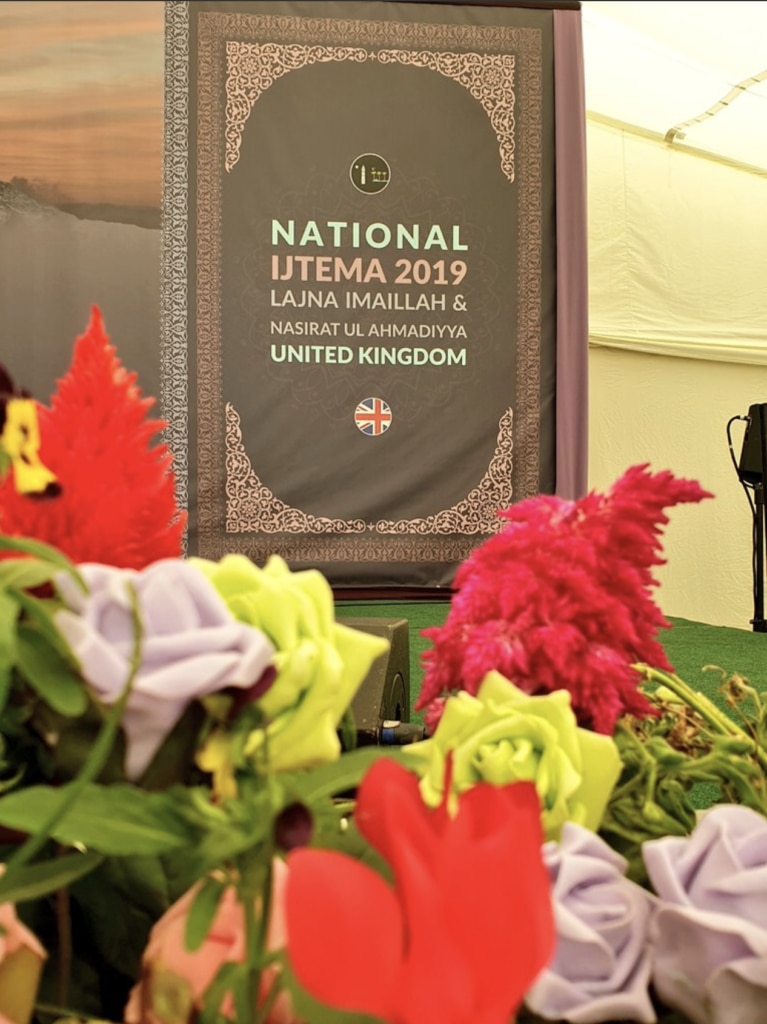 This year, the annual Lajna Imaillah UK Ijtema was held over three days, 13, 14 and 15 September 2019.
This is a culmination of a year of hard work and endeavour shown by thousands of Lajna and Nasirat throughout the UK. It is a bringing together of all our Lajna and Nasirat members in a show of unity in the quest for knowledge and spirituality. Instead of our habitual donning of wellington boots and raincoats, Alhamdolillah we were blessed with sunshine for our 2019 UK Lajna Ijtema.
On 19 November 2006, at the national UK Ijtema, Huzooraa explained what the purpose of the Ijtema was:
"The purpose of these Ijtemas is to enable members to benefit from the educational and spiritual programmes and speeches and to rid themselves of any shortcomings they may have. Also, the younger and older girls may participate in various educational competition to improve their knowledge and sharpen their spiritual capabilities. These gatherings provide an atmosphere that promotes discussion and identification of ways and means of self-improvement.
"Any society whose young girls and ladies gather in one place with the intention of spending their time in a purely spiritual atmosphere and engage in activities for self-improvement, the future generations of that society are safeguarded, also it does not suffer from a decline. And today, if there are any women who get together purely for the sake of Allah, they are Ahmadi women.
"Therefore, always keep your status in mind. Make the most of the spiritual food that you have enjoyed in this gathering, for your life depends on it. The life of your future generations depends on it. The life and honour of your families depends on it."
Upon reading these words, we are reminded of the greater purpose of attending the Ijtema; we realise how important it is that we leave worldly matters aside and attend the Ijtema with the zeal and fervour that our Khilafaaa expects from us.
A lot of planning goes into organising the Ijtema. Preparations began in February/March and the responsibilities were divided between eleven teams, including cleanliness, press and media, audio-visual, the bazaar and many more.
The Ijtema serves to train our duty-holders as it helps them build upon their skills, learn from their shortcomings and improve their planning and organisation of events every year. It promotes a sense of unity and camaraderie amongst not only the duty-holders but also the attendees; it fills the heart with joy to see so many people smiling and helping one another, even when they were queueing in the sweltering sun, waiting to buy ice-cream!
Attending the Ijtema, in itself, helps those present to develop a sense of civic spirit and etiquette by being in the public. They learn patience and tolerance, as well as nurturing a sense of community and attachment to the jamaat.
The theme of this year's Ijtema was "The Attributes of Allah the Almighty". This was also the focus at local and regional Ijtemas, as well as other Jamaat activities throughout the year. Understanding the attributes of Allah is key to building a firm faith in Allah. The Holy Prophet, peace and blessings of Allah be upon him, said, "Follow the attributes of Allah."
There are some attributes of Allah, like the Merciful and the Pardoner etc., that one can adopt in a limited fashion. By following these attributes, they will operate in one's favour.
According to the Holy Quran (Ch.51: V.57), the purpose of creation is to worship Allah, our Creator. The philosophy of Islamic worship is to establish a relationship of love between Allah and his creatures which is not possible unless one knows and understands the attributes of Allah.
This was the first time our Lajna Ijtema was held over three days. We were incredibly fortunate to commence the Ijtema proceedings with the offering of Friday prayers behind our beloved Imamaa. Alhamdolillah, 1,100 Lajna and Nasirat members offered the Friday prayers at the Country Market.
The Ijtema then commenced at 4pm with the recitation of the Holy Quran, followed by presentations. These presentations are a very popular feature of the Ijtema and attract a wide audience.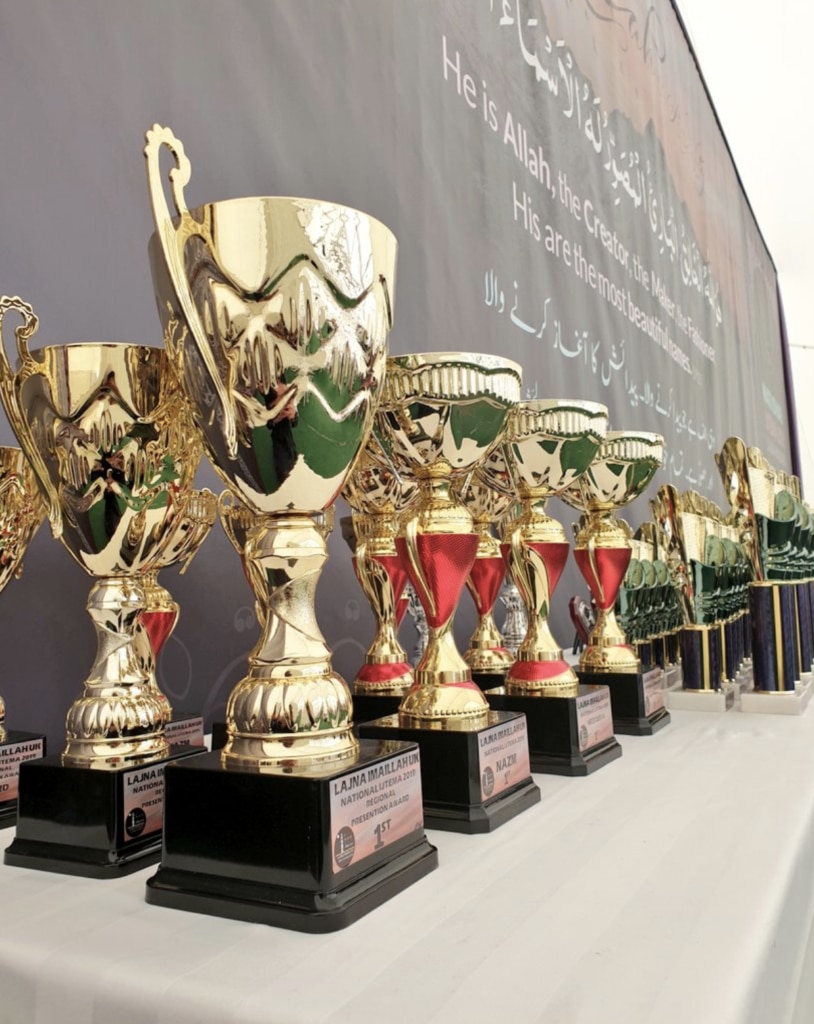 Teams from each region around the country prepare research-based academic audio-visual presentations based on the theme of the Ijtema.
These presentations continued throughout Saturday and Sunday.
Nazm competitions were held at regular intervals between the presentations, which were delivered in both Urdu and English.
The girls were also questioned on their presentations to assess wider knowledge on their chosen subjects.
AMRA Exhibition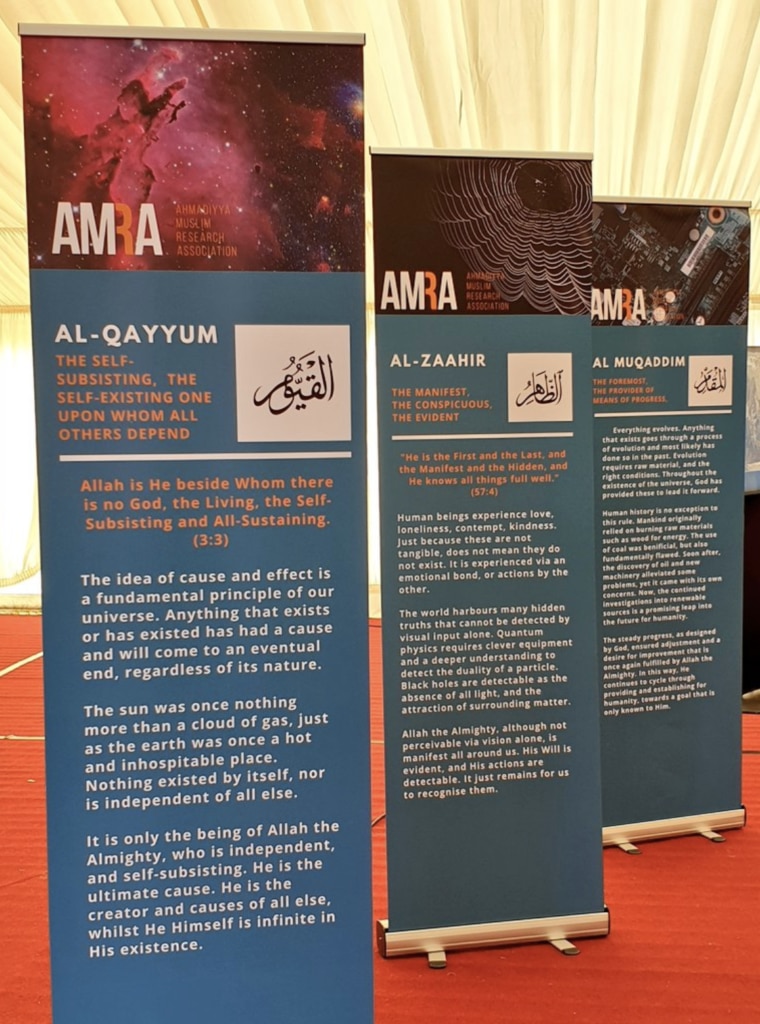 It is awe-inspiring to see how talented our Lajna members are. They have excelled in every field of education and have truly taken on board the following words of our beloved Huzooraa:
"Excel others in hard work. Excel others in education. That should be the hallmark of an Ahmadi. Allah told the Promised Messiahas that the people of his sect, the Jamaat, will progress in knowledge. Therefore, I advise the youth: immerse yourself in studies to the exclusion of everything else. Advance so much in every field of education that your minimum target is the Nobel Prize. That requires hard work over a long period. When nations want to develop and progress, they make plans on long-term bases. I pray that Allah may grant you the strength to do so." (Opening address at 78th Jalsa Salana Ghana 2008 by Hazrat Mirza Masroor Ahmadaa, 17 April 2008)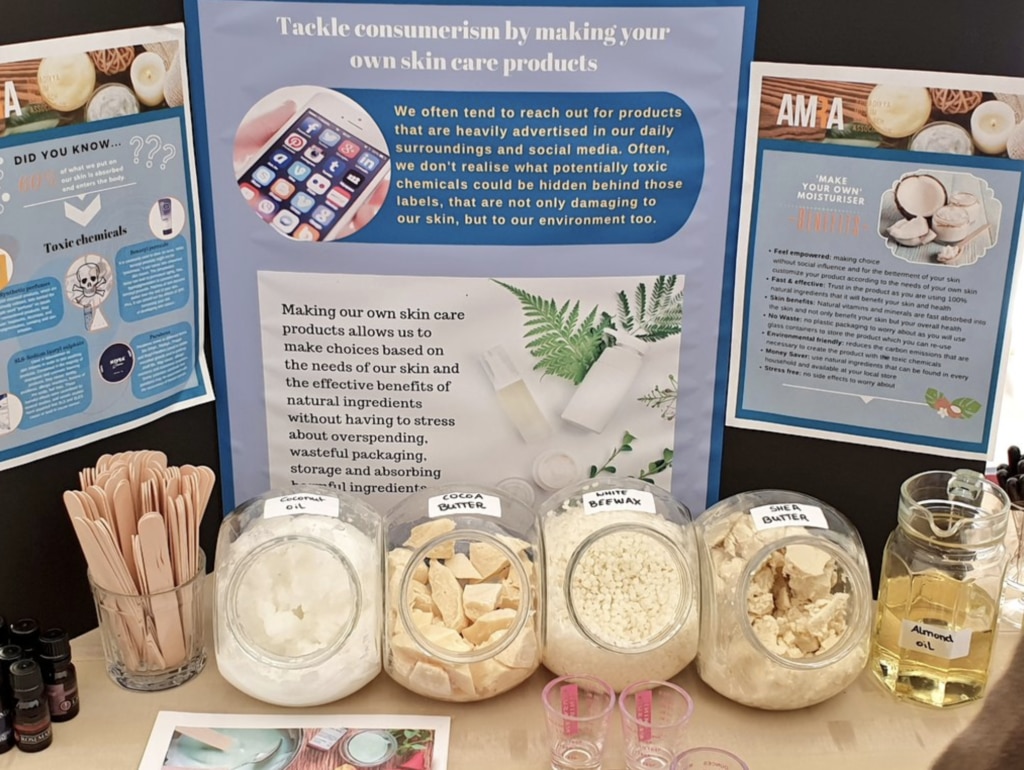 AMRA is an organisation seeking to support and encourage aspiring researchers and refine the skills of established researchers towards research endeavours inspired by Quranic knowledge.
A Lajna representative of AMRA outlined their vision for the Ijtema this year:
"At this year's exhibition, we have focused on the manifestations of the attributes of Allah in the physical universe. We have displays, including light polarisation experiments, which depicts the attributes of Allah, and we have an experiment using a chladni plate, which creates visual patterns of sound waves with sand on a plate.
Other displays included sustainability and conscious consumerism, and the "Lajna in bloom" display about how to grow your own vegetable sustainability. The interactive zone was very popular with the Nasirat where we organised problem solving and group building activities with the Nasirat.
We also had a calligraphy stand and a demonstration of saltwater powered cars.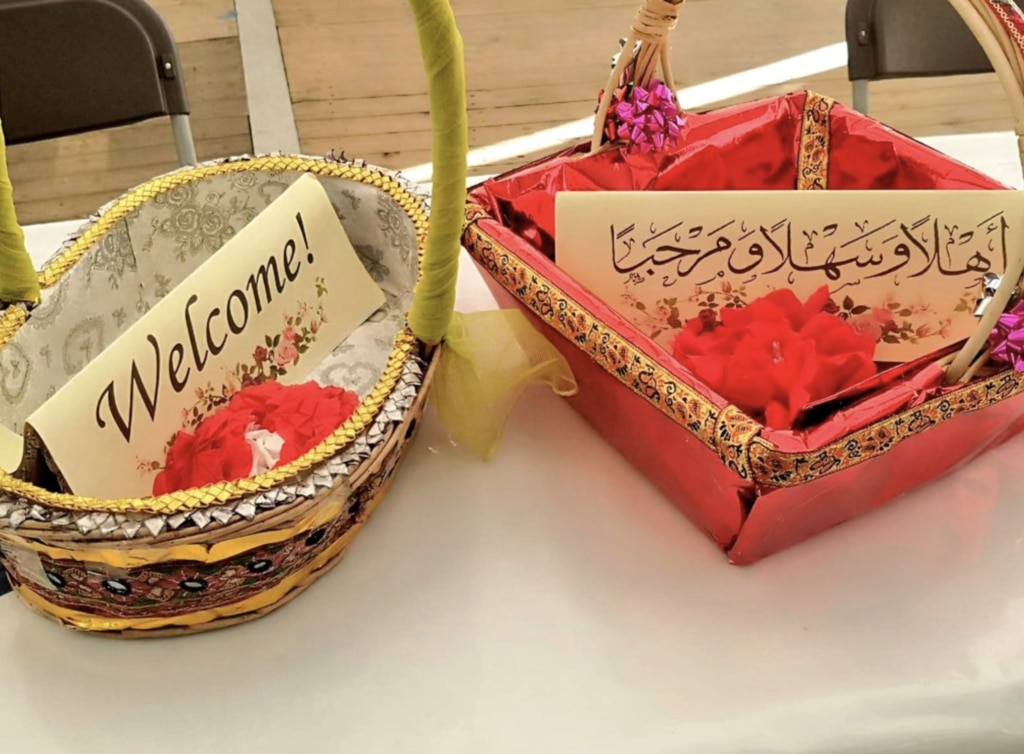 As part of the theme of sustainability, AMRA had also set up a stand centred around beauty products. They emphasised the importance of reducing waste in accordance with Quranic teachings, and this proved to be a very popular display. Here, people were able to build their own moisturiser in a natural, sustainable and ecologically friendly way. Each moisturiser catered to their own skin type using ingredients such as coconut oil, shea butter, beeswax and others.
The bike smoothies were also a big hit – especially with the Nasirat! Girls chose ingredients for a smoothie, then had to peddle at speed to power the blenders. This was a simple and effective demonstration of how energy can be created and used in a sustainable manner.
One Nasirat member said:
"It was really fun and [although] I got a bit tired, but my smoothie was really yummy!"
Alhamdolillah, the exhibition proved to be very successful with both the Nasirat and Lajna.
Lecture Marquee
Speeches and interactive talks were also held in the Lecture Marquee. The topics ranged from natural sciences to social sciences, women's health, and social issues. Alhamdolillah, the lectures also proved to be very popular with the Lajna.
Lectures were scheduled throughout all three days on various topics. These included:
– Demystifying Religion: A Social Historical Perspective
– Anxiety and Depression
– The Origin of Life
– LGBTQ+
– Miracles: Facts and Fiction
– Our Health after 40
– Social inclusion and Special Needs and Disabilities
– My Hacked Brain (tailored for both Lajna and Nasirat)
– Diabetes, Discrimination and Disability
Umur-e-Talibat also held a meet and greet for students so that they could exchange ideas and get career advice. A positivity wall was also displayed with quotes pertaining to the maintenance of a healthy mindset, despite the pressures and stresses of studying. This year, a book exchange area was set up so that the students could access free textbooks and study resources.
Another attraction of the Ijtema was an interactive exhibition hosted by the national tabligh department called, "Are You a Lajna Mastermind?" Participants answered a series of questions in a two-minute timed test. Another display featured building blocks on which participants could write their ideas on means and methods of tabligh.
Bazaar
The Bazaar at the ijtema was only open during lunch and at the end of the sessions. Some very delicious food was on the menu, such as chips, kebabs, pakorey, chaney chaats etc. Mango milkshakes and candy floss were especially popular with the Nasirat. An added attraction at the Bazaar was the ice cream van and in the scorching heat, it was a very welcome treat.
Throughout the three days, the Ziafat teams provided hearty meals as well as fruits. The tea stall not only provided tea and coffee but also breakfast, hot chocolate, and pineapple and blackcurrant juice.
In the afternoon session on Saturday, Dr Fariha Khan Sahiba, Sadr Lajna Imaillah UK addressed members of Lajna.
Nasirat
Alongside the Lajna competitions, the Nasirat were taking part in their own competitions in the Nasirat marquee.
The Ijtema provides a unique space and platform for Nasirat of all ages, from all over the country, to come together to learn, pray and eat as one community. This encourages a sense of unity and allows them to explore and develop their identities and core beliefs as Ahmadi girls. By nurturing the Nasirat and providing them with these spaces and opportunities, we are setting the foundations of our future generations.
Nasirat split their time between three activities:
1. Participating and listening to tilawat, nazm, English and Urdu speech competitions. Prizes were distributed throughout the day and Nasirat learnt from listening to each other
2. Attending workshops run by the Ahmadiyya Muslim Research Association in the Exhibition Marquee, where girls learnt about a range of plants and how to make lotion using natural ingredients. They also tried their hand at calligraphy and attended a question and answer session
3. The Game Zone, where Nasirat participated in a range of activities including arts and crafts, sports such as football, badminton and archery, as well as a range of circus games, including hoops and juggling
Throughout the days, girls were provided with a variety of snacks, which they thoroughly enjoyed. The Nasirat marquee was decorated with the top 20 winning photographs from the Nasirat Photo Competition which was held over the past few months.
One of the Nasirat duty-holders said:
"I was helping out with the Nasirat Ijtema this year. The Nasirat were thoroughly engaged and there was not a moment when they were bored. They had a nice addition this year called The Game Zone. They really enjoyed that. It was also amazing to see the amount of effort the Nasirat girls had put into the academic competitions this year. Jazakallah to all the organisers for their efforts."
The most anticipated part of the Ijtema was the concluding address of Hazrat Amirul Momineenaa. Huzooraa delivered a faith-inspiring address to the members of the Lajna, the summary of which has been published separately in this issue.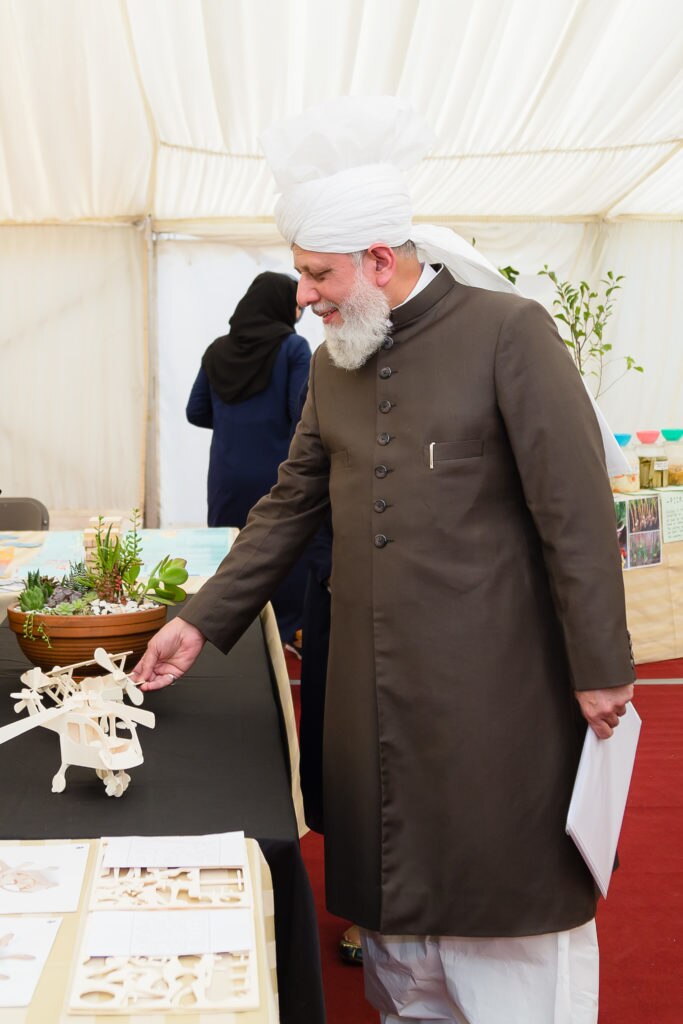 After this faith-inspiring address, Huzooraa also visited various parts of the site, including the exhibitions.
By the grace of Allah, the total attendance was 1,100 on Friday, 4,325 on Saturday and 5,822 on Sunday. 133 majalis were represented at this year's Ijtema.
To conclude, here are some reflections from some of the attendees of the Lajna UK Ijtema:
"Lajna Ijtema is such a blessed event where we are able to reap many benefits; from sisterhood, to improving our spiritual and moral selves."
"Alhamdolillah, I feel extremely blessed as we have witnessed another successful Lajna UK Ijtema. I am overwhelmed with emotion, as we get to experience His Holiness, Huzoor'saa holy presence and listen to his divinely guided discourse live! Alhamdolillah thumma alhamdolillah. May Allah enable us to become excellent role models for our children and may He enable us to become the 'qanitaat' that Huzooraa expects us to be. Amin thumma amin."
"This weekend's Lajna & Nasirat Ijtema was a spiritual and educational tonic for the mind, body and soul. A cornucopia of interesting and uplifting lectures, exhibitions and presentations, the highlight of which was not one, but two addresses from our beloved Khalifa. Alhamdolillah!"
"It was a very spiritually uplifting event and it always feels nice to be around your own community. I particularly enjoyed the AMRA talks which were both enlightening and thought-provoking and this year, we even had an ice-cream truck which was a lovely touch!"