Safeer Ahmad Siddiqui, Al Hakam Correspondent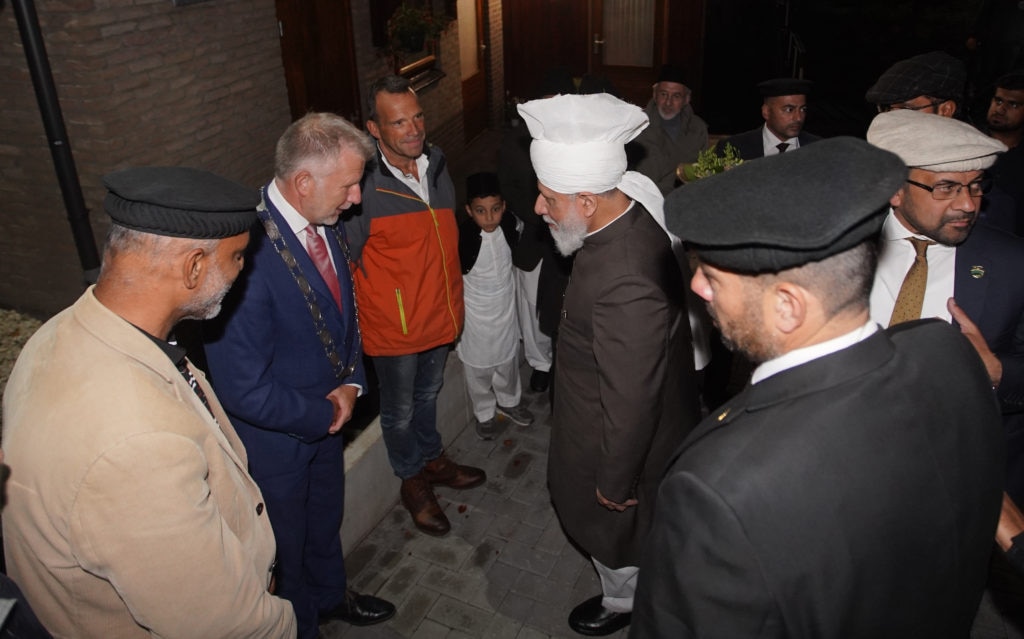 25 September, Nunspeet: Hazrat Khalifatul Masih V, may Allah be his Helper, arrived earlier this evening in Nunspeet, the Netherlands. Huzooraa was welcomed by the deputy mayor, Gert van den Berg together with local neighbors and members of the Jamaat.
Many Ahmadis who have come recently from Pakistan saw Khalifatul Masih for the first time in their lives. Upon Huzoor'saa arrival, the atmosphere was filled with emotions and immense passion.
Huzooraa arrived at Baitun Noor, Nunspeet at approximately 20:00 local time. After arrival, Huzooraa led Maghrib and Ishaa prayers. Insha-Allah, during the week, Huzooraa will be gracing the 39th Jalsa Salana of the Netherlands.
The Jalsa Salana is due to commence on Friday, 27 September with Huzoor'saa Friday Sermon. MTA international will be covering all live sermons of Huzooraa during his stay in the Netherlands. In total, Huzooraa will be delivering five speeches during the tour of the Netherlands.
Hazrat Amirul Momineenaa will also inaugurate a purpose-built mosque in the Netherlands. This mosque's foundation stone was laid by Hazrat Khalifatul Masih Vaa on 7 October 2015. It will be the first purpose-built mosque to have its foundation laid by and inaugurated by Hazrat Khalifatul Masih in the Netherlands.
Hazrat Khalifatul Masih Vaa is on a tour of Europe and will be visiting France and Germany after the Netherlands. Al Hakam will be updating its readers with the engagements of Hazrat Khalifatul Masih Vaa during this tour, Insha-Allah.