Amen Aqeel Haider, Mexico Correspondent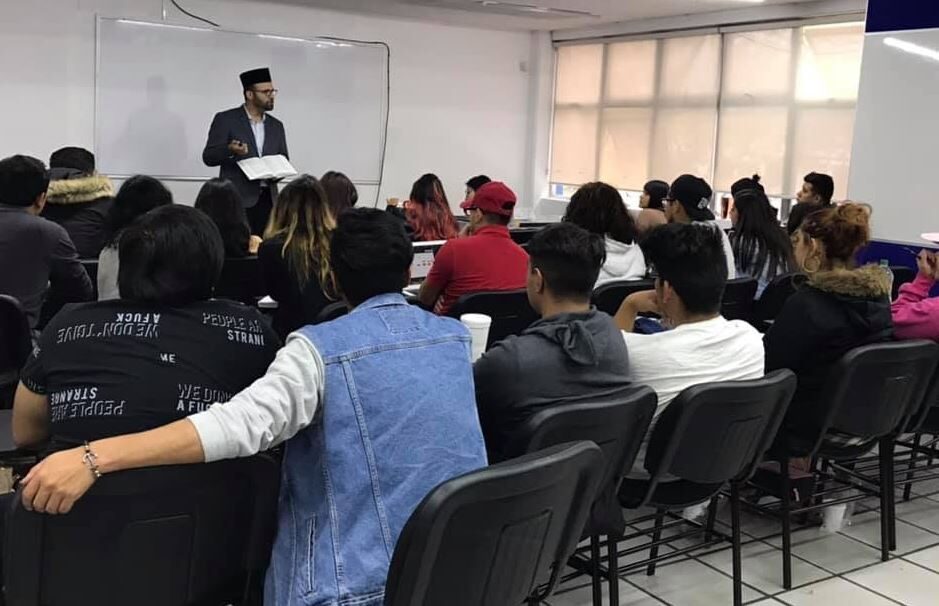 An opportunity was provided to give a lecture about Islam and dismiss many doubts or misunderstandings within the youth of Mexico at the Universidad Interamericana para el Desarrollo (UNID).
This event was organised by the university and the students and professors alike were extremely grateful for the opportunity to learn about Islam from a Muslim as opposed to the usual news outlets or textbooks. Catholic Christianity is the dominant religion in Mexico, representing 81% of the population. Therefore, for all the students, it was their first time meeting a Muslim and hearing about the religion of Islam from a Muslim.
The lecture was delivered by Imam Noman Rana, Missionary Mexico City Jamaat and National President of Jamaat-e-Ahmadiyya Mexico.
Sadr Lajna Imaillah Mexico, Tallat Noman Sahiba, also attended this lecture as a co-speaker and gave a detailed discourse about the rights of women in Islam and how women play an integral role within society.
The focuses of the lecture were based on the fundamental basics of Islam such as the five pillars of Islam, six articles of faith, the meaning of Jihad and Salat and the system of marriage in Islam. An introduction to Islam Ahmadiyyat was also presented and Jamaat literature was distributed among the students.
In the final moments of the lecture, some students recorded a video interview with the Jamaat missionary to share among other youth of Mexico as well as on social media platforms.